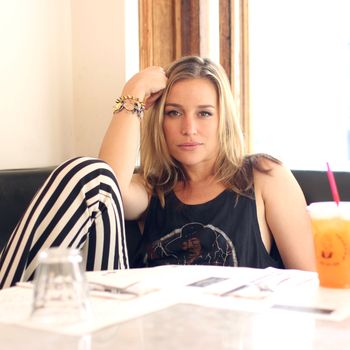 Perabo, at Jack's Wife Freda, where you might find her luggage hiding in the kitchen.
Photo: Melissa Hom
Piper Perabo first made her name in 2000's Coyote Ugly. So in a way, it's fitting that she's now an investor in a different (ahem … superior) New York City bar, Employees Only. In fact, Perabo is also an investor in Jack's Wife Freda — a move that comes in handy when she's traveling. "When I fly into New York, I'll have the car go right to Jack's," she says. "I'll put my luggage in the kitchen and have dinner — it's close enough that I can roll my suitcase home." Right now, she's traveling a lot, flying between New York (where she lives) and Toronto, where she's shooting Covert Affairs (the new season premiered on USA last week). But while she was in New York this week, she still found time to hit Il Buco, feast on her mom's blueberry pancakes, and, of course, stop into Jack's. Read it all in this week's Grub Street Diet.
Friday, July 19
Iced coffee, green juice, pickled herring — that was breakfast. I'm a big proponent of fish in the morning, especially when I'm working. It's such a lean protein and it burns for so long. So many breakfast foods give you sugar and then drop you down. Shooting my show, I'm chasing assassins at, like, 7 in the morning, so I need more than half a doughnut.
I was on my way to the beach that day to visit my family, so lunch was on the Jersey Shore — cold roasted vegetables with quinoa. And I did have half a crumb bun. My mom's friend made crumb buns, so I had to try it. I kind of love them, just to give full disclosure.
For dinner, I had cold grilled salmon with lemon, and beet salad, and three-bean salad. That was at my parents' house.
Saturday, July 20
Breakfast was Greek yogurt, coffee, mano, and tortas from Spain — those flatbreads with sugar on top.
Lunch was pasta salad with shrimp, red pepper, red onions, and cold asparagus. This was still at my parents' house. I would never have pasta if I were choosing my food, but for dinner we had sautéed eggplant with red sauce and — you can tell it was the Jersey Shore — pasta again, made with shrimp scampi, oil, garlic, and parsley.
Sunday, July 21
I had cinnamon-raisin French toast, bacon, and blueberry pancakes for breakfast. How could I refuse? When mom makes blueberry pancakes, I'm like, who cares what size my costume is going to be?!
I got home to New York and I was feeling guilty, so I had quinoa, kale, and collard green salad with pumpkin seeds, chickpeas, and miso dressing. That was from Organic Avenue. Supper was from there, too: a Thai vegetable wrap with whole collard greens. You can tell I was being very healthy after having blueberry pancakes and French toast. That's my repenting.
Monday, July 22
I had a kale, spinach, banana, mango, pineapple smoothie. That was from Liquiteria. I usually juice at home, but when I'm only in town for a couple days, I buy it.
Lunch was at Jack's Wife Freda. I had the avocado and tomato chutney on toast, arugula salad, and cantaloupe juice. Later in the day, I had a salad that was organic corn, cherry tomatoes, and new potatoes. I don't know the name of the store where I got that salad — it was on Fourth Avenue somewhere — but it was all local and vegetarian. Perfect.
Dinner was at Il Buco on Bond Street — one of my favorite places. I had stuffed squash blossoms, yellowtail ceviche, black-kale Caesar, and salted caramel ice cream. It was delicious.
Tuesday, July 23
I had that same smoothie from Liquiteria, and a cappuccino and some almonds for breakfast.
For lunch, I had vegetable sushi with brown rice from Whole Foods — that was easy to grab.
For dinner, I taped Watch What Happens Live with Andy Cohen that night, so a friend of mine brought over turkey meatballs and red sauce that she was making at home. I ate some meatballs, then went out and did the show. I had a Moscow Mule there.
Wednesday, July 24
I was on my way to Toronto on Wednesday to shoot my show. I started with banana bread, coconut water, and a cappuccino at, like, 6 in the morning, then was on my way to Newark. We shoot from March to September, so it's about six months there, but I like Toronto.
When I got there, there's a restaurant called Fresh — they do big salads. I had a macro green salad that's a mix of all these different fresh and steamed greens. It's really good.
I knew before I arrived what I was going to do for dinner because I called my friend. There's a restaurant I love called the County General on Queen Street. It's a combination of southern American food and Korean food. They do a dish that's Korean fried chicken for two. They put a big piece of wax paper on the table, then they come over and throw the chicken on it. Half of it is in a sweet glaze, and the other half is a peppery hot jalapeño-y glaze. They put toasted sesame seeds on top, then pickled red onions, and all this diced cilantro, parsley, and mint — then avocado chutney over the whole thing, and serve it with a basket of steamed buns. My friend and I don't eat the buns at all. We just sit there and rip apart all the chicken.
It's so messy, but so delicious.