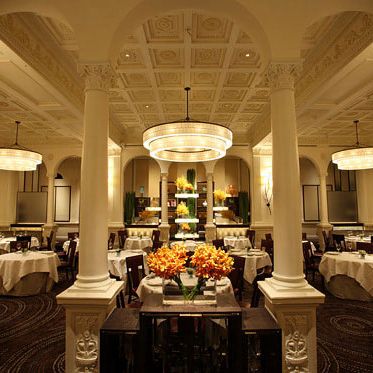 Daniel Boulud's flagship is celebrating its twentieth anniversary this year.
Photo: Melissa Hom
Pete Wells visits Daniel Boulud's twenty-year-old flagship on the Upper East Side and finds that, as a restaurant critic who was likely recognized before he ever set foot in the dining room, he received more bells and whistles than his colleague who sat at a separate table under separate cover and ordered the same six-course tasting menu for $195. Wells received two amuses, it turns out, while his friend only got one. Servers bent over backward to top off his wine and bring him napkin-covered finger bowls of lemon-scented water to rinse away any lingering traces of frog's-leg lollipops, but his buddy received no such perk.
His friend is wowed by the food, however, and while there are no real complaints in that department, Wells sees a dangerous precedent:

It can be faulted, though, for turning its best face away from the unknowns, the first-timers, the birthday splurgers, the tourists. They are precisely the people who would remember a little coddling at a place like Daniel for years.
The Times critic goes on to notes that the "kitchen's compulsion toward complexity," along with the "proliferation of dollhouse garnishes," ends up more often than not getting in the way of other dishes that fire on every cylinder, like abalone with avocado and wood sorrel, of which Wells writes he'd "give a lot to recapture the happiness" it brought him. Wells praises the bread basket, the stellar wine list, the cheese cart, and newly appointed pastry chef Ghaya Oliveira's desserts, like "giddy" strawberries parceled with strawberry mousse and watermelon. A riff on the chef's classic sea bass with red-wine sauce falls short of expectations, and when all is said and done, Daniel emerges with one less star than the last time it was reviewed, in 2009, one year after it completed a major overhaul of its dining room and kitchen. "Daniel built its fame on Mr. Boulud's exquisite refinements on French peasant food," Wells writes, delivering the verdict. "Over the years, the refinements have multiplied while the peasant food has been sent away to his many spinoff bistros."
The chef, who coincidentally happens to be the subject of a long New Yorker piece this week, is no doubt already working on his best re-review strategies. In the meantime, there are five remaining restaurants in New York with four stars from the New York Times: Le Bernardin (Wells, 2012), Per Se (Sam Sifton, 2011), Del Posto (Sifton, 2010), Eleven Madison Park (Frank Bruni, 2009), and Jean Georges (Bruni, 2006).
A Light That Shines Through the Clouds [NYT]
Notes of a Gastronome: Cooking with Daniel [New Yorker]