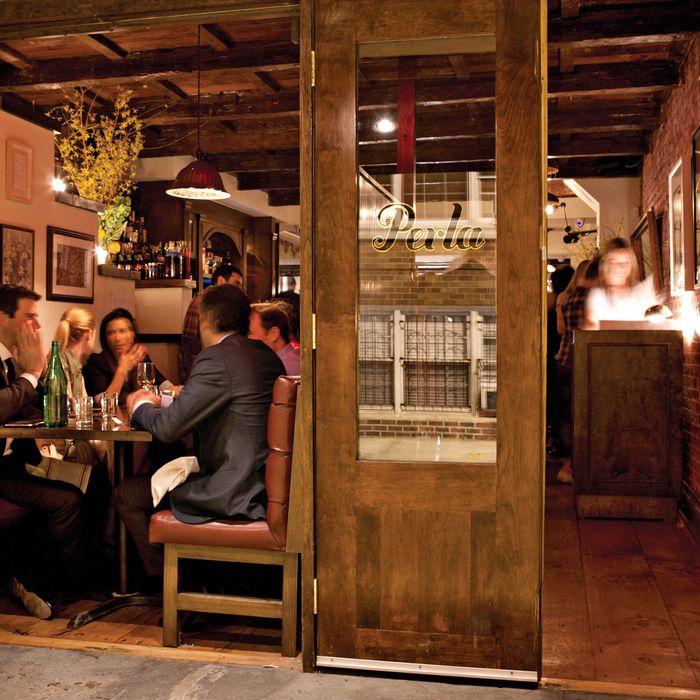 It's only temporary.
Photo: Danny Kim/New York Magazine
A "tipster" informs the Daily Meal that Gabriel Stulman's well-regarded Minetta Lane restaurant was closed by the New York City Health Department last night following a surprise inspection during dinner service. Perla "won't be opening back up until they clean up their act," the site reports, adding that the findings of last night's inspection aren't yet online. Grub Street reached out to Gabriel Stulman to see what's up.
Here's what the Perla owner had to say:

The Department of Health stopped by Perla last night and we were dinged with two violations. One was for a bartender not wearing gloves while shaking a cocktail and the other was for our walk-in refrigerator not holding temperature. They chose to shut us down for the night. We have already fixed all the issues and plan to be open for dinner service as regularly planned tonight.
So, in summary, Perla was closed, and Perla will reopen. But how exactly did these things lead to the closure of a restaurant? If you're interested, read on.
For starters, walk-in boxes lose temperature every time a door is opened; in warmer months, refrigerator compressors chugging along in ambient heat have to work even harder to cool the air. It was 82 degrees yesterday; compare that to the required 41-degree temperature inside the restaurant's refrigeration (it's 38 degrees for smoked fish).
Meanwhile, because they are in contact with what are called "ready-to-eat" foods, bartenders, in addition to cooks, are required to wear gloves, even for handling inert-seeming things like huge swaths of lemon zest. Few bartenders anywhere, however, wear gloves.
Both violations fall under the Health Department's "public health hazard" category and are sufficient to shut a restaurant down.
All food-safety issues should be addressed, of course, but this latest closure once again is emblematic of the Health Department's communications breakdown problem. The Daily Meal calls for a restaurant to "clean up their act" without any knowledge of what led to the closure, information that isn't posted online.
Here's the DOH's problem: By closing a very popular restaurant, then doing nothing to let the public know why they closed it, the city agency isn't helping to allay the public into feeling that they're being protected — it merely appears to be capitalizing on their fears.
New York's Perla Shuttered by the Department of Health [Daily Meal]
Related: How the Post Messed Up on Its Report on Restaurant-Inspection Fines