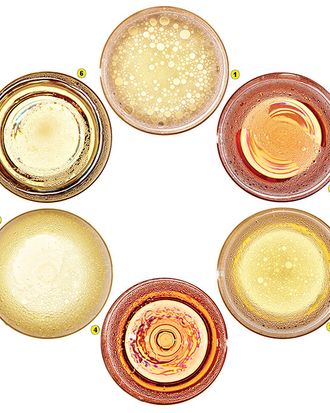 Photo: Bobby Doherty/New York Magazine
With our city once again doing its spot-on impression of a Swedish sauna, now is the time to look to lighter wines with less alcohol and a refreshing burst of bubbles. That makes it peak season for pét-nat, short for pétillant naturel, an age-old method of low-tech winemaking that has only recently, with the advent of so-called "natural wines," begun to be imported and marketed actively as a distinct category, and even produced by a few experimental West Coast wineries. Last summer, when Talitha Whidbee organized what she believes was New York's first pét-nat tasting week at her Williamsburg shop, Vine Wine, there were no American producers in the lineup. At this year's event, held last week, two Californians debuted alongside the French and Italian standard-bearers.
Whidbee calls pét-nats "winemaker's wines," but sommeliers love them too. "There's something about it that gets us all giddy," says Lee Campbell, wine director of Reynard in Williamsburg, who became a pét-nat proselytizer while working for influential importer Louis/Dressner. Pétillant naturel refers strictly to the production method, also called méthode ancestrale—not to the grape variety, the region, or even the style, which can range from fizzy French rosé to bone-dry Lambrusco to unfiltered Northern California Chardonnay. Unlike their sister sparklers made within the region of Champagne, pét-nats are vinified from grapes alone, without the addition of sugar and yeast to induce a secondary fermentation in the bottle. In fact, their primary fermentation is interrupted before the native yeasts have finished consuming the grapes' natural sugars, and they're bottled (typically under a crown cap rather than a cork) before the carbon dioxide, a by-product of fermentation, has dissipated. This tends to yield a wine less persistently bubbly than Champagne, and one that often exhibits a bit of residual sugar.
Because the winemaker relies purely on the vagaries of nature, the end result is extremely difficult to calibrate, with wide fluctuation in flavor and fizz. Each vintage—indeed, each bottle—is something of a surprise. If you're the kind of curious drinker who relishes unpredictability and prizes natural winemaking, you're the category's target demographic. The best thing about it, says Campbell, "It's supposed to be for the common man. The common man in the know."
SIX TO SAMPLE
1. Twenty Five Reasons, Salinia Wine Company
Some taste beer, cider, even Fresca in this tart, grapefruit-y skin-fermented Sauvignon Blanc ($22.95 at Vine Wine).
2. Altérité, Domaine des Maisons Brûlées
Residual sugar can't obscure the fruit in this off-dry Cabernet Sauvignon rosé ($13.99 at Chambers Street Wines).
3. Malvasia Dolce 2010, Donati Camillo
A refreshing spritz saves this luscious Italian wine from too-syrupy sweetness ($22.95 at Vine Wine).
4. Rosa, Rosé, Rosam 2012, Domaine La Grange Tiphaine
Off-dry with a festive fizz, this Loire blend comes from a pét-nat pacesetter ($21.99 at Chambers Street Wines).
5. Lily's Cuvée 2012 Chardonnay, Donkey and Goat
Buoyant and unfiltered, made from Anderson Valley grapes by a Berkeley urban winery ($29.95 at Vine Wine).
6. Z Bulles, Vincent Caillé
An apple-y expression of the Loire's melon de Bourgogne grape ($23.95 at Vine Wine).
*This article originally appeared in the July 22, 2013 issue of New York Magazine.