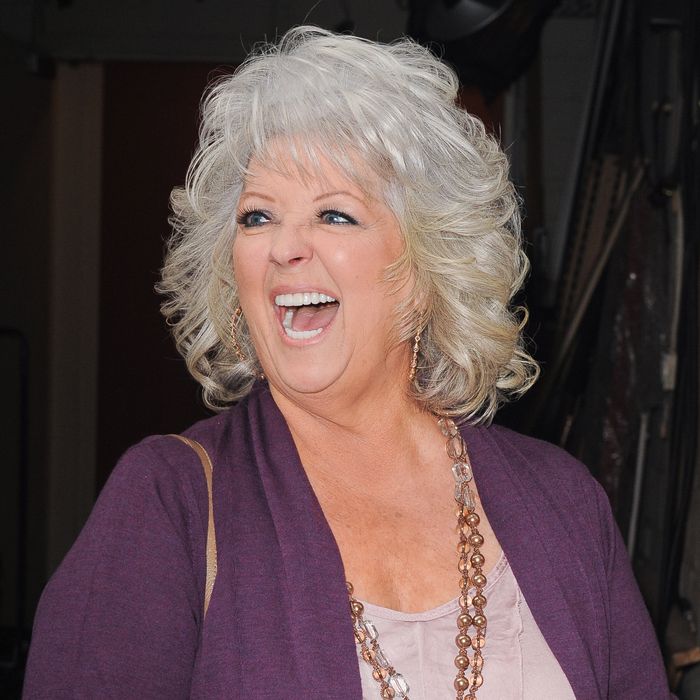 Deen has been a part of the festival every year.
Photo: Getty Images
The massive, sixth annual Food Network and Food & Wine-sponsored festival happening at various venues throughout the city from October 17 through 20 will go on without Paula Deen, who was dropped by the television network last month after allegations of past racism dominated the headlines and led to the subsequent collapse of the celebrity chef's media and merchandising empire. Food Network gossip notes that the description of the Deen-hosted Celebrity Cruises-branded "Classic Comfort Brunch" and a link to buy tickets on the event's website have been replaced with an update. "Paula Deen has informed us that she will not be appearing at this year's Food Network New York City Wine & Food Festival, which she has tirelessly supported year in and year out. While we are disappointed, we understand and support her decision," it reads.
In somewhat cheerier news, Deen's white-haired husband Michael Groover was a finalist in an Ernest Hemingway look-alike contest in Key West. Deen was not present during last week's event, but when Groover told the audience his wife had planned to be there to support his competitive literary doppelgänger efforts, the crowd "responded with thunderous applause," NBC reports.
Paula Deen Cancels NYCWFF Event [Food Network Gossip]
Paula Deen's Husband Finalist in Hemingway Look-Alike Contest [NBC South Florida]
Earlier: Here's Your First Look at the Lineup for the 2013 New York City Wine & Food Festival