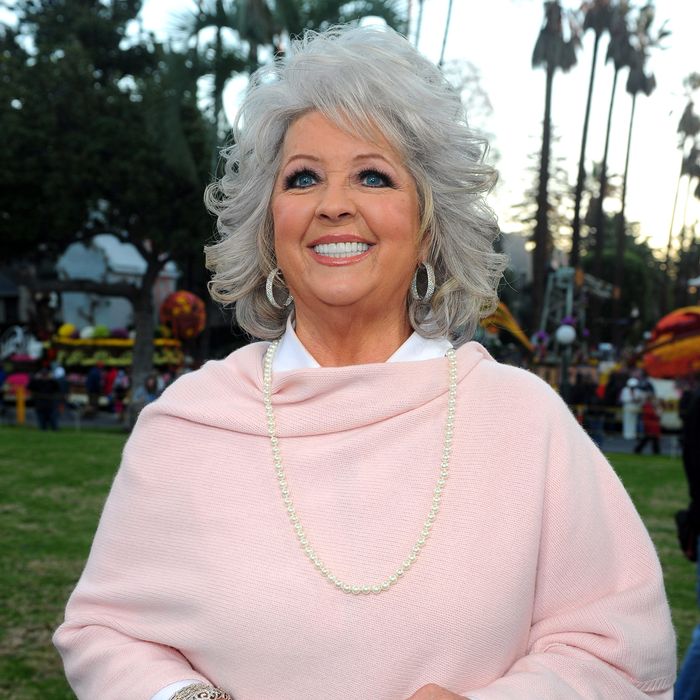 Score one for the embattled celebrity chef.
Photo: Alberto E. Rodriguez/Getty Images
An apparently not too bright 62-year-old upstate New York man named Thomas George Paculis e-mailed prosecution and defense attorneys working the ongoing Paula Deen Enterprises sexual harassment lawsuit in Savannah, Georgia, late last month with a message that he had some "true and damning" information on the embattled celebrity chef. Paculis promised the disclosure would be sufficient for former employee Lisa Jackson to win her case against her former employers at Bubba's Seafood and Oyster House. "There is a price for such information," he wrote, according to a Reuters report, adding, "You can contact me here if you feel it is necessary … or I can go public and we will see what happens then."
Of course, Deen's lawyer, Greg Hodges, contacted the FBI, which instructed him to negotiate a payoff with Paculis, who was seeking $250,000 in exchange for not going straight to the media with his bombshell scoop. In a clutch showing of attempted extortion bargaining, federal authorities told Hodges to try to convince the Newfield, New York, man to take $200,000. He agreed over the phone on June 27 and was arrested on Friday in Ithaca. Other than scary moustache-grooming techniques, it's unclear what kind of damning information Paculis allegedly had, but he'll appear in front of a U.S. Magistrate Judge in Savannah next week to explain himself.
Man Charged With Trying to Extort $250,000 From Chef Paula Deen [Reuters/NYT]
Man Arrested on Extortion Charge [FBI]
Earlier: 7 Ridiculous Things We Just Learned From Businessweek's Huge Paula Deen Story