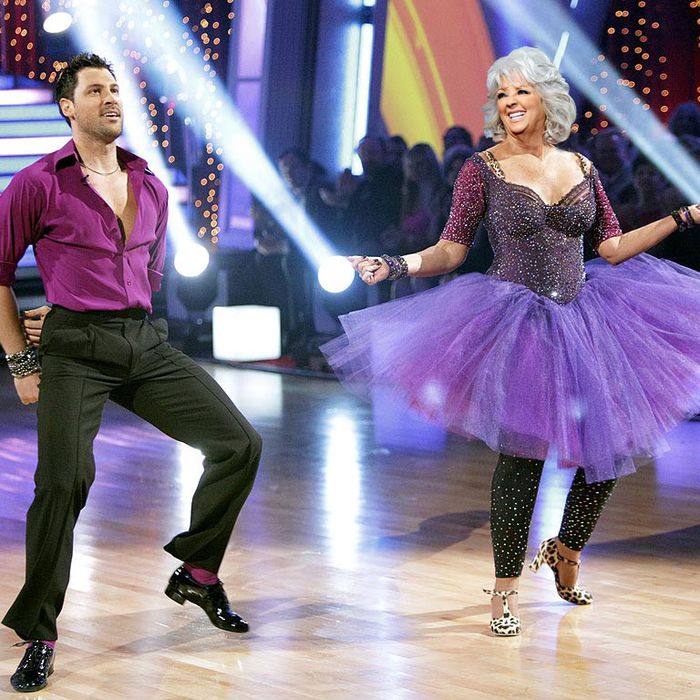 It might look something like this (apologies to Kirstie Alley).
Photo: Adam Taylor/ABC (DWTS); Slaven Vlasic/Getty Images (Deen)
If the people in charge of keeping America entertained have their way, embattled celebrity chef Paula Deen will be next in the great big conga line of vaguely controversial Dancing With the Stars cast-people that began with Kate Gosselin and continued with Bristol Palin, the International Business Times reports. Or maybe not.
"The producers would love to have Paula join the cast of next season," says the VH1 host/gossip columnist Naughty But Nice Rob (apparently this is not his real name), though ABC reps won't comment on the rumor or even say when DWTS is coming back to the airwaves.
In the meantime, Paula Deen has turned the show down in the past, saying, "I've got catfish arms," and in other, more or less equally depressing news, Donald Trump says there's always a spot for the chef on Celebrity Apprentice. We weren't aware, but apparently it's the NBC show that's bar none the best way for a controversy-stricken celebrity to take baby steps on the road to multi-million-dollar empire recovery. Or at least that's how Trump puts it:
"Celebrity Apprentice has proven to be a great format for reinventing and re-establishing careers … i.e.: Brett Michaels, Arsenio Hall, Trace Atkins, Joan Rivers and many others. Paula Deen's reputation has taken a big hit, and what better way to make a comeback than by raising money for charity?"
Deen made her career by cooking and selling her brand of food as part of a larger lifestyle. Because that lifestyle now seems, to most, as less than appealing, any image "reinvention" she pursues now might want to start with those categories. Unlike Palin and Gosselin, Paula Deen has some skills, and whether or not anyone is really clamoring for it, she's probably coming back to television. As thrilling as it might be to see her do the cha-cha or face off against a squirrel-eyed Gary Busey, these reality shows are not genuine opportunities for Paula Deen, who has inexorably become emblematic of a culture of casual racism that's much larger than her brand. She really has some explaining to do, after all, not a two-step.
Paula Deen Racial Slur Controversy: Will Celebrity Chef Be On 'Dancing With The Stars' or 'Celebrity Apprentice?' [IBT]
Earlier: Paula Deen's No. 1-Selling Cookbook Just Got Canceled