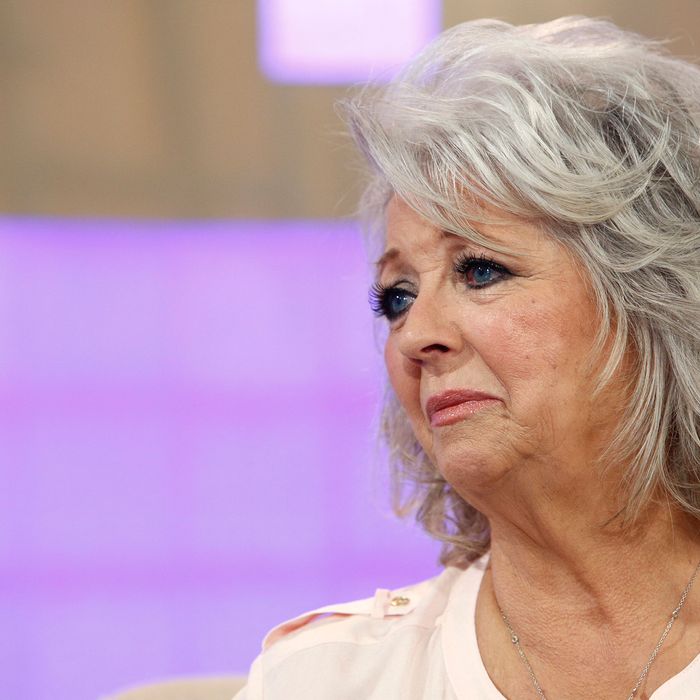 September 11 fits into this how?
Photo: NBC/Getty Images
Following her sudden Food Network firing, the ongoing Paula Deen saga has since channeled through an outpouring of fan support and into the choppy waters of dropped corporate partnerships. Now Bloomberg Businessweek takes a good look at the shoddy foundation of the celebrity chef's various projects and dealings with friends and family in an effort to explain how it all crumbled. From Deen's rise as a lowly sandwich entrepreneur to a multi-million-dollar mogul, a few of the most interesting takeaways are straight ahead.
1. It was a Victoria's Secret model who gave Deen her big break: "In 1999, a former Victoria's Secret model who'd moved to Savannah to start a dog accessories business introduced Deen to a TV celebrity and producer named Gordon Elliott."
2. Deen and her producers were 9/11 opportunists: "The first pilot Elliott put together went nowhere. But in the fall of 2001, Elliott and Deen's agent, Barry Weiner, saw an opportunity in the wake of the Sept. 11 terrorist attacks. They went to the Food Network and pitched Deen's cooking as the epitome of comfort."
3. Deen ceded so much control of her empire she had no idea what it was worth: The chef "said she 'wouldn't have a clue' how much her company netted last year. Asked if the company 'brought in millions of dollars a year,' she replied, 'I would say that's fair.'"
4. Deen's brother is even grosser than you might have thought: "Deen's brother also admitted to invoking the n-word at work, including in reference to President Obama. While he denied alcohol addiction, he confirmed he had been in rehab for cocaine and alcohol abuse in the past and that he drinks at work. He testified that at home he consumes a gallon and a half of Jack Daniel's each month. He also confirmed that he'd taken money from the restaurant—some $30,000—that Jackson later discovered and reported to the corporate accountant."
5. It's not just one cookbook that Random House pulled from the lineup: The article reports the publisher "canceled its contract to publish five more cookbooks by Deen."
6. Outsiders tried to get Deen's brother booted from their Uncle Bubba's restaurant: "Two top managers and an outside human resources firm all recommended that Hiers be removed from such involvement, according to court documents from the lawsuit."
7. Paula Deen will rise again: According to brand consultant Allen Adamson, anyhow: "She's going to return to a powerful, regional brand. She's not going to be as effective anymore as a celebrity spokesperson on the coasts or in other markets. But among her core constituents she might even be more powerful when this is all over. There's a circle-the-wagons mentality."
For Paula Deen, Management Mess Leads to Career Meltdown [Businessweek]