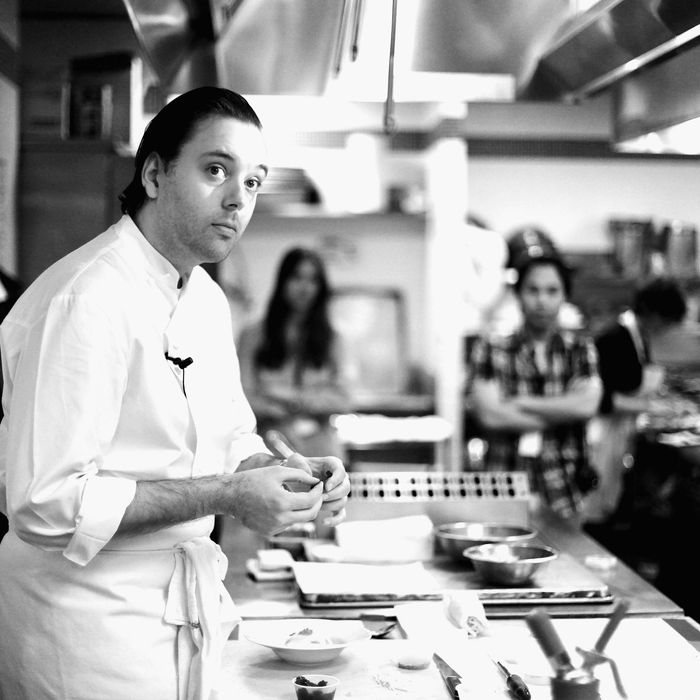 Will Corton go on without its Michelin-starred chef?
Photo: Neilson Barnard/Getty Images
The English chef has left Corton, the restaurant he co-owned with restaurateur Drew Nieporent in Tribeca, the New York Times reports. Paul Liebrandt will shift all of his attention to the Elm, his two-week-old restaurant at the King & Grove hotel in Williamsburg. Liebrandt is also reportedly working on a new project in Manhattan with the same investors. But the question remains: Will Corton go on without the chef who was so integral to its identity?

The early days of the restaurant, replete with high-stakes kitchen antics, Marco Pierre White–style yelling, and a good deal of avant-garde composed plates, were detailed in the 2011 documentary A Matter of Taste.
Corton rambled on for five years, winning acclaim, accolades, and stars of all sorts, and also solidifying Liebrandt's reputation as a chef committed to modernist fine dining. The chef's minimalist, plated arrangements — like this dish of skate, razor clams, and stinging nettles — may seem overtly conceptual, but the chef told Grub Street in January he was conscious of changing his cooking style toward something resembling "French classic, but with a really nice modernist twist," as he's gotten older.

Then the Elm opened, and Corton shut down for the month of July, reportedly for a summer break. But there was unambiguous tension between Nieporent and Liebrandt, especially in this Times profile.
A Corton staff member tells Grub Street that despite the apparent tensions and the vacation, things at Corton seemed stable: A recent series of high-profile hirings, including ex-Atera chef Victoria Blamey as chef de cuisine, was a good sign. But in a staff meeting held on Friday, Nieporent reportedly announced that while there was no bad blood between him and the chef, they were going their separate ways. Corton would not reopen for the immediate future, and the rest remains uncertain. Liebrandt, who had allegedly signed the deal to open the Elm without informing Nieporent, was reportedly invited to the meeting, the Corton staff member tells Grub Street, but the chef did not attend.
Through his publicist, Liebrandt confirmed to the Times that he had indeed moved on and that he will also open another restaurant after the Elm, which the paper calls a "high-end project in Manhattan that could come together next year."
Meanwhile, much has been made of the similarities between Corton and the Elm, which Liebrandt owns with a separate set of investors.
"Paul was my partner," Nieporent tells Grub Street. "He wasn't my employee. And partners can't be your competitors. You can't take the same product, sell it at half the price, and then just move it to Brooklyn."
Nieporent adds, "Corton was a huge achievement for both he and I. That's something I stand by. It was absolutely stellar."
For now, the restaurateur confirms that he's been meeting with various members of the kitchen staff — most of whom have been on vacation or have been staging at other high-end restaurants. Nieporent is not ready to make any announcements about the future of the restaurant, other than to say he has a "very good relationship" with his landlord.
"I say this a lot, but I just want to treat my staff better than my customers," adding, "This was a tough one, but we'll move forward." The restaurant may continue on as Corton, he confirms.
"Some of the best chefs in the country — from all around the country — have approached me," Nieporent says. "I haven't even put the word out. There are many strong possibilities," he says, " and I think the future is quite bright."
Chris Crowley contributed reporting for this story.
Paul Liebrandt Is Leaving Corton [NYT]
Earlier: Check Out the Menu for the Elm, Paul Liebrandt's New Williamsburg Restaurant
Earlier: Corton Announces It Will Close for the Month of July