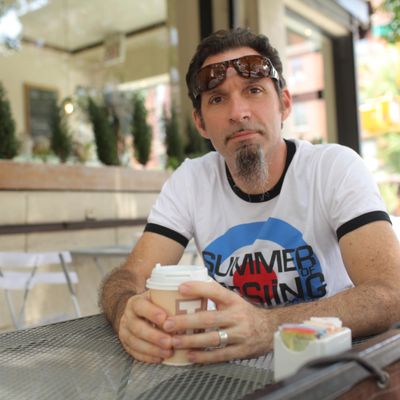 Grieco, outside Taralluci e Vino.
Photo: Melissa Hom
Lately, it seems interest in Hearth — Marco Canora and Paul Greico's East Village restaurant — is at an all-time high. And Grieco, who serves as GM, doesn't know why: "Marco and I — we have no fucking clue!" he says. "Because if we did, we would have done it nine years ago." It's safe to attribute at least some of the attention to Hearth's ten-year anniversary, which will happen this November. But the renewed focus might also be a result of Grieco and Canora making a conscious effort to halt expansion of their popular Terroir wine bars — at least temporarily. "We took 2013 off from any new openings, or even conversations of new openings, to try to make better what we have in front of us," he says after the duo opened two of their Terroir wine bars in 2012. "Hearth still remains the place that we dedicate the majority of our energies." It's also where the two spend most of their time, as you'll see in this week's Grub Street Diet.
Friday, July 5
Breakfast was two bananas, and brunch was baked eggs with tomato sauce and Bulgarian feta, and a pita. Café au lait, too. For an early afternoon snack, it was another café au lait with a cinnamon doughnut.
Normally, I'm at work on Fridays and with family Saturday and Sunday. We rarely go out because I want to be with our kids, and Monday through Friday I'm away from home and eat almost every single meal at the restaurant. But this was the holiday weekend, and we were at my mother-in-law's in Ossining. She prides her skill set on the barbecue, and she's pretty damn good — so meals alfresco over the hot-but-beautiful Fourth of July Weekend.
Dinner that night was braised chicken thighs with roasted potatoes and a salad, accompanied by a bottle of Breuer Riesling Charm, 2011. I am always, and only, on wine duty. Thankfully, it's my only obligation.
Desseert was an ice-cream cone with salted-caramel ice cream.
Saturday, July 6
Breakfast: a pint of blueberries and two fried eggs with a brioche roll. And two cups of coffee.
Lunch was a roast-beef sandwich with an orange cream soda, then another large cup of coffee.
For dinner it was farfalle with pesto, a green salad with avocado, and a baguette. And that was accompanied by a bottle of Schloss Johannisberg Riesling Feinherb, 2009. I'm not going to do this article and not drink Riesling. Like, yeah, even if I had a Cabernet from California I'm gonna tell you? There's the Summer of Riesling, of course, and we celebrate it at the Terroirs and Hearth. Everything I do from a beverage perspective is geared around that, and I want to be the de facto Riesling rest stop for everyone in America. But I truly drank these Rieslings — I drink it throughout the year, but especially in the summer. I not only talk the talk, but I walk the walk.
Sunday, July 7
Breakfast was a bowl of shredded oats and a bowl of blackberries, followed by a lunch of two fried eggs, toast, and a bowl of cherries. Fried eggs are a staple of my lunches. Had three large cups of coffee, too. I cannot fully express the amount of coffee I consume on a daily basis, but whatever I say here you can probably multiply by three. I am addicted to caffeine, so that is definitely a part of my day.
It was an antipasto dinner that night: mozzarella with peppers, olives, prosciutto, cherry tomatoes, arugula salad, and a baguette. Dessert was more cherries, and it was all accompanied by a bottle of Dr. Bürklin Wolf Riesling QbA 2009.
Monday, July 8
Breakfast that morning was two bananas, shredded wheat with blueberries, and peach yogurt. Breakfast is always at home. It is very simple, you know, the cereal with the fruit. There's generally not a bad product at the breakfast table for me. There's always yogurt, so I don't know if people will define that as a very healthy breakfast, but it is what it is.
I hate to put out a picture of myself as a regimented fellow — which would imply a conservative fellow, because I don't think I am at all — but in parts of my life I am very much a creature of routine. That doesn't mean that I don't like things that are off the beaten path, or different shit, or that I'm afraid of trying new things — that's not the case. But, um, parts of my daily life are very routine.
Don't take this the wrong way, but my wife makes me a sandwich every day — and she's a damn good sandwich maker. I always eat that at work. On Monday it was a chicken sandwich.
If it's Monday through Friday, I have two dinners. One dinner [is] a family meal with the staff at 5:15, and one dinner [is] at ten o'clock by myself after service. First dinner that night was fried chicken with mashed potatoes. Late dinner was pasta with pork ragout and ricotta, and a salad of lettuces and vegetables accompanied by two glasses of Jadot Pernand-Vergelesses 2007.
Tuesday, July 9
Shredded wheat with blueberries, two bananas, and peach yogurt. Plus four cups of coffee.
For lunch, a prosciutto, mozzarella, and roasted-pepper sandwich. And a snack of black and red licorice.
I'd love to stand up one day and say, "Guys, I'm gonna cook family meal." And then sense takes over, like, Why am I gonna cook when I have a whole team of professional cooks in there who can do this shit? So … I take no part in preparing family meal, and our family meals are pretty damn good. Dinner that night was rigatoni with bolognese, and the wine was Selbach-Oster Riesling Kabinett Halbtrocken Zeltinger Himmelreich 2011.
Wednesday, July 10
Breakfast: shredded wheat with blueberries, two bananas, peach yogurt. And a bucket of coffee.
Lunch: the prosciutto and mozzarella sandwich with the roasted red peppers — yeah, the same thing as Tuesday. I'm a creature of fucking routine.
No snack that day, but first dinner was grilled swordfish with rice, and my second dinner was veal-and-ricotta meatballs and an arugula salad, accompanied by two galsses of Roty Bourgogne Rouge 2006. Dinner is always accompanied by a minimum of two, if not three or four glasses of wine. I'd love to tell you I average a bottle a day, which might be good for the story, but that's not always the case.