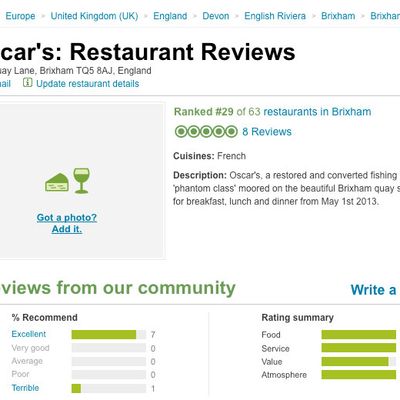 Raves all around!
Photo: Courtesy of TripAdvisor
Some wry "disgruntled businessman" in England with way too much time on his hands wanted to draw attention to the fact that content on the travel and reviews hub TripAdvisor is for the most part unregulated, so he created Oscar's, a lovely sounding mom-and-pop Michelin-star-wannabe restaurant situated on an old "phantom class" boat moored in Brixham, England. It turns out that the restaurant's supposed location was actually just an alleyway filled with Dumpsters, and it was proven not to exist, the Daily Mail reports, after lots of would-be customers couldn't find it.
Too bad, because the place seemed to be on to something great: a high-caliber restaurant on a boat that served the freshest fish both simply and with flourishes of molecular gastronomy. Here's what some completely bogus customers were saying about the place:
• "[T]he poached bream was simply historic."
• "The big suprise [sic] here was what Colette and her staff does in the kitchen, something bordering on sorcery. "
• "The owners and staff seem to have a grand life, they dive for shellfish, handline and rod fish most summer days and in the evening they cook and eat it. "
• "'Is Oscar's as good? No not quite - but as has been mentioned already, there is an unbelievable quality about it."
• "Trying to book a table can be a nightmare, Fridays and Saturdays are booked well in to 2014."
Proprietors Colette and Alfredo, along with everything else about the place, turned out to be fiction. But user "Oscar Parrot" went to great lengths to make Oscar's seem real and even set up an e-mail address for reservations.
"There are many businesses that have had grudge reviews listed on TripAdvisor, mostly from a rival," he told the Daily Mail. "Many of these are so blatant, any person doing a short check would see the obvious. The chances were better then average that Oscar's could have sailed on for months."
The restaurant will live as part of a fake-restaurant row that includes the sophisticated Osteria L'Intrepido, the locavorish Brooklyn A.D.D. joint Fuds, and the only marginally satirical Guy's American Kitchen. In the meantime, TripAdvisor has taken the listing down.
Diners tricked into visiting dustbin alley after businessman posts spoof restaurant reviews on TripAdvisor comparing imaginary venue to world's best eateries [Daily Mail]