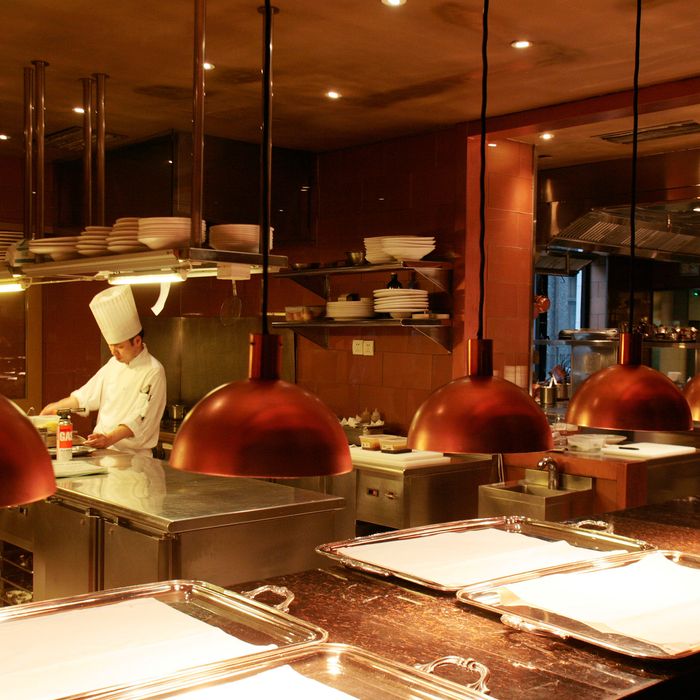 "Where's everyone else?"
Photo: Kevin Lee/Bloomberg News
One sweet spot amid otherwise-sour economic news is the relatively robust restaurant industry: In fact, New York has about 20 percent more restaurants than it did five years ago. Yet WNYC recently caught up with Peter Hoffman, who says he just can't find any good cooks — and he's not alone. Many of the city's chefs say they can't keep their kitchens staffed — even with a surfeit of culinary school grads. So, what exactly is going on?
"It's the biggest dirty little secret about being a chef in New York," says Andy Ricker, Pok Pok's James Beard Award–winning chef and owner. "I can't profess to understand it, other than to say it's just the way the city is. There's so much opportunity here; life's so difficult; people are always looking for something a little better." He adds, "A job that's a five-minute walk from the train instead of fifteen can make all the difference."
High turnover in restaurants isn't new — on Craig's List, New York's "food/beverage/hospitality" listings page gets 500 postings a day — but even top-tier spots like Eleven Madison Park are looking for line cooks. Jean-Georges Vongerichten's ABC Kitchen has gone to the awfully desperate-looking measure of reposting the same ad as many as three times a day.
Vongerichten isn't alone here. "We do a Craigslist ad five days a week," Alex Stupak says of his two Empellón restaurants. Meanwhile, Hoffman, the farm-to-table pioneer, says back-of-house applicants at his Back Forty restaurants have dwindled. "And I'd say only one in four trails we schedule actually occurs," he tells Grub Street. "I've been cooking for more than twenty years. The last couple are the worst I've seen."
Why are chefs having so many staffing troubles when culinary school enrollment (and graduation) has skyrocketed in the last couple of years? Here's what's up:
The Traditional Apprentice Model Is Dead
The days when a young cook would start off spending months prepping vegetables at a restaurant like Lutèce before doing any real cooking are long gone.
"The traditional kitchen is an autocratic master-apprentice model, where all the students say is 'Oui, chef,'" Mark Erickson, provost at the Culinary Institute of America, told the Times in April after students protested changes in the CIA's educational standards, including that they log time in professional kitchens. "Now, creativity and improvisation are also important, and we are struggling with how to reconcile the two cultures."
Ricker adds: "In my day, there was honor in working in a restaurant for a year and sticking around." But now, "When I see a résumé, I'm not impressed if you've worked at four top-notch restaurants in one year. It just shows a lack of commitment."
Expansion Dilutes the Talent Pool
With the current explosion of chefs opening high-quality "casual" restaurants in New York comes the need for an ever-larger talent pool. But even if there are more cooks, there aren't necessarily enough talented cooks to meet chefs' high standards.
"My restaurants right now have the best kitchens I've ever had," Stupak says, clearing the air, "but, yeah, the standards for the hiring process are definitely lower. Today, for every ten interviews I schedule, I'm lucky if two people show up." He says he used to ignore résumés with even one misspelled word but can't do that anymore. For some contrast, he adds: "In my first job out of culinary school," at Tru in Chicago, "I worked 90-hour weeks at minimum wage." (Last year, Stupak outed a line cook via Twitter after the cook disappeared in the middle of service; that was followed by a cheerier tweet asking for "serious line cooks. Lots of them!")
Greener Pastures Are Everywhere
The sheer number of kitchens in New York means disillusioned cooks have lots of options, even after they're hired. "In this city," Ricker contends of employees with wandering eyes, "if some cook comes to me and says, 'It's $2 more per hour, it's closer, I've always wanted to do that kind of food,' what can I say besides 'Mazel tov'?"
In addition to other restaurants, some people theorize that cooks are decamping for cities where the food culture now rivals New York's but rent does not. "You don't have to be in New York any longer," Hoffman says. "A lot of high-quality restaurants now are outside the city center. That didn't exist ten years ago."
Pro Kitchens Are Tougher Than TV Makes Them Look
"A lot of kids coming out of culinary school want to get on Chopped or have their tweezers out in the kitchen," Ricker says. "You have filing clerks who decide they want to be chefs; they take their savings, go through a yearlong program, and then expect to come out and work as a sous chef. I worked as a dishwasher for two years before I ever touched any food."
Ricker also flambés the media's portrayal of restaurant life: "They just don't tell it like it is. In New York especially, it's tiny and hot, not much room to move. You're dehydrated, and it's crazy busy; the floors are greasy; there's flames and water. It's not like being in Kitchen Stadium."
And so, cooks who thought they could cut it in a pro kitchen are quick to depart and do something else.
Cooks Pass on Restaurant Jobs to Open Their Own Businesses
Call it the Smorgasburg Effect: Plenty of potential kitchen staffers would rather jump into managing their own businesses than work long hours on someone else's line.
Maureen Drum-Fagin, director of career services at the Institute of Culinary Education, says the existence of more career options is one reason culinary schools have grown. "We always say, 'Go out and work in a kitchen — that's still the starting point,'" she explains. "But now you can work with the same purveyors, use the same top ingredients, and connect with the same farmers by being an artisanal food producer or by having a food truck."
"There's this perception that everybody comes to culinary school to start the next Per Se or Daniel," says Steve Zagor, dean of ICE's School of Business and Management Studies. "But we get a lot of people by definition who have an entrepreneurial bent, and it's coming alongside a shift toward more accessible food."
So, what can chefs do?
Ricker's strategy for hiring new talent is to cast as wide a net as possible: He estimates right now that Pok Pok drops $1,000 a month on Craigslist and Poached ads, even print classifieds in Spanish-language papers like El Diario, in an effort "to explore as many avenues as we possibly can." He casts a wide net because "not everybody who's unemployed is employable. A huge number aren't."
Another move is judging final exams at culinary schools like the International Culinary Center. If a chef sees a student whose work impresses them, they can offer the student a trailing gig — like an extended interview in the kitchen — on the spot. Hoffman adds that "improving the retention rate is something chefs can work on" to minimize "monthlong tenures."
Of course, more restaurants and opportunities are great for the industry as a whole, yet Stupak can't help but look down the road: "If it is getting worse, then where does that leave us in a decade? If it gets worse, that means fewer tenable cooks, and fewer tenable cooks means fewer good restaurants. It snowballs!"