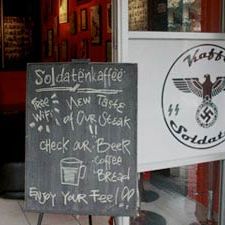 "Nazi kitsch" is not a real thing.
Photo: Soldatenkaffee
It's unclear if the Wi-Fi is free, but the walls are painted socialist red, and the coffee's most likely not at all fair trade at SoldatenKaffee, a small café decked out in Nazi regalia and all sorts of other artifacts of oppression in the West Java capital of Bandung, Indonesia. "I realized that displaying the Nazi symbol was going to spark some controversy, but I decided to go for it because I don't feel I'm violating any laws," says owner Henry Mulyana. SoldatenKaffee, which should be said is capable of producing a pretty festive Thomas the Tank Engine birthday cake, has been hiding in plain sight since opening its doors in 2011, but the recent spotlight on Thailand's Hitler Chicken fast-food restaurant has prompted others to smoke out other offensive theme restaurants on social media.
The Jakarta Globe reported that local officials have called Mulyana to appear at a proceeding during which they will determine "whether his objective was to incite racial hatred." Mulyana claimed innocence in the most moronic way possible: He told the newspaper that despite being the proprietor of a Nazi theme restaurant, he was "not personally familiar" with the ideology. Then he mentioned there was "no proof Nazis were responsible" for the deaths of 6 million Jews during the Holocaust. "The only reason why I put up Hitler's picture is because it completes the theme I've set for my business," he said.

Bandung Cafe's Nazi-Kitsch Theme Sparks Some Uncomfortable Questions [Jakarta Globe]
Earlier: Hitler-Themed Chicken Restaurant in Thailand Ruffles Many Feathers