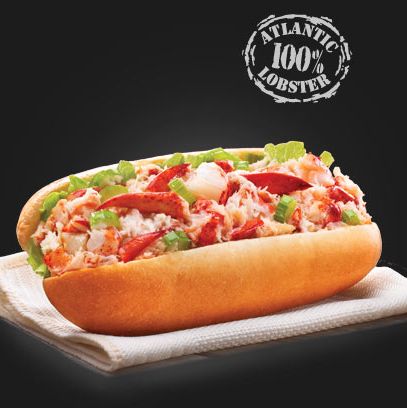 The fast food lobster roll is back on the menu for a limited time.
Photo: Courtesy of McDonald's Canada
The fast food giant sells this thing that purports to be an old-fashioned lobster roll in parts of Canada for a limited time each year. For the longest time, it used to be the exclusive domain of McDonald's in the Maritimes — Nova Scotia native Ellen Page is riveted — but now, the so-called McLobster has made its way to Ontario, and while some have argued this is great news for the lobster industry, others are just scared out of their minds. A supposed delicacy made with "100 percent Atlantic Lobster" sold at the low, low price of $6.97 ($6.77 U.S.D.) per roll by the world's most powerful restaurant chain is bound to prompt a breath of strong reactions, and we've got 21 of them, straight ahead.
@GPotocky I'd try it, if nothing else has killed you from there yet, I bet the "lobster" is fresh from the sea.— Sir Kyle (@Leroyality) July 23, 2013

@mikesbloggity @McD_Canada This land-locked Albertan has long longed to try a McLobster. Please, indeed!— Heath McCoy (@VanHeathen) July 25, 2013

Barfing because McLobster #idontwanttoupsell #blah— nay (@nayelyacevedo) July 23, 2013

As a foodie, I refuse to like any pics of the McLobster. #stillmcdonalds— Brennan Valenzuela (@nannerbs) July 25, 2013

What the fuck is a mclobster— Cody Jones (@CodyJones71) June 23, 2013

What the FUCK is a mclobster— Shosh (@misstf4) July 24, 2013

McLobster comes to Ontario | Metro— McLobster (@YummyMcLobster) July 25, 2013

Omg McDonalds now has a mclobster :/— Taryn DeCicco (@taryndancer29) July 23, 2013

I don't know what's worse, #IlyaKovalchuk retirement or #McDonalds announcing the #McLobster… Guess both are for a limited time— Chris Harrott (@CLH_57) July 12, 2013

Mclobster? Just bring Pizza back you idiots.— JWalk (@THISISJWALK) July 23, 2013

Today I tried a #McLobster …see what I thought… http://t.co/mCM63dB8QJ— Rachel David (@RachelRDavid) July 24, 2013

The McLobster is now available in some McDonald's in Ontario and unfortunately I'm REALLY about this :(— David Robert (@DavidRobert) July 25, 2013

Just saw a McLobster poster in Toronto. @McD_Canada WHAT DOES THIS MEAN?!— Lucas Bailey (@LucasBailey_) July 24, 2013

tried the McLobster #wasteofmoneyreally— Lynn (@lynnagatha) July 24, 2013

@McDonalds your mclobster is a disgrace how can I get my money back @ScottStranges14— TJ Barrett (@barrettt93) July 24, 2013

Hey, anyone telling me a story about eating a McDonalds 'McLobster'.. I can predict the ending!— Keila Sobko (@ksobs) July 23, 2013

@misstf4 i got it today, it tastes so bad— Gowtham (@GowthamKa) July 24, 2013

Everyone, your lobster mix at McDonald's, and no this isn't someone puke. pic.twitter.com/uqWf0F3aNo— Damian Bouwers (@DamianBouwers) July 25, 2013

Ewwww McDonald's has a McLobster now…. What the bloody hell— Taylor Love (@taaylorlovee) July 24, 2013

The McLobster is decent.— Billy Phaboriboun (@billyphab) July 17, 2013

McLobster comes to Ontario [The Star]