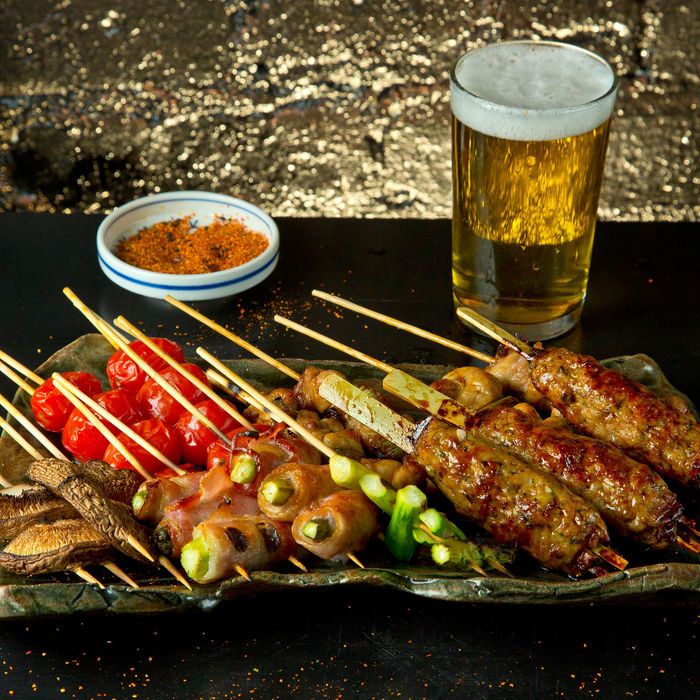 Yakitori galore; skewered choices include shishito peppers stuffed with Japanese chicken meatballs.
Photo: MaisonO/Grub Street
Partners Lou Ceruzzi, Matt Abramcyk, and Serge Becker have opened MaisonO at 98 Kenmare Street with former Masturi and Hiro chef Tadashi Ono at the helm. Ono visited a number of izakayas and and yakitori restaurants in Japan last summer, and he also has a book on Japanese "soul" food coming out this fall. At MaisonO, a long list of yakitori is central to the menu, and hot dishes like fried squid with yuzu mayo and miso-braised short ribs seem to reflect Ono's recent excursions: These are all things, after all, you might want to order to accompany a few mugs of very cold beer.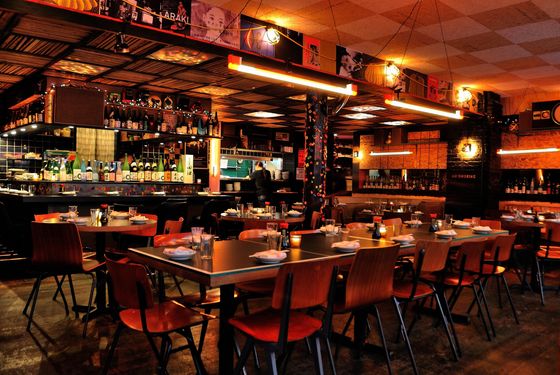 Designer Jason Volenec says he was inspired by the 1977 movie House.Photo: MaisonO/Grub Street

There's a 25-seat cocktail bar in the restaurant's basement and all kinds of quirky visual cues and oddities, like name tags on the bottles behind the bar. Designer Jason Volenec also traveled to Japan for research and reportedly looked to traditional architecture and Nobuhiko Obayashi's cult (and bizarrely trippy) 1977 film House as an inspiration. Which, considering there's a Suspiria-themed restaurant in Tokyo, somehow makes sense. Check out the full menu below, which does not involve bananas. Bananas!
Menu [PDF]
MaisonO, 98 Kenmare St., nr. Centre St., 212-274-9898
Earlier: Tadashi Ono Opening Maison O in Former Kenmare Space