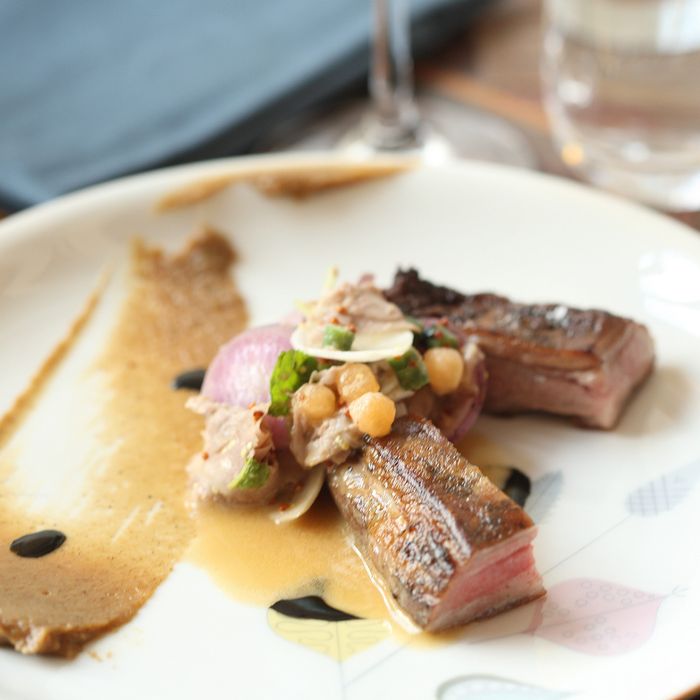 Lamb breast with marble potatoes, sunchokes, and lamb's tongue.
Photo: Melissa Hom
Chef Daniel Burns, who innovated with various lactobacilli and spores at Momofuku's fermentation-centric test kitchen and previously ran the pastry program at Noma, has finally got his Danish modern nook in order at the back of Tørst on Manhattan Avenue in Greenpoint. Luksus has been in friends-and-family mode during the last week, and online reservations for the 26-seat tasting-menu-based restaurant are already fairly booked. There are, however, lots of reasons why you may want to grab your seat now.
The menu, served Tuesdays through Fridays, is $75, with an eclectic $45 beer pairing devised by Evil Twin brewer Jeppe Jarnit-Bjergsø and the Tørst team. Following the format served at restaurants like Mugaritz and Atera, the meal begins with three snacks, followed by four main dishes. The opening menu includes a salad made from little gem or baby romaine lettuce roasted with the roots intact, which is served with egg yolk, roasted mushrooms, and pea broth.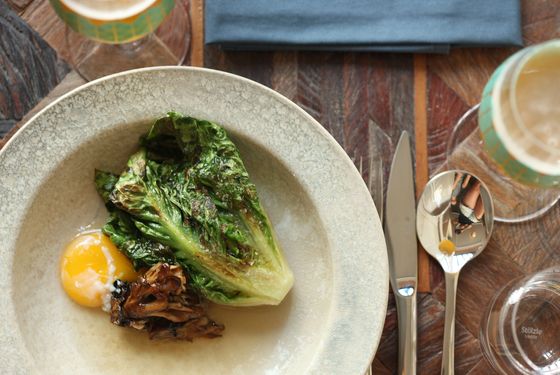 Roasted baby gem lettuce, mushroom, pea broth, and yolk.Photo: Melissa Hom

Another main is lamb breast that has been marinated and tenderized in a slurry of yogurt and burnt hay ashes. "We cook it really slowly at first," says Burns, "but when it's grilled, all of the milk solids caramelize in the pan." It's served with roasted sunchoke purée and marble potatoes dressed with thinly sliced lamb's tongue and cut wax beans. "It's sort of like a take on a potato salad," Burns says.
Sweeter courses include a composed dessert of "super-light" rhubarb mousse, beet purée, pickled beets, and beetroot meringue, served with a quenelle of pea and anise-hyssop sorbet. Burns is baking the restaurant's sourdough in house, based on a recipe he created after talking to Melissa Weller, the former Roberta's baker who's now making excellent bagels under the name East River Bread. "We use a poolish that sits overnight," Burns says, "with a smaller amount of fresh yeast. It doesn't leaven quite as much, but it has a fantastic crust."
Danish artist Eske Kath painted a blackboard mural, adding a little color above the seating area, and keeping with the the restaurant's Nordic roots, Burns plans to host guest chefs from Denmark in about a year's time. "It'll be a really a great opportunity to see what's going on in Copenhagen without having to fly there," he says.
Luksus, 615 Manhattan Ave., nr. Nassau Ave., Greenpoint; 718-389-6034
Earlier: Tørst Opens Tomorrow in Greenpoint — and Beer Lovers Should Start Getting Psyched
Earlier: Tørst Team Will Open the 26-Seat Luksus Restaurant in May