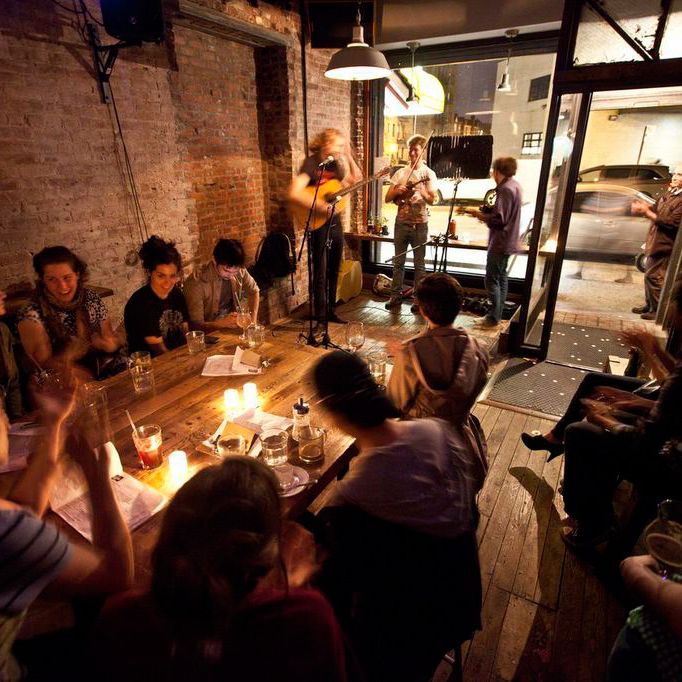 Queens Kickshaw offers fancy grilled cheese, craft beer, and good bands in the evenings.
Too often, "live music" at a restaurant means a band blasting away while you eat — taking your (and probably your server's) attention off the meal. The flip side is that you endure mediocre bar food and watered-down drinks to see a band you like. But a few new standout spots — Oda House and Dead Rabbit, for example — manage to hit the sweet spot by offering both good live music and superlative food. Imagine that! Plus: There are a lot of other oft-forgotten restaurants that you may not realize host nightly performers, too. When it's done right, there's romance in a little live music — or maybe even an actual piano player. Whether you like reggae, folk, jazz, Latin, or even ukulele music, grab a date and hit one of these spots soon.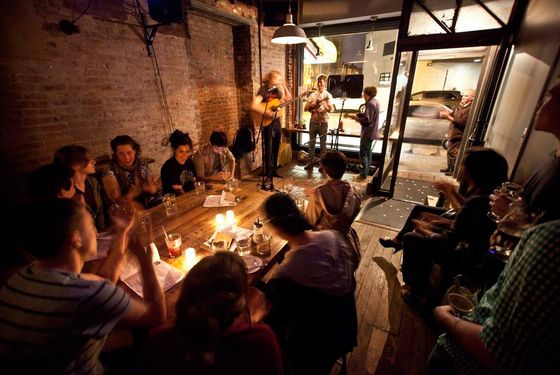 Oda House
The Cheap Eats 2013 pick has a two-person folk band, comprised of singer Mariam Bibilouri and guitarist Justin Marthews, perform on weekends. Make sure to order the khachapuri (it sounds intimidating, but it's just hot cheesy bread), and khinkali, which are basically the Georgian version of soup dumplings.
Center Bar
Michael Lomonaco's classy Time Warner Center small-plates spot has a piano player every Tuesday through Saturday from 6 to 10 p.m. The three rotating musicians play jazz songs, Broadway hits, and guest requests. It's a good move to go early in the evening for oysters, cocktails, and smooth tunes.
Malbec
Below this new Noho restaurant is Tango House, a 150-seat theater that was a cabaret in the twenties. Now Tuesday through Sundays starting at 8 p.m., it's home to 75-minute shows that feature a four-piece band and performance by the Esquina Carlos Gardel tango show. Make sure to go upstairs and get the pretheater $38 three-course dinner.
The Dead Rabbit
It's fitting that the Irish-American "grocery and grog" has a band play Irish music every Monday in the taproom from 9:30 p.m. to 12:30 a.m. And on weekend evenings, a rag pianist plays in the parlor upstairs. It's a great setting to feast on Scotch eggs and drink way too much whiskey.
Dinosaur Bar-B-Que
A different artist plays every week at the Harlem outpost. You can catch the performances (usually it's a blues band) on Fridays and Saturdays from 10:30 p.m. to the early morning hours as you eat a fourth meal of pork ribs.
Antique Garage
Tucked away on Mercer Street, Antique Garage has a romantic vibe (and an awesome wine list). There's live music every night, except for Friday and Saturday. Plus: A rotating roster of musicians means you'll rarely catch the same band. Check out the calendar here.
Queens Kickshaw
The Underground Gourmet awarded this specialty grilled-cheese shop/gastropub three stars. It's great for a lunchtime sandwich and espresso, but even more enjoyable in the evening, when you can order craft beer and hear live music (bluegrass, jazz, and "experimental") on Friday evenings from 9 to 11:30 p.m. This Friday, July 12, alt-country band Homesick Hound Dogs is playing.
Amor Cubano
The upscale Latin-American restaurant in East Harlem has a Cuban band play every night of the week, except for Mondays. You can catch the performance from 7 to 11 p.m. on weekdays and from 8 p.m. to midnight on weekends as you enjoy homemade empanadas and sweet plantains.
The Leadbelly
This place is more than a watering hole: The small but solid menu includes snapper crudo, toasted naan and warm dukkha dip, and an impressive array of oysters. There's live music every night, alternating between a Brazilian brand, reggae singer, ukulele player, and a pianist.
Barn Joo
Right now, the Korean gastropub only has live music "occasionally," but it's planning on hosting concerts every Thursday through Saturday in the future. Stay tuned for details.
Del Posto
For a more elegant experience, there's Del Posto, which hosts a piano player every evening starting at 7 p.m. You won't want to talk as you devour the $100 off-the-menu timpano, so background music is key.
Chez Josephine
Jean-Claude Baker's French bistro is right by the theater district, but you can enjoy free live music every evening and during Sunday brunch. There's a pianist on Thursdays and Fridays and singers and trumpet players on Saturdays and Sundays. A bonus: The fried chicken with blueberry cornbread has an excellent reputation.
Hill Country
Sure, there are a lot of newcomers on the New York barbecue scene. But Hill Country is still damn good, especially because there are live country, honky-tonk, and blues bands Tuesday through Saturday evenings in the restaurant's basement.
Euzkadi
At this East Village restaurant that specializes in Basque cuisine, a live flamenco band plays on Tuesday and Friday evenings. Take a date and split reliable tapas like bacon-wrapped dates and patatas bravas.
Red Rooster/Ginny's Super Club
At Marcus Samuelsson's restaurant, Monday is jazz night, Tuesday is Latino night, and there's Sunday morning gospel for brunchgoers. And at Ginny's, the bar-slash-performance-space directly downstairs, there are ticketed live-music events on Thursdays and Saturdays (but days can vary). This weekend, South African recording artist Simphiwe Dan will perform (tickets are $25), and you can check out the whole calendar here.
Favela Grill
In Queens, this Brazilian restaurant draws a great crowd, and a Latin singer and guitarist on Friday and Saturday nights make this spot even more fun. The steak dishes are solid.
La Lunchonette
This Chelsea restaurant serves home-cooked French food in a romantic setting. Make Sunday date night by heading here to listen to the accordion player (from 6:30 to 9:30 p.m.) and ordering roast chicken.