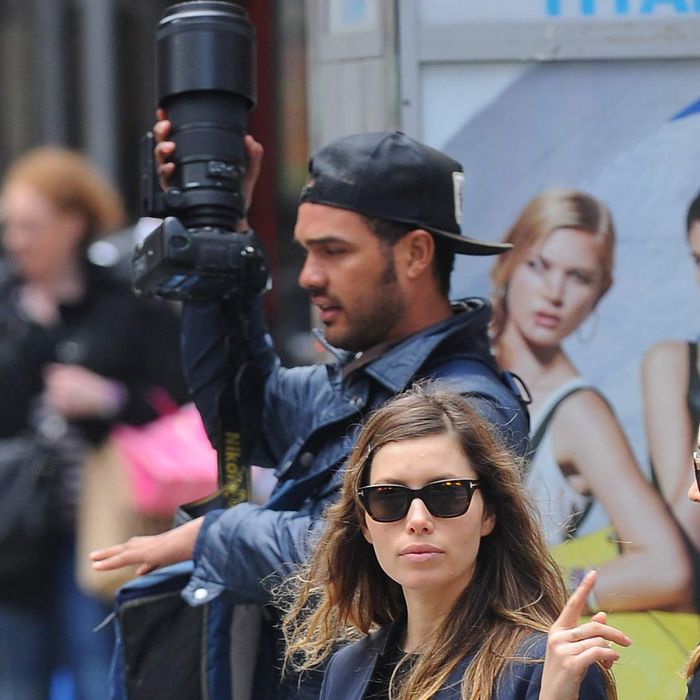 Crispy fish tacos were a good choice.
Photo: Josiah Kamau/BUZZFOTO
This week's heat wave didn't keep too many celebrities inside — though it may have kept them out of the kitchen. Missy Elliott and Mary J. Blige caught up over dinner at Catch; Adam Levine's fiancée, Behati Prinsloo, twirled her engagement ring outside Mercer Kitchen; and pretty much everyone showed up for Peggy Siegal's birthday bash. This, and more, in our weekly roundup of celebrity dining.
Carmine's: Jennie Garth was spotted eating Italian food and looking "very amicable" with ex-husband Peter Facinelli. [Page Six/NYP]
Catch: Missy Elliott and Mary J. Blige ate here together. [Page Six/NYP]
Da Silvano: Katie Couric dined with friends in the West Village. [Page Six/NYP]
Hudson Clearwater: Jake Gyllenhaal brought new girlfriend, model Alyssa Miller, to meet his mom for brunch. [Page Six/NYP]
La Grenouille: Peggy Siegal hosted friends, including Vera Wang, Christie Brinkley, and Tory Burch, for what she joked was her "102nd Birthday Bash." The PR guru is actually 66. [Page Six/NYP]
Mercer Kitchen: Adam Levine's fiancée, Behati Prinsloo, was spotted outside this Soho restaurant, smoking and showing off her new engagement ring. [People]
Mo Gelato: Kelly Ripa and Mark Consuelos grabbed cones after dinner in Little Italy. [Page Six/NYP]
Osteria del Circo: The midtown west restaurant hosted an after-party for the screening of Short Term 12, with the Williams family, Meredith Vieira, Brie Larson, and more. [Page Six/NYP]
Sen: Jimmy Fallon and his wife ate at the Japanese restaurant's original Sag Harbor location. [Page Six/NYP]
Sistina: Diane Sawyer was seen enjoying a romantic dinner with husband Mike Nichols at Caravaggio's sister restaurant. [Page Six/NYP]
Tacombi: Jessica Biel scarfed down crispy fish tacos in Nolita. [Page Six/NYP]