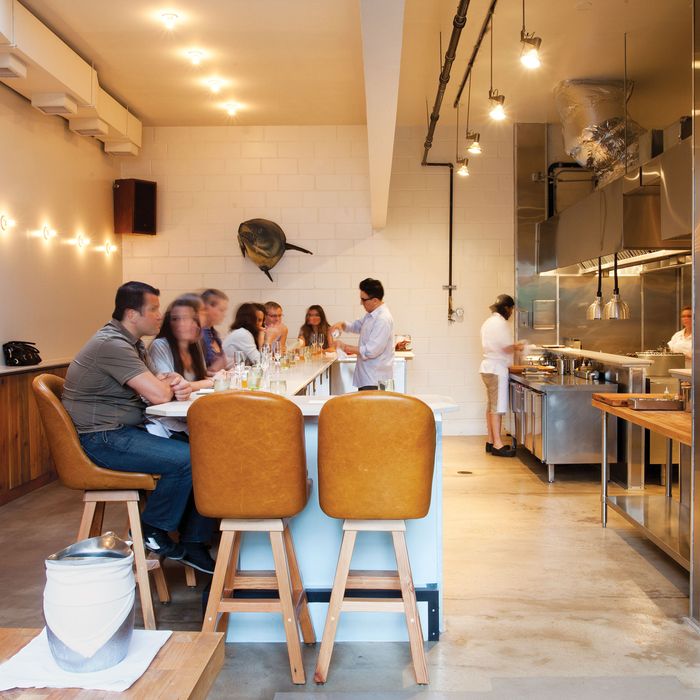 Steingarten says he had "the most tender, rich, juicy, flavorful mouthful of animal flesh" ever at Blanca.
Photo: Victor Prado
Our friends at Bedford + Bowery last week noticed that the often prickly and always precise food writer Jeffrey Steingarten hit up "New York's most talked-about borough" for the August Vogue. The feature is not yet online, but now that Grub's colleagues at the Cut finally got their copy, we took a look at the latest rounds of complaints leveled against the Brooklyn food "scene."
The most interesting part of Steingarten's tour of Brooklyn is that once he dispenses with the standard food writer disclaimer that other nearby and lesser-heralded neighborhoods are much better eating destinations in general (Brighton Beach and Sunset Park here), the esteemed food writer heartily enjoys a good sample of restaurants he visits in Williamsburg and Carroll Gardens. Since this is the same man who famously warned Grub Street "I find it a very dangerous thing to be a Brooklyn booster" — thereby igniting a totally specious but persistent Manhattan vs. Brooklyn restaurant war that's been raging, like, for decades in blog time (it's been three years) — this may come as something of a shock.
But at Blanca, he's served the "most tender, rich, juicy, flavorful mouthful of animal flesh" he's ever eaten, and the food at Pok Pok Ny is "powerful." There's one tiny misstep in the overall progression of dishes at Gwynnett St., and Steingarten says he'd eat at César Ramírez's Chef's Table at Brooklyn Fare once a week if it wasn't for those unobtainable reservations, the pesky commute, and all that motion sickness.
Sure, he's made to wait "too long in the drizzly street" outside of Battersby, but the kale salad and rutagbaga more than redeems that. After bemoaning the "long, bumpy trip from Manhattan," cursing the "nauseating taxi ride" back, and generally dismissing the ugly old facade of Roberta's, Steingarten is in, but with one caveat: Because the cost of real estate is going up and more professional couples with young kids who tend to avoid restaurants are busy snatching up all the available inventory, he thinks "the future of a thriving restaurant culture in Brooklyn may ultimately be limited." In other words, families who can't find babysitters or don't want to eat at high-minded restaurants are a threat to the vitality of these chefs and their small plates.
Of course, all but two of the restaurants Steingarten describes are in the process of expanding to larger quarters. Pok Pok Ny has just announced it will more than double seating in a new Columbia Street space; Battersby is adding a few thousand square feet one block over on Court Street; and even the exclusive Brooklyn Fare is opening a Hell's Kitchen satellite, complete with its own tony restaurant component.
Diners "no longer need to stand at the waters edge, gazing longingly at the bright lights of Manhattan and salivating," writes Steingarten. All things being equal, he's seems to be saying, perhaps there's no need to pit one borough against another. So does this mean the Vogue piece also signifies the last of the perennial Brooklyn-food bashing? Can we all just agree that it's a place that has restaurants that are comparable in quality to other restaurants in New York City and leave it at that?
Vogue [Official Site]
Vogue Makes the 'Long, Bumpy,' 'Perilous,' 'Costly, Time-Consuming, Often Nauseating' Trek into Brooklyn [Bedford + Bowery]
And Another Thing, Mr. Steingarten: Roberta's Is NOT 8 Blocks From the Train [Bedford + Bowery]
Related: Jeffrey Steingarten Cooks Goat Sous-Vide, Disdains Brooklyn Boosterism