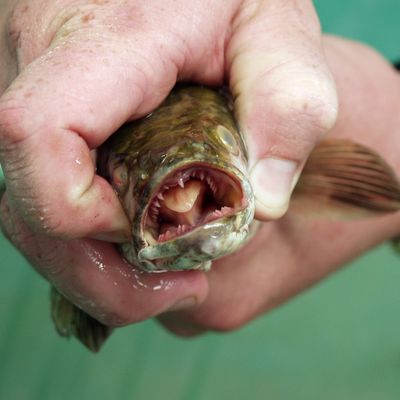 Get thee to an orthodontist.
Photo: U.S. Dept. of Agriculture
The Atlantic points out that the growing ranks of invasive species — rampant nonnative flora and fauna that include those delightful snakehead fish last seen skulking around out of the water in Central Park — now cause $120 billion of damage in the U.S. each year. There are "1.5 million feral hogs rototilling the arid Texas soil and eating everything in sight," and elsewhere, Asian shore crabs are creeping the Connecticut coast, nutria lurk among the coastal Louisiana swamps, and Japanese knotweed grows like gangbusters everywhere else.
The whole thing is a fascinating read; the rallying cry is, as it's always been, to eat the invasive species into submission. Chefs and entrepreneurs are now trying to figure out how to scale (and de-scale, and cut up) all those nasty carp carcasses into a bona fide fish-fillet businesses. Putting invasive species into wider industrial production could be the next big thing. Bastard cabbage pesto at Whole Foods, anyone?
And despite the appearance of lionfish sushi and snakehead tacos on menus across the country, the invasivore movement is still waiting for its fine-dining breakthrough moment. "I really think a well-known chef needs to take it up," says Wenonah Hauter, executive director of Food and Water Watch. David Chang, the blue catfish are calling.
Have You Ever Tried to Eat a Feral Pig? [Atlantic]