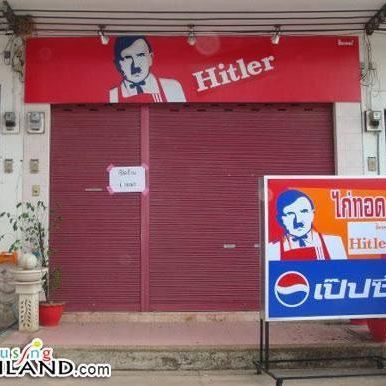 The Daily Mail came across a Twitter photo of a fried-chicken restaurant in Thailand that featured a stern-looking Adolf Hitler wearing a Colonel Sanders outfit instead of a Nazi uniform as its mascot. Its name: "Hitler," as in Hitler Fried Chicken. The fast-food place even mimicked the red and white colors of KFC's logo.
The paper quotes a Thailand resident, who says the restaurant opened last month (the chicken is "pretty good"), and, of course, representatives of Yum! Brands were quick to point out that they were going to sue the place in a fast and furious manner, like Vin Diesel would were he a corporate lawyer. There has been something of a documented, bizarre "Nazi chic" cultural movement in Thailand recently; the only problem is that the Mail's photo of Hitler Fried Chicken was taken in 2011, then found last month on Facebook by writer Andrew Spooner, who spent the better part of his weekend explaining that he didn't own the restaurant or take the photo in question.
Very bizarre Hitler Fried Chicken shop in Thailand. I kid you not. Complete with pic of Hitler in bow tie http://t.co/9OS1FgfUCx— Andrew Spooner (@andrewspoooner) May 28, 2013

What's more is that the restaurant is in Ubon Ratchathani, not Bangkok, the Post reports. And it ditched the Hitler motif a while ago. Now it looks like this.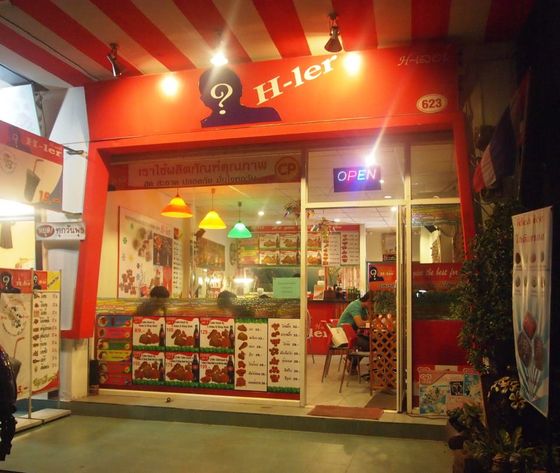 Who was that mysterious, hateful mascot?Photo: H-ler Fried Chicken/Facebook

Its name, as of two years ago? H-ler Food and Drink. The imprint of genocide may linger, but the dictator's face has been blacked out and replaced with a single question mark. If Facebook is any indication, it looks like the place does a brisk trade in ice-cream bars.
Fried chicken takeaway called 'Hitler' opens in Thailand and comes complete with logo of Nazi leader in a bow tie [Daily Mail]
'Hitler' chicken is history [Bangkok Post]