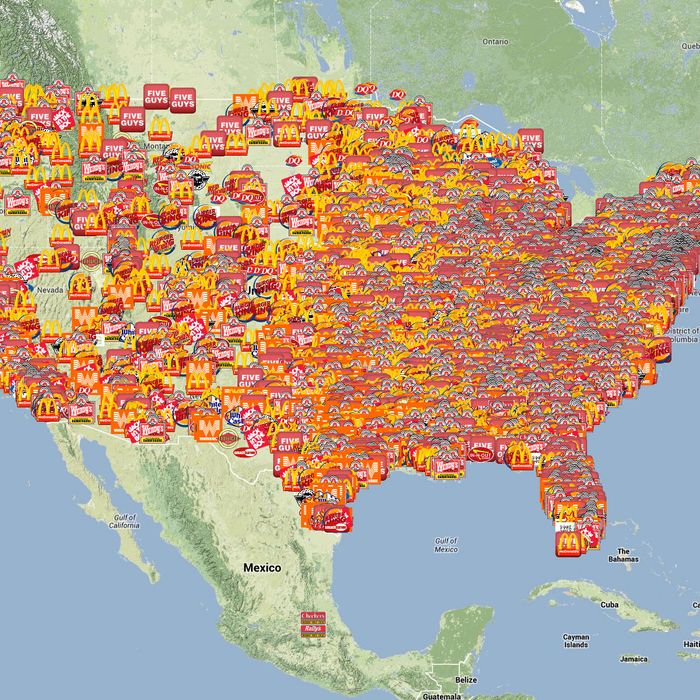 They know when you order extra pickles, and especially when you request mayonnaise.
Photo: Peek Analytics
McDonald's and Burger King may be tops on this densely dotted map of the most "popular" hamburger joints nationwide, for which research company Peek Analytics used metadata attached to 9 million tweets over the course of one month in order to plot the 26 most tweeted about chains across 12,000 U.S. cities. It looks cool on the LCD, but does this really mean so few Oregon residents engage with Wendy's or In-N-Out Burger that much of the state remains lushly green and bereft of burgers? Or that the Salt Lake City–based Crown Burgers is somehow making social-media ripples in the borough of Queens?
And are we really to believe there are more tweets about Shake Shack out of San Antonio than those originating in Manhattan, where apparently no one on social media has anything to say about the chain? It's a good start, this, but what's the point of collecting millions of data points from average, red-meat-loving Americans if it can't be organized in a meaningful fashion? We're going to hold out for the official NSA version, if it ever gets declassified or leaked — we hear those SIGINT analysts at Fort Meade really like Five Guys.
Most Popular Burger Joints On Twitter [Peek Analytics via Burger Business]