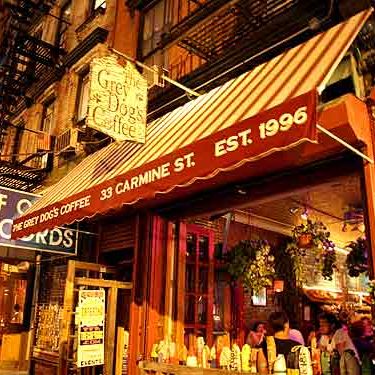 The original location on Carmine, which is now Ellary's Greens.
Photo: Lauren Klain Carton
It's official: Grey Dog is returning to Carmine Street, its original block. The café opened at 33 Carmine in 1996, but a shady, shitty landlord forced the owners to leave in October 2011. Brothers Pete Adrian and David Ethan have worked hard since then to return to the beloved block, and after a month of negotiations, they quietly announced the news at the bottom of their website: Grey Dog will open a fourth outpost in the former Marinella space on the corner of Carmine and Bedford. Grub called Adrian to ask him about what returning to the street means to him.
How did this come about?
We know the owner of the building, and when it became available, we gave them a call and asked if they'd be interested in having us. We were able to come up with a nice deal for everybody. We were going to jump at any opportunity to go back there.
There was a "funeral" for the Carmine closing: It was pretty devastating. What does returning to the block mean to you?
For both my brother and I, we started our lives on that street. We didn't grow up there, but nothing feels as good as standing on the corner of Carmine. It is very nice to be coming back home. We hope everyone treats us as well as they did before.
It says "Christmas 2013" on your website. Is there a chance it'll be ready sooner?
If everything goes perfectly and the stars are aligned, it will be sooner. But there's a lot of work that needs to be done for the space, and it's a landmarked building. Maybe Thanksgiving. But if things go the way they usually do: Christmas.
How long have you known about this? Has it been tough to keep it quiet?
We've been in negotiations for a couple of weeks, and in talking stages for a month. I didn't want to say anything official until I had a lease in front of me. We can't wait to be back home. We're hoping to turn the space into something wonderful: It has the potential to be the most beautiful Grey Dog. We've been longing to be back there.