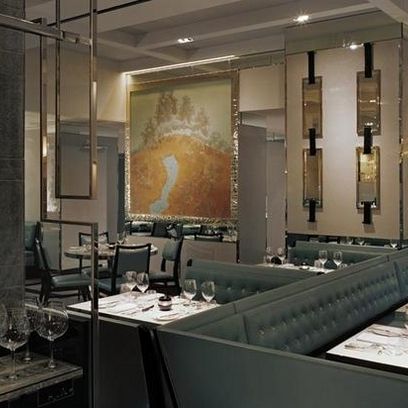 Both the main dining room and Maze are reportedly closing.
Photo: Courtesy of the London
The two fine dining restaurants in the London NYC Hotel bearing Gordon Ramsay's name, but none of his direct involvement, are reportedly scheduled to close permanently sometime between the first and third week in September. Multiple sources tell Grub Street that Blackstone's LXR Luxury Resorts & Hotels is allegedly seeking a new operator, and meanwhile, management has given notice to approximately 65 employees who comprise the front- and back-of-house staff at Maze and Gordon Ramsay at the London. Both restaurants opened in 2006.
Several higher-ranked employees are said to have already left the kitchen in search of new gigs, according to an industry source, who tells Grub Street the restaurant will close just after Labor Day. An email from a separate source indicates that some of the remaining employees have started a petition to keep the foundering restaurant open for business, but that they've been told September 23 will be its last day. Although Blackstone's LXR Luxury Resorts & Hotels put its London West Hollywood Hotel — home to another Gordon Ramsay restaurant — on the market in April, LXR is reportedly just looking to swap out its restaurants in New York.
Representatives from the hotel did not initially respond to Grub Street's request for confirmation, but after this post went live they sent along the following statement:
We are currently engaged in ongoing negotiations with Local 6 regarding the renewal of the Gordon Ramsay Union contract. Hotel management and Union leadership have been working diligently to come to an amicable agreement. As a courtesy to our teams and the Union, we need to allow conversations to continue uninterrupted. It would be premature for us to provide information at this time, however we are confident we will be able to release a detailed update by end of this week or very early next week. We greatly appreciate your interest and look forward to sharing updates with you in an expeditious manner.
Ramsay officially left his New York restaurants in 2006 but kept his name on the door and several top lieutenants in the kitchen, including chef Markus Glocker. That hasn't kept the outspoken chef from pinning the restaurant's various failures on random things like Times critic Frank Bruni having "the hots" for his French maître d' instead of more cut-and-dried factors like complaints about lackluster food. The British chef is, as always, rumored to be planning more New York projects, including a local branch of Gordon Ramsay Steak, not to mention a possible collaboration with recent retiree David Beckham.
This post has been updated with new information.
Related: Bloody: Gordon Ramsay Looking to Open a Steak House in New York [Updated]