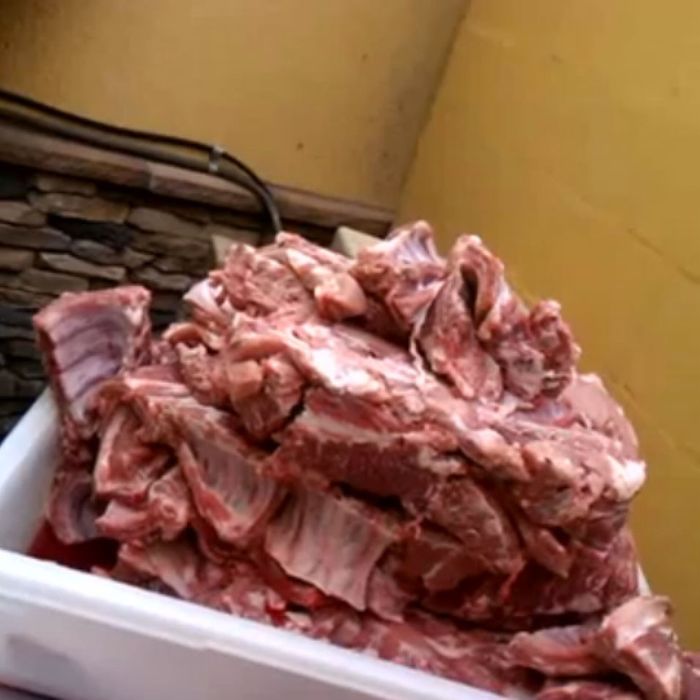 An employee of the family-style buffet chain Golden Corral filmed a video of himself amid a stockpile of raw meat and other uncooked food being held outdoors inside the enclosed garbage area connected to one of the chain's locations in Port Orange, Florida. It's unclear if Brandon Huber, who claims he's worked for Golden Corral for a while and that the food he filmed on his phone was served to customers, is the person responsible for uploading the video to YouTube, but a would-be whistle-blower also posted information from the video on eBay. Meanwhile, Reddit users have been inundating boards with links and leaving critical messages on the chain's Facebook page. "This is what my company likes to do," Huber says in the video, "to get ready for inspection. They like to put their food by the Dumpster."
Unfortunately, it's not unusual for an unscrupulous restaurant undergoing a Health Department visit to temporarily store questionable food by the trash during the duration of the inspection — if discovered, managers can claim the food was already on its way to disposal.
The chain, however, has been quick to point out that the videos in question (there's a follow-up) don't actually depict what happened at its location. Instead, it claimed on Facebook, it had been the victim of an opportunistic person seeking to harm its good name.

In regard to the video that is currently being circulated by an employee of Golden Corral of an isolated incident of improper food handling at our Port Orange, Florida location please note: 1. The food in the video was never served to a single customer. 2. All of the food was thrown away immediately. 3. The employee in the video participated in disposing of the food. 4. The employee in the video - through his father - offered to sell the video. 5. The manager at the restaurant was terminated.
The chain identifies Huber by name in subsequent comments and has since been trying to manage the fallout on Facebook by actively deleting links to the videos and Reddit threads, a move that of course has encouraged even more users to link images of what purport to be filthy Golden Corral kitchens and even more complaints.
all you can eat ribs [YouTube]
Steak [eBay]
Golden Corral [Facebook]