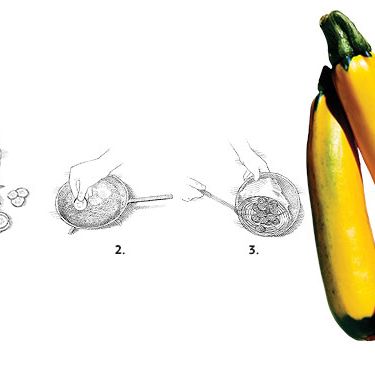 Photo: Bobby Doherty; Illustrations by John Burgoyne
As its name suggests, smooth, cylindrical Gold Bar zucchini with its
sunflower-yellow color is about as striking as something you'd find in a Fort Knox vault. Like all summer squash, it thrives in hot weather; scour the Greenmarket for small specimens, no longer than five and a half inches, which have better flavor and a denser texture, and try them in this fried-zucchini recipe from Ribalta chef Pasquale Cozzolino. Piquant and refreshing, brightened with vinegar and mint, it should be served cool or at room temperature and tastes even better the next day.
Pasquale Cozzolino's Zucchini a Scapece
5 small Gold Bar or green zucchini
Extra-virgin olive oil
Sea salt to taste
1 1/2 tbs. white-wine vinegar
25 to 30 small fresh mint leaves, to dress and garnish
2 cloves garlic, thinly sliced
(1) Trim zucchini, and cut crosswise into quarter-inch slices. Pour roughly 2 fingers of olive oil into a 12-inch pan, and heat over a high flame until hot. (Test the temperature by placing a zucchini slice in the oil: If it sizzles rather vigorously, it's ready.) (2) Add enough zucchini to fill the pan without overcrowding, frying in batches and moving the slices around occasionally until they are cooked evenly and to a dark golden brown. (3) Remove zucchini from the pan with tongs or a spider strainer to a bowl lined with paper towels, flipping the squash to remove excess oil, and repeat this process for the remaining zucchini. In a mixing bowl, gently toss the fried zucchini with salt, vinegar, mint leaves, and garlic. Transfer to a serving platter, drizzle with olive oil, and garnish with more mint. Serves 4 to 6.
*This article originally appeared in the July 29, 2013 issue of New York Magazine.