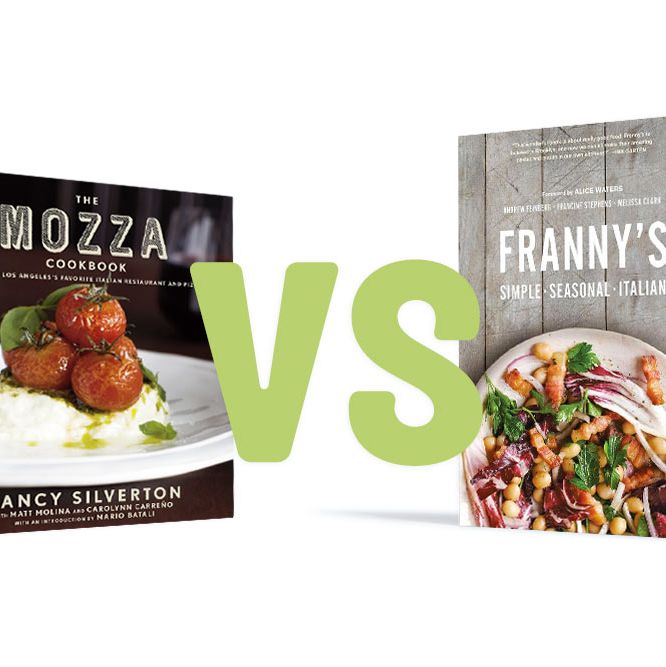 Which book will help you make the best pizza?
Photo: Jed Egan
Great recipes define great cookbooks —but what makes a great recipe? It ends with food that's delicious, of course, but other factors must be considered, too: ease of use, clarity (and accuracy) in the instructions, and that mysterious quality that makes people return to the same recipe again and again. With that in mind, this is the inaugural edition of Recipe Rumble: Grub Street pits two similar cookbooks against each other to decide which one offers the best version of a much-loved recipe. Today: Franny's new cookbook versus Nancy Silverton's Mozza Cookbook to see who makes truly superlative pizza.
Franny's: Simple Seasonal Italian is part of this year's spring-cookbook crop, and it's what you might expect from the locavore duo who opened Franny's in Prospect Heights, Brooklyn, back in 2004. Co-written with Melissa Clark, it's all impossibly good-looking crostini, ruffled pasta dishes, and olive-oil-slicked vegetables tweaked out on lemon and anchovies. There's a chapter dedicated to pizza, of course, along with a foreword by Alice Waters who says, "I believe there is no better pizza in all of New York." But it's one thing for the pizza-obsessed crew at Franny's to serve you a perfect meatball pie and another thing entirely to hand over the instructions. Is it possible for home cooks to re-create Franny's pizza in their own kitchens, which presumably don't include custom-made wood-fired ovens?
To find out, I invited eight friends over and cooked pizza from Franny's and The Mozza Cookbook, written by L.A.'s own pizza sovereign, Nancy Silverton. Silverton is a master bread baker and knows an awful lot about yeast and flour. She developed a recipe here that mimics, as much as possible, her crusts at Pizzeria Mozza. The book itself got glowing reviews when it was released in 2011, and it's a go-to for modern American pizza technique.
Test No. 1: The Dough
The first thing to consider is the dough, the foundation of everything. Mozza's can be made in one afternoon, from start to finish, though it involves many steps — like a newborn sleeping in another room, you have to keep checking on it every 45 minutes. But the result is a warm, silky dough that's a delight to shape on the backs of your hands, and Mozza's crusts turned out bready but not dense, charred on the bottom, with added depth and texture in the crust from the addition of wheat germ and rye flour.
Franny's dough, on the other hand, is of the no-knead variety — a mix of flour, yeast, salt, and water, left to develop for 24 to 48 hours, untouched. The recipe implores you to wait the full 48 hours to proof the dough, and so do I. The two-day dough isn't just better to eat — more deeply flavored, with more texture — but it also feels supple and elastic as you shape it, which means you can stretch it thinly and evenly.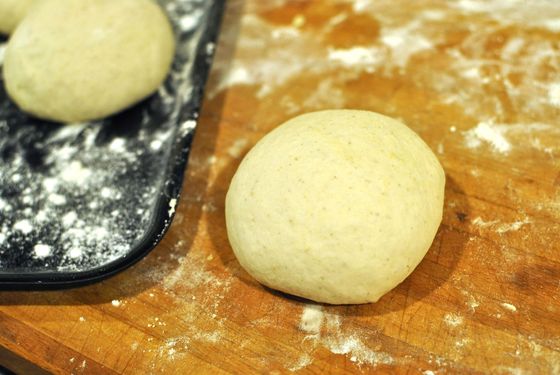 Mozza's dough.Photo: Tejal Rao
Both doughs are very good, but the real differences between these two recipes start to show at the cooking stage.
Test No. 2: The Bake
A note on cooking pizza at home: You need to get the oven hot — very hot. As much as possible, it should feel like Satan is heavy-breathing in your kitchen, like your puny oven is a roaring, hellish furnace. No, you won't be able to re-create the temperature of a wood-fired oven, but if your oven burns for long enough, high enough, a pizza stone can get freakishly hot and the soft, stretched-out pizza dough will react to it quickly, bubbling up and crisping on the very edges, leaving tender, chewy pockets where it's deep.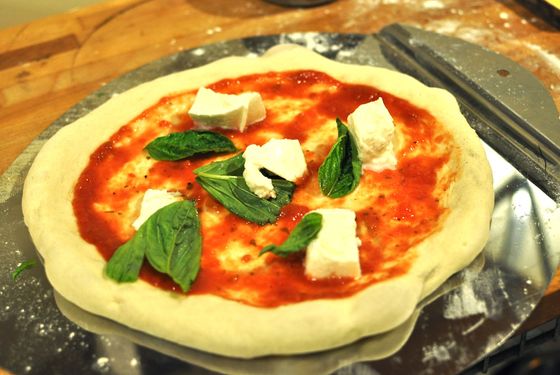 Franny's, before the bake.Photo: Tejal Rao

Even though both books require high heat and stones, Franny's offers a brilliant cooking technique to color the tops of the pies. While the Mozza pizzas get golden on a stone set in the oven, Franny's pies move halfway through cooking from the stone to under the broiler (a separate compartment, in my oven's case). This re-creates the effects of a far hotter oven, blasting the top of the pizza with some serious heat and giving the crust a chance to color (or burn, if you forget about it for a few seconds too long).
When it comes to crust, Franny's wins.
Test No. 3: Toppings!
The sauce that goes on top of the Franny's red pies is fantastic, too. It's of the no-cook variety — just San Marzano tomatoes seasoned with salt and pepper, which makes a wonderfully light and tangy sauce. The Mozza sauce, like its dough, is a bit more involved — a cooked passata, sweetened with sugar.
The true test came in the form of dueling clam pies, though. At Franny's, the clam pie really is a thing of beauty (and "the first to woo me," Waters notes in the introduction). In this number, there's a glaze of reduced cream and clam liquor — the sweet brine inside the shells, released when the shells are steamed open — fastening the clams to the crust. Though it doesn't have the kiss of smokiness of the restaurant's version, the result at home is still intense.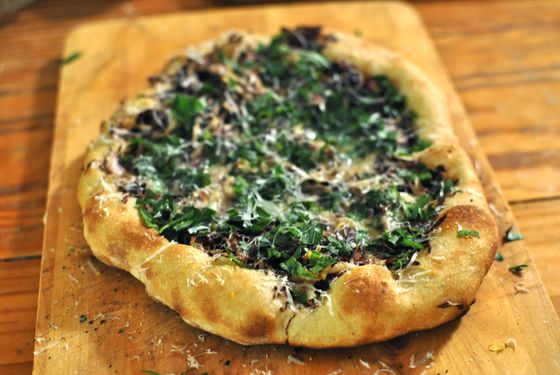 A Mozza pie.Photo: Tejal Rao

Half the guests preferred Franny's clam pie, but the other half actually liked Mozza's version better, which was gentler and less concentrated, with a simpler base of garlic and olive oil. In fact, the only real problem with the evening's experiment was that both books' techniques tend to make very good pies. There were two crowd favorites: Mozza's crust topped the night's leftovers: a mound of shredded raddichio, olive oil, very thin slices of garlic, and cubes of Fontina. The other was a classic: Franny's plain tomato and mozzarella with leaves of wilted basil baked under the layers of cheese and a sprinkle of Parmigiano. Both of these pies made me feel like the hours spent close to my oven, instead of my friends, were completely worth it.
The Verdict
I side with Silverton's ethos — she knows there's only so much a cookbook can teach you about pizza-making and trusts you'll enjoy yourself while you figure out the other stuff (make sure to drink some wine before you start shaping the crusts, she suggests). But when I think about which pizza method I'd return to, it's Franny's. Though it's a little crazy to plan pizza night two days in advance, the resulting crust is fine and delicious, crisp and airy, and perfect. Plus, I preferred the tang and brightness of the raw tomato sauce, and the lean-topping philosophy at Franny's.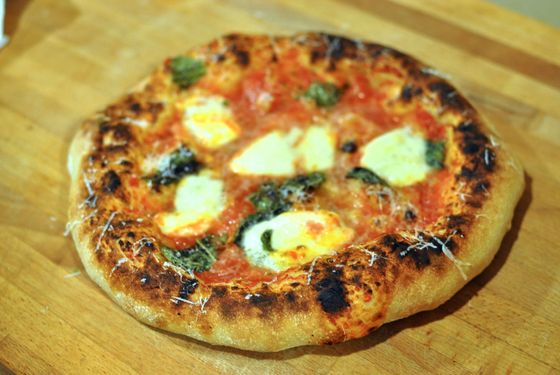 The finished Franny's pie.Photo: Tejal Rao

Already I'm thinking about the revisions I'd make the next time I tackle their pies, and that's the thing about pizza: You have to make a few to get the hang of it. Not because it's difficult, but because you find a rhythm when it comes to shaping and cooking, and you realize after cutting up one or two that you'd prefer a little less sauce, more cheese, or maybe less time on the stone. If you love pizza, making it at home will involve tinkering, forever.