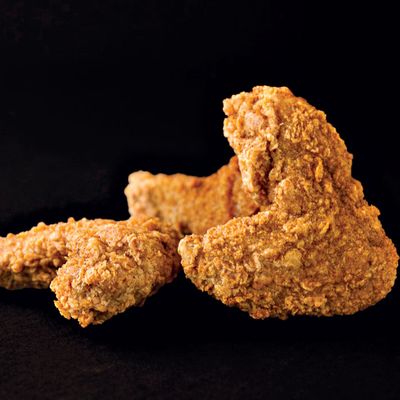 Photo: Courtesy of the vendor
Fried chicken has been a Blue Ribbon staple ever since brothers Eric and Bruce Bromberg launched their empire in Soho two decades ago. Now the matzo-meal-crusted bird gets its own dedicated roost: a 65-seat outpost in the East Village's Avalon apartment complex. The core of the counter-service menu revolves around poultry, served by the piece, by the dinner, in wing-and-fry combos, and even "on the edge," a category encompassing fried chicken livers, necks, and backs. It also makes its way into chicken-optional salads, fried-thigh sandwiches like the ham-and-Swiss-enhanced Cordon Bleu, and five-ounce chicken burgers served on Blue Ribbon Bakery brioche buns. To drink, there are Mexican sodas, Arnold Palmers, and cans of beer, and to finish, a new roster of Blue Ribbon-label ice-cream cups, including one modeled after the Brombergs' renowned Chocolate Bruno dessert.
Blue Ribbon Fried Chicken, 28 E. 1st St., entrance on Second Ave.; 212-228-0404
*This article originally appeared in the July 29, 2013 issue of New York Magazine.