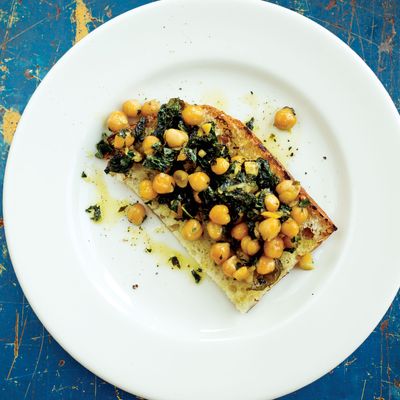 Beach Plum's chickpea-and-nettle crostino.
Photo: Gabriela Herman
In spite of its considerable charms, Martha's Vineyard isn't exactly a hotbed of culinary delights. No one goes to that Shangri-la off the coast of Massachusetts for the cuisine. Short tourist season plus captive audience often equals expensive, uninspired restaurant food. Which is a shame considering the island's seemingly abundant natural resources. And yet, up in Menemsha, at the Beach Plum Inn & Restaurant, change is afoot. That is where you'll find the inn's new chef, Chris Fischer, behind the new dining counter that overlooks the new open kitchen, going nose-to-tail on a whole hog, say, or making a piquant salsa verde from garlic scapes to accompany a roasted fluke. "I love simple, delicious food," says the 33-year-old Vineyard native, and that is what you get on his daily-changing menu of about a dozen dishes: a sprightly kale, fennel, and seaweed salad; a nice lobster-and-razor-clam risotto; some new potatoes mingled with fresh peas and favas. Fischer has overhauled the dining room, too. It's out with the white tablecloths and "terrible wallpaper" and in with the reclaimed barnwood and mason-jar water glasses.
If you detect a certain strain of DIY New Brooklynese style, you would not be wrong. In fact, Fischer counts among his inner circle the Brooklyn restaurateur Andrew Tarlow, with whom he's collaborated on visiting-chef events at Tarlow's restaurants as well as hunted wild boar on Georgia's Cumberland Island. The chef has even recruited staff from Tarlow's Reynard and Marlow & Sons to work at the Beach Plum, not to mention Jake Gyllenhaal, who as it turns out is something like Fischer's BFF. The hunky actor frequently dons an old dishwasher's snapfront shirt, an apron, and a Yankees cap to help out in the kitchen—not to prepare for an upcoming role, as is the current fashion, but just for kicks, the way some people relax by taking working vacations on farms baling hay and tilling crops.
Speaking of farming, you might also be interested to learn that Fischer does that too, on his family's five-acre spread off Beetlebung Corner in Chilmark, where he continues to throw the occasional supper-club-style pop-up dinner inside the greenhouse. As such, he has a deep devotion to vegetables. "I want to grow the perfect carrot, then I want to serve the perfect carrot," he says, neatly summarizing his career goals. And did we mention that he's also worked at Babbo, Chez Panisse, and London's River Cafe, and has done time as Keith McNally's private Chilmark chef and gardener? These Vineyard farm boys really get around.
The Beach Plum Inn & Restaurant, 12 Menemsha Inn Rd., Menemsha, Massachusetts; 508-645-9454.
*This article originally appeared in the July 22, 2013 issue of New York Magazine.