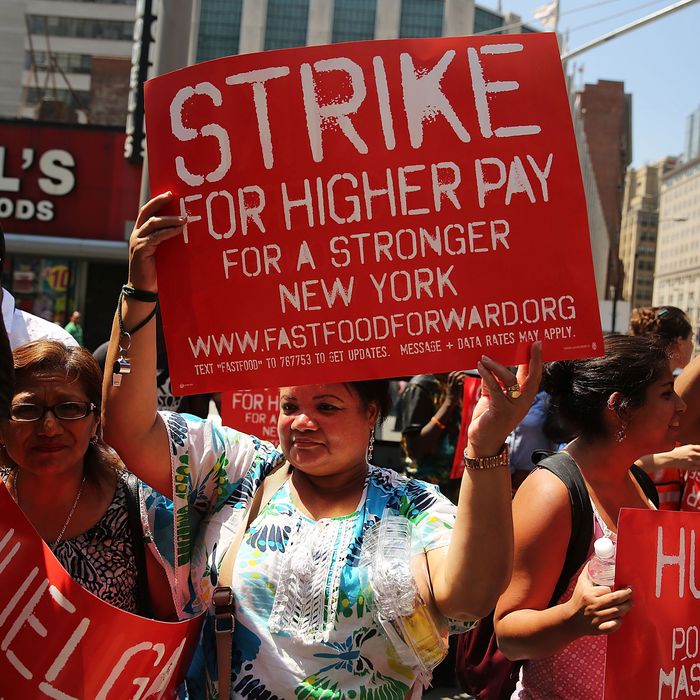 A striker today in New York City.
Photo: Spencer Platt/Getty Images
The stretch of Fulton Mall in Downtown Brooklyn is littered with fast-food franchises. Stand in the right place, and you can see a Blimpie's, McDonald's, Burger King, Popeye's, and Wendy's — simultaneously. Nearly 90 people crowded around the Wendy's today to take part in a multi-city, one-day strike organized by a group called Fast Food Forward that hopes to get wages raised for fast-food workers and call attention to poor working conditions. It's the third time in less than a year that the group has organized a strike like this — and after talking to employees taking part, it doesn't sound like things have gotten any better yet.
Maria Silva, 43, has worked at McDonald's for seven years. A small woman in a black-and-white blouse and a thin silver bracelet on her wrist, she doesn't really speak English. "We need justice," she says. "I want justice, respect, benefits, and vacations." McDonald's doesn't provide her with any of that. "Every time we get a raise, it's five, ten cents," she says.
Insignificant raises like the one mentioned by Silva aren't unusual, and many of the striking workers complain that their pay remains low after years of service. Lourdy Esperance, 22, recently got a raise at the KFC franchise where she's worked for four years. She makes $7.50 an hour now. "I've been working there for four years; [I should be making] at least $12 now."
Federal minimum wage is $7.25 an hour.
Linda Archer, who works at a McDonald's franchise in Times Square and was striking outside of a Wendy's in lower Manhattan, tells a similar story. "I'm 60 years old and I'm making $8 an hour. It took me three years just to get to $8 an hour," she says. "What people don't understand is that McDonald's isn't just about [teenagers and college students]. You have older adults that have children … there's no type of job security."
The more we spoke with striking workers, the more general the complaints began to feel — poor working conditions, breaks that are too infrequent, and managers that don't respect their subordinates. None of this is good, but is there anything anyone can do about that?
In a Times op-ed this past week, Steven Greenhouse tackled the issue of low-paying jobs around the country, and laid out the most pressing problem facing these kinds of strikes:
It remains unclear what the wave of one-day strikes is seeking to achieve. One objective is to push the issue of low-wage work onto the nation's political agenda. Some one-day strikers are calling for a $15-an-hour minimum wage, but Scott DeFife, executive vice president of the National Restaurant Association, scoffed at the idea, saying a $15 minimum would cause restaurants to hire fewer people. He said restaurants provide valuable experience for many entry-level workers, noting that "80 percent of restaurant owners and operators say they started out as hourly workers in the industry."

Some strategists behind the one-day strikes hope to create a political environment in which some cities might embrace measures similar to ones in Washington and Long Beach, Calif. Washington's City Council has approved a $12.50 minimum wage at big-box stores — a move that has Walmart threatening to cancel plans to open three more stores in the city. And in Long Beach, labor unions persuaded residents to approve a $13-an-hour minimum wage for the city's hotel workers in a referendum last November.
It's progress, sort of. But even though these strikes do much to call attention to the issues facing the country's fast-food workers, FFF has to figure out how to parlay that attention into tangible benefits for the workers who continue to take days off of the very jobs they are protesting.
The larger issue is whether the fast-food companies themselves — at a time when earnings are falling short of expectations and even McDonald's says its market outlook is bleak — have any incentive to actually listen to the complaints.
Earlier: New York's Fast-Food Workers Resume Citywide Strikes
Earlier: New York City's Fast-Food Workers Commence Massive, Unprecedented Strike
Fighting Back Against Wretched Wages [NYT]
Fast Food, Low Pay [NYT]