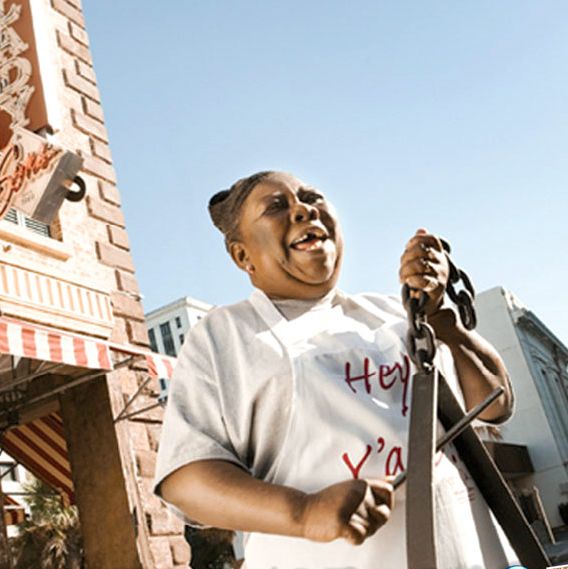 Dora Charles says she was asked to ring a supper bell like the woman seen here.
Photo: Courtesy of the Lady and Sons
A 59-year-old woman named Dora Charles who spent 22 years cooking for Paula Deen and helped the now-embattled celebrity chef build a culinary empire alleges that Deen used racial slurs in the past, the New York Times reports. But moreover, says Charles, who for now still works at Lady & Sons in Savannah but no longer speaks to Deen, she was not fairly compensated for her work at the restaurant and also behind the scenes of Deen's Food Network shows, to which she was integral. "It's just time that everybody knows that Paula Deen don't treat me the way they think she treat me," she tells Kim Severson at the newspaper.
Around twenty workers at Paula Deen's restaurants, including Charles, have been interviewed by a fact-finding team dispatched by the Reverend Jesse L. Jackson's Rainbow PUSH Coalition since last month. In their report, investigators wrote that they found "evidence of systemic racial discrimination and harassment at the operations," the Times notes, but at the same time "limited evidence of direct racism or racial discrimination" on the part of Paula Deen.
Dora Charles's statements seem to imply that Deen, more than anything else, had a willfully facile understanding of race in the South when it came to creating a public image at Lady & Sons. Since the charges of alleged past racism made headlines last month, many critics have accused Paula Deen of benefiting by projecting an image reinforced with by old, bigoted Southern stereotypes. Deen asked Charles and another employee, Ineata Jones, to stand outside the restaurant to ring an iron bell at dinnertime, while many black employees at the restaurant say they were asked to work at a hoecakes station set up in view of diners while wearing an "old-style Aunt Jemima outfit." Charles says she refused to do both things.
In an accompanying New York Times video, after Charles describes these things, and also the context with which Deen allegedly used the N-word, Severson asks Deen's longtime cook if she believes Paula Deen is "racist in that way," Charles pauses. "I do," she says, "I do."
Deen allegedly promised Charles, whom she valued, praised publicly, and even referred to as her "soul sister," that she would share any wealth accumulated as a result of Deen's ascendency to fame, the Times reports. Yet she earned little more than $6 per hour for years at a stretch, leaving her without funds to buy medication or repair her "aging" trailer.
It was only after she and three other employees filed complaints with the United States Equal Employment Opportunity Commission that Charles received a bump in her salary: Jamie Deen, who now runs Lady & Sons and writes cookbooks, increased her pay to $71,000 per year. He claims the raise was not connected to the formal complaint.
Similarly, Paula Deen Enterprises dismissed the idea that her skin color had anything to do with her current position and claims. "Fundamentally Dora's complaint is not about race but about money. It is about an employee that despite over 20 years of generosity feels that she still deserves yet even more financial support from Paula Deen," a spokesperson told the New York Times.
The story is the first significant account to give any indication of what was actually happening within Paula Deen's food, media, and merchandising empire prior to last month's crisis, and it's heartbreaking. Read it here.
Paula Deen's Cook Tells of Slights, Steeped in History [NYT]
Earlier: Jamie Deen's Next Cookbook Climbs Amazon Charts With Pre-Orders
Related: All Paula Deen Coverage