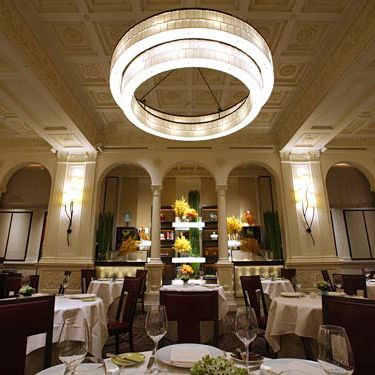 Moral of the review: Treat all diners equally.
Photo: Melissa Hom
This week, New York's Adam Platt awarded Uncle Boons two stars and Costata zero. He compared his experience at Uncle Boons to a "steamy July evening in expat Bangkok." But Platt was less than thrilled with Costata, where he found Michael White's repertoire "beginning to wear thin." Pete Wells filed on Daniel, and two more critics reviewed ABC Cocina (could it be the city's most-reviewed restaurant)? Read it all, straight ahead.

Pete Wells filed on Daniel for the restaurant's twentieth birthday. The food "seems to transport you to another world," and the service "convinces you that you live in the privileged center of this one." But the staff didn't lavish the same service on an unknown diner as it did on Wells, and the kitchen sometimes seemed to be "trying to garnish its way to greatness." Roast sea bass with syrah sauce was incongruously paired with "radicchio so bitter I wanted to slap it." But dishes like an "exquisitely sensitive" pea soup, full of "clear, refreshing sweetness"; olive-oil-poached cod packing an "untamed whoosh of intense green herbs"; and the mint-scented strawberries, "a flagrant essay in pink," startled and impressed. Three stars, which is a downgrade from the four stars it received in 2009.
The Daily News' Michael Kaminer is the latest critic to try ABC Cocina, where "the decor alone" deserves five stars, though the food "isn't as perfect in design." A "limp" raw vegetable platter, "pedestrian" shrimp that leave a "memory of white mush," and a delicious-looking raw shaved fluke dish that lacks kick, are signs of an eclectic menu stretched thin. But he liked meaty dishes like the "worthy" pulled-pork tacos and a "refined" arroz con pollo, and "clever, confident" desserts from pastry chef Melody Lee. "There may be no more perfect desert," Kaminer declares, than the blueberry-mint popsicle, one bite of which "transports diners to a picnic blanket on a city rooftop." Three stars.
The New Yorker's Amelia Lester also reviewed ABC Cocina. She agreed with Kaminer on the unevenness of the menu, chalking the problem up to a dogged insistence on seasonality. She was less impressed by the decor, which seemed to her to be founded on the principle that "if something can be made of Lucite it should be," and she was also less pleased with the meat. Pricy short rib tacos are drowned out by frizzled red onions, "bullies of the vegetable world," and the slider tacos pair mystery "taco meat" with "yellow secret sauce." But "not too sweet" white sangria, an outstanding raw fluke appetizer, and the restaurant's "crown jewel," the arroz con pollo, are worth a try. Surprisingly, she's not a fan of the restaurant's acclaimed guacamole, writing, "You might wonder why the perfectly good guacamole needs to be topped with sweet peas."
Steve Cuozzo didn't file an official review, but asked if the Grand Central Oyster Bar and Gallagher's, two old giants of the New York food scene, can "get their groove back?" The Grand Central Oyster's Bar opening a new Park Slope outpost later this year, which will be run by different people, feature a more focused menu, and "possibly won't suck." Since former owner Marlene Brody departed, the original is "abysmal.": The decor still evokes "an early-20th-century, lost world of transcontinental rail travel," and most of the food "would stink up a salad bar," particularly the cringe-worthy 'Cajun Catfish,' made of "100 percent rubber meat." Gallagher's, which also changed hands from Brody to a new owner, just closed for some reworking. Cuozzo says he trusts new owner Dean Poll to modernize the restaurant's "Eisenhower-era dishes," but he worries he'll wreck the "gloriously anachronistic decor."
Ryan Sutton did not file a review either; he discussed the state of restaurant criticism. "An inaccurate, single-visit positive review, based on poor fact checking, poor eating, or poor writing, is no worse than an inaccurate, single-visit negative review," he says. Sutton, interestingly, points out that he "like(s) to send first impression tweets after my first meal to give certain restaurants with big flaws a bit of "public notice" before I file my full review." Overall, Sutton calls for more "critical thinking."