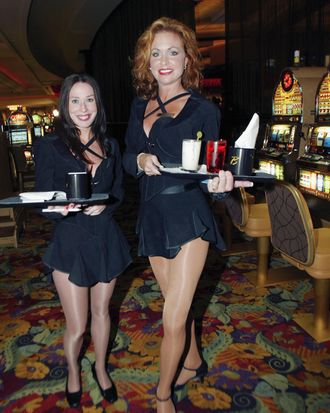 Servers are considered sex objects.
Photo: Don Murray/Getty Images
At the Borgata Hotel Casino & Spa in Atlantic City, there's a company policy forbidding "Borgata Babes" from gaining more than 7 percent of their original body weight. The rule is certainly degrading, but is it discriminatory and against the law? Twenty-two former Borgata waitresses bravely rallied together to challenge the rule in court, arguing that their employer viewed them as mere sex objects. Their claims were shocking: Servers said the company encouraged them to take laxatives before mandatory weigh-ins, disciplined them for eating cookies, and asked publicly if they were faking a pregnancy or "just getting fat."
Atlantic County Superior Court judge Nelson Johnson ruled in favor of the casino: Apparently the policy isn't sexist, and these women should have known what they were getting into when they accepted the job. "The Borgata Babe program has a sufficient level of trapping and adornments to render its participants akin to 'sex objects' to the Borgata's patrons," wrote Johnson. "Nevertheless, for the individual labeled a babe to become a sex object requires that person's participation."
It's hard to prove sexual discrimination with a pool of 646 women and 46 men who are employed as Borgata Babes. But what about weight discrimination? It turns out that Michigan is the only state in which discrimination based on height or weight is illegal. It's shocking that it's still acceptable for an employer to enforce standards based on sexual and gender stereotypes.
'Borgata Babes' lose suit over weight bias [Press of Atlantic City] via Borgata Babes Lose Lawsuit: Waitresses Can Be Fired For Gaining Weight, Judge Rules [HuffPo]
Too Big to Cocktail? Judge Upholds Weight Discrimination in the Workplace [Time]