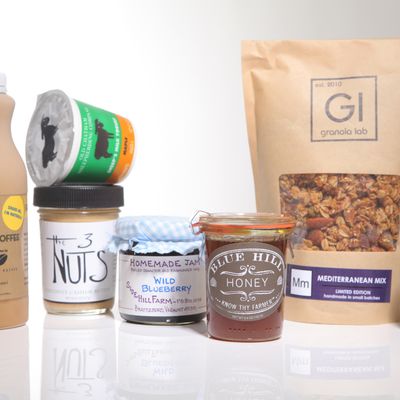 Think of all the Instagram opportunities.
Photo: Melissa Hom
Breakfast, as the old saying goes, is the most important meal of the day. It is also — if you are busy like most people — the one most likely to be scarfed down as you run out the door, or sit at your desk trying to jumpstart your day with a protein bar. But now is the time to step it up: There are plenty of foods, mixes, and tools on the market that will turn your morning meal into more than a simple refueling session.
Granola Lab
Owner Alex Crosier recently left her part-time job as a librarian to focus solely on making granola, which means brand-new flavors. Her latest is the limited-edition Mediterranean Mix, made with sesame, apricots, pistachios, and almonds. It's more savory than sweet, and she recommends pairing it with tangy Sohha yogurt.
Sohha Greek Yogurt
With the rise of Brogurt and a booming financial market, this has been a big year for Greek yogurt. Fage and Chobani are fine, but Sohha's Greek yogurt is tangier and tastier. It goes well beets, cucumbers, and olive oil.
The 3 Nuts Butters
Three 22-year-old female friends are behind this new line of specialty nut butters, and they earned a coveted stand at Smorgasburg this year. Their basic almond and peanut butter flavors are solid, but it's the coconut-cashew and cookie-dough peanut butters that are exceptional — especially when mixed into oatmeal.
Blue Hill Honey
As you may know, a lot of the honey in grocery stores is actually adulterated crap, but you can trust Blue Hill to make a good, pure product. The beekeepers harvest this raw, unpasteurized honey from Hudson Valley wildflowers.
Old Chatham Sheepherding Company Yogurt
Yogurt's not usually seasonally driven, but this Hudson Valley-based sheep's milk yogurt company uses fresh fruit to create flavors. Right now, that means strawberry-rhubarb and wild Maine blueberry.
Crown Maple Syrup
If it's good enough for the presidential Inauguration luncheon, you know it's damn good. This syrup's made on a farm in upstate New York, and it's served at the Breslin and Le Bernardin.
Sidehill Farm Jam
Good jam is a necessity, and this farm in Vermont make it the old-fashioned way, with just fruit, sugar, and lemon juice. Like Old Chatham Sheepherding Company, the flavors are driven by fresh ingredients. Summer flavors include American cherry and apricot.
The Real Dill Bloody Mary Mix
You should never have to pay $20 at an obnoxious brunch spot to enjoy a good Bloody Mary. The Real Dill is a Denver-based company that makes artisan pickles out of natural ingredients, and they've filled their mix with fresh cucumber, dill, horseradish, habanero, garlic, spices, and organic tomato paste. Just add vodka and you're good to go.
Bouchon Bakery Muffin Mix
Thomas Keller has crafted carrot and corn muffin mixes inspired by the pastries at his New York bakery. Corn muffins are always awesome, but don't understate the carrot flavor: It's made with pure Madagascar bourbon vanilla.
Delouis Hollandaise Sauce
It's easy to take basic eggs to the next level with this butter-filled French Hollandaise sauce. Warm it up and spoon it over an English muffin and runny eggs. If you're a houseguest this summer, it's a good move to bring this and make breakfast for your host. (If you get up before everyone else, you can try and play it off like the sauce is homemade.)
OMilk
This Brooklyn-based company makes stellar almond and cashew milks. Don't drink them because they're good for you: Do it because they taste like sweet, creamy milkshakes. The cold-brew coffee-flavored almond milk is even made out of beans from Toby's Estate. It's only sold in New York right now, but OMilk no doubt plans to expand soon.
Russ & Daughter's New York Brunch
If everything listed above seems like too much effort, know that you can always order bagels, Nova, and chocolate babka straight to your your door — no matter where in the country you live.