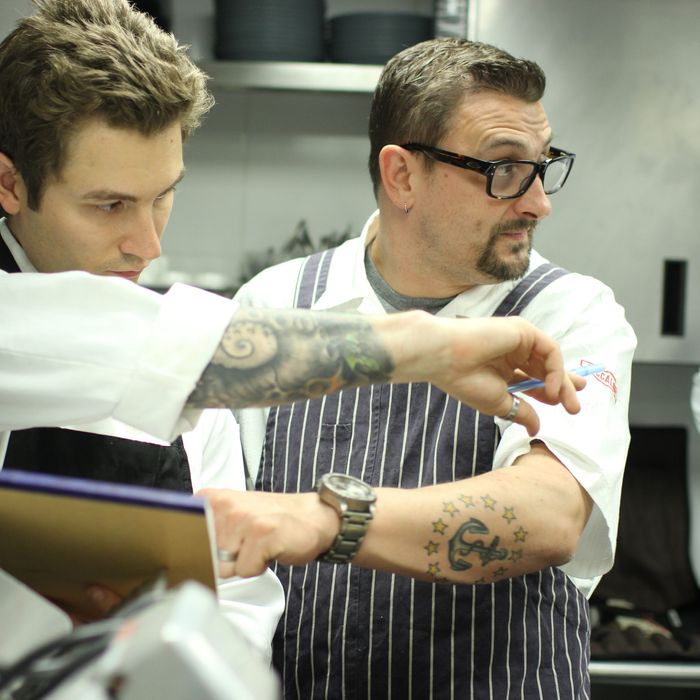 Stupak and Cosentino, getting ready for their collaborative dinner.
Before Incanto's Chris Cosentino stepped into Alex Stupak's kitchen for the Push Project, he worried he'd be like a "bull in a china shop." After all, Cosentino proudly calls himself a "fucking caveman," and is famous for his nose-to-tail cooking philosophy and focus on offal. So how did he jive with Stupak, an Alinea-trained former pastry chef who's admittedly neurotic? Pretty well, as it turns out. They collaborated on eight meaty courses for Friday's one-off dinner, including tripe crudo with lobster, duck pozole, chorizo cavatelli, and oxtail topped with foie gras. Grub sat down with Stupak and Cosentino pre-dinner and chatted about their similar upbringings, differing approaches to cooking, and what they've learned from each other.
You two first connected over Twitter. When did you begin making plans for this dinner?
Alex Stupak: I blasted out a message asking anyone who knew where pipichia [a Mexcian herb] was to holler at me. And Chris said, "I've got some and I'll be in New York in three days." It was very nice. He brought some over.
Chris Cosentino: Twenty-four bunches! I just showed up in the kitchen with a little ice pack. I think Alex thought I was kidding at first. I sat down for dinner with Alex, and we had some drinks, and then it rolled from there. It's been a year in the making.
Knowing — and liking — each other personally, were you nervous that your cooking styles might not mesh?
CC: I knew that Alex was hypertechnical. I don't like saying, "molecular" or "modern." For me, that was a little daunting to come here. I'm basically a fucking caveman. I'm old-school in the way I cook. I like to cook simply. The guys in his kitchen were laughing at me because I don't want little petals. I want food broken and torn.
AS: They're used to my neuroses.
CC: It's different styles of neurosis. I'm a firm believer in rustic cooking — and rustic doesn't mean sloppy. That was my biggest concern: How were we going to be able to integrate our styles so that it's cohesive and makes sense? So you're basically going to let a bull in the china shop?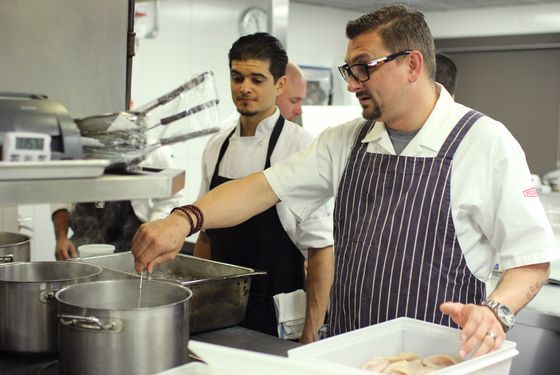 Cosentino in Stupak's kitchen.Photo: Melissa Hom
And how have you been getting along in the kitchen?
CC: We're both from New England. That's a big deal, because I grew up the same way Alex grew up, which is: You say it like you see it. We may not like the answer from each other sometimes, but at least it's honest, and we know where we stand and can just move forward. I'd rather hear it flat-out.
AS: The dinner is a side effect: We're truly doing this for selfish purposes. My cooks right now are psyched. We're looking at a different mentality, thought process, and approach to cooking. The qualities I like about Chris and his restaurant are that he's super tied to the farmers and what's local. He knows all of their names. I aspire to be like that, but I'm not there. By bringing me in, it reminds me that it's a muscle I need to learn how to flex.
CC: When you say that you bring me in to show something different, it's the same thing I try to do with my staff every day. When you're uncomfortable, you're learning. Today, Alex taught me how to do something that I've wanted to figure out for five to six years. I always wanted to learn how to make warm panna cotta.
But you've conquered panna cotta with blood!
CC: I have. But it's cold. I've never done warm panna cotta. It's a technique that's alluded me. What is the binding agent? Alex and I talked about it a couple of weeks ago, and boom! Now, I see because of the techniques that Alex has mastered. I look at pastries, which is Alex's background, as a science … I take food from a looser approach. Is it delicious? Is it beautiful? There's a place for all of us in this business for different styles and techniques. And if we can't learn from each other, we're just arrogant and ignorant. Coming here has been a huge eye-opener for me.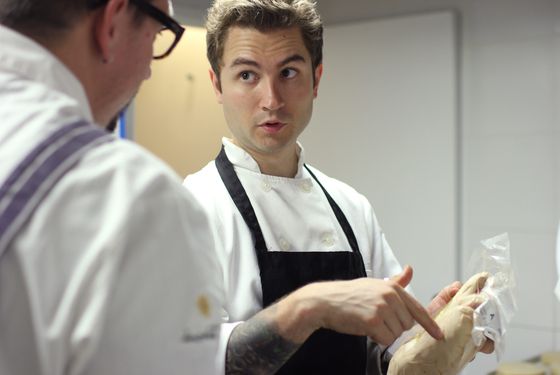 The two chefs at work.Photo: Melissa Hom
What was the first dish you chose for the menu?
CC: The dinner includes a lot of food that people aren't familiar with, and some will find the flavor combinations to be bizarre. But they're also classic. We're doing beef and lobster, a classic surf-and-turf, except it's not tenderloin and lobster tail; it's raw tripe and lobster tail. We twist classics and give people a new experience within that same realm.
AS: We banged out the menu within 90 percent accuracy that day when we filmed the Push Project video. New England was something we wanted to touch upon, as well as Mexico. We also wanted to hit on techniques that we both wanted to learn, which for me, was the mino. I've worked with tripe, but I've only worked with tripe one way, the way everyone works with it: You hammer it. You simmer it in a pot forever and ever, and then you try to cover up the flavor of it in a tomato- or chile-based sauce. Chris knew a technique for raw tripe. We're used to honeycomb tripe, but this is mino, which is Japanese for first stomach.
CC: It's a thick, strong muscle. If I told you it was tripe, you wouldn't know from looking at the appearance. It looks like chicken breast. It can be eaten raw when it's handled properly.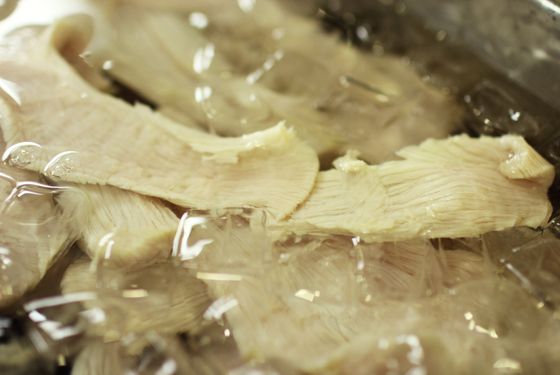 Tripe only looks like chicken.Photo: Melissa Hom
So how did you learn to handle tripe?
CC: I had a couple of conversations with chef Takashi [that Takashi]. He told me where to purchase the product. I had it when I was in Japan last year, and I watched how they prepared it. I confirmed the information I saw in Japan with Takashi, and he said, You figured it out on your own!
"Crazy water" is on the menu, too. What is that?
CC: In Italy, there's a dish called Acqua Pazza, which translates to "crazy water." Fisherman would cook seafood in ocean water, and add tomatoes, olives, chiles, and oregano. We're emulating crazy water without using the Hudson. It's crystal clear, but hyperflavorful.
AS: He wanted to work with bluefish and ingredients he can't get in California. Foie gras is covered. Lobster, clams.
CC: We're going to serve a Narragansett beer tonight because when I was a little boy, my dad used to drink it. Bluefish was fished outside of my house growing up, and I can't get it in California. Lobsters cost four times as much in California. And we were able to specify female lobsters. I'm getting to play with the things I grew up with.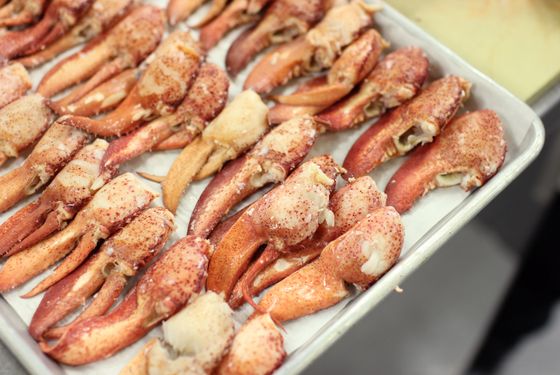 Of course chefs who grew up in New Englad will serve lobster.Photo: Melissa Hom
Speaking of family: Alex, your dad's in the kitchen today.
AS: I grew up in a house where my dad did all the cooking. My grandfather was a chef, and my dad grew up in restaurants. He was psyched for this dinner, and I asked him to help out in the kitchen because he's much happier keeping his hands busy.
CC: He's so excited about it! It's really fun. He's digging it. He's not afraid.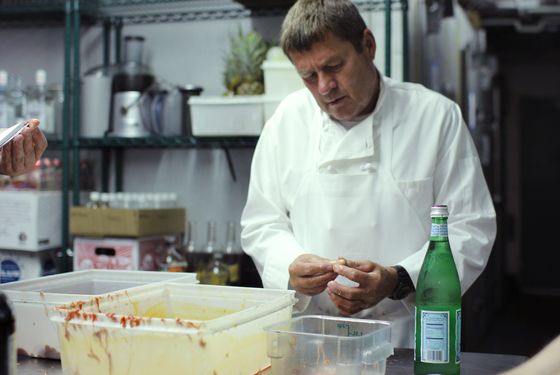 Stupak's father.Photo: Melissa Hom
This is your third collaborative dinner. What are your upcoming plans for the Push Project?
AS: The fourth dinner will be later in the year. We said we'd do this quarterly, and now we have to do it. It's important for us to not only push ourselves, but take a look at someone else's body of work four times a year. We think it's a healthy, intelligible way to grow. That has to be just as important as everything else we do, whether it's opening on time or making sure your bathrooms are clean. It becomes part of operations. Even if I said that I can't afford it or don't feel like it, I don't have a choice now. I'd look like a jerk to my entire company.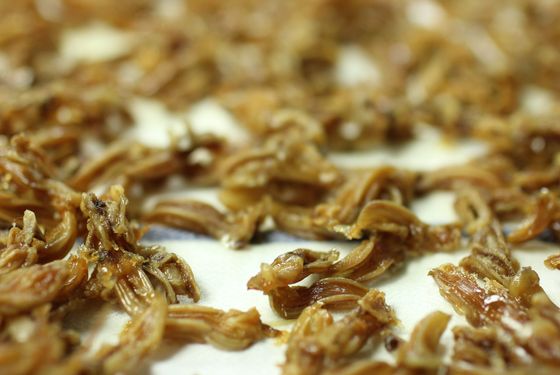 Dehydrated duck tongues.Photo: Melissa Hom
You've mentioned that you're thinking about a third restaurant with corn tortillas, too.
AS: It's very preliminary. If I said, "I have an Italian restaurant in New York City," what does that mean? That can mean anything, and that's a really good thing. It could be a restaurant that's gotten four stars from the Times, a place that focuses on Italian-American cooking, or a pizza place that focuses on one style of pizza. It could be all those things under the umbrella of Italian. When you say, "I have a Mexican restaurant," it's unspoken, but it means you're going to have guacamole, a margarita, and some tacos. We certainly serve all those things at the first two Empellóns, but my dream is that maybe one day we could do a place that just serves tacos al pastor. Or just Oaxacan cuisine — not Mexican cuisine, because there's really no such thing.
I'd like to do a third restaurant, and I'd like it to be rooted in one of the most important and unique ingredients in Mexican cooking: masa. At Taqueria, I love our tortillas, but they're flour. In Mexico, flour tortillas are not nearly as prevalent as corn tortillas. It happened by accident. I leap before I look, and I was very ignorant to what it would take to produce corn at the level we wanted. Now that I know, I think that this third restaurant is going to be built around that. Make a place that processes masa first, and then you better use it in just about everything — which is how it is in Mexico. It'd be much more about reflection, rather than ego, or trying to change the way people look at Mexican cuisine.
In Mexican cooking right now, you have the traditionalists on one side, who say, "This is how it is in Mexico, and if it's not done to the letter, it's garbage." And then you have people who like nachos and East-L.A.-style burritos. I like them both, and I like everything in between, too. I think Empellón, someday, with some hard work, could be all those things.