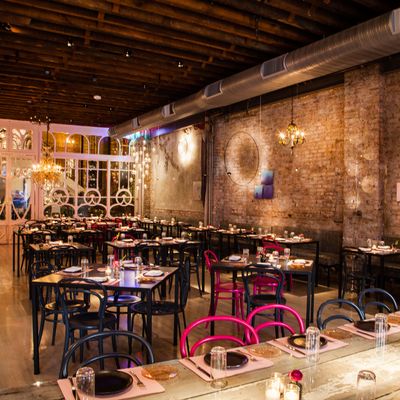 Not so sexy, says Wells.
Photo: Melissa Hom
New York's Adam Platt didn't file a review this week, but the city's other critics have been busy handing out stars. Three, including Pete Wells, wrote reviews of ABC Cocina, which has apparently become the month's gold standard for serious critics. Meanwhile, GQ's Alan Richman is writing weekly reviews now, and he settled in this week with a review of the new Franny's. Read on for more.
Pete Wells weighed in on ABC Cocina, finding the food "very good" despite "a few odd touches." A menu that spans the Spanish-speaking world fails to "shed new light on any of these cuisines." But who cares, when dishes like the white shrimp ceviche stand so well by themselves? Wells was surprised by the vegetables with brown rice, which he called "one of the freshest, cleanest vegetable dishes" of the summer. Last week, Michael Kaminer wrote, "On décor alone, ABC Cocina would win five stars," but Wells wasn't a fan of the showroom atmosphere, or the dangling, tentacled lighting fixtures, which would only seem romantic to someone "sexually attracted to gelatinous sea creatures." Two stars.
Daniel S. Meyer reviewed ABC Cocina, too. He agrees with Wells on the design features, which "smack of a G-rated bordello," and is less pleased in general with what he sees as a "boisterous fun house of culture" where Jean-Georges Vongerichten and Dan Kluger are "straying unnervingly far" from the fine seasonal cooking served next door at ABC Kitchen. The arroz con pollo "does itself proud" despite aggressive seasoning, and the porkiness of the carnitas tacos is "smartly tempered" with strawberries and pickled onion. But "too-cooked" burnt ends with "shockingly salty chimchurri" and a "one dimensional" cazuela like patatas bravas are turn-offs. Overall, the restaurant "puts on a good show, but sends you home disenchanted." One star.
Another review for Cocina! This one's by Steve Cuozzo. "Even for a great chef," he writes, "reinventing an entire cuisine as a bunch of party snacks isn't as easy as ABC." Sometimes, the "Zero Latin" cuisine works beautifully despite a lack of cultural touchstones. The "sparkling" sugar snap pea salad, with Serrano, mint, citrus, and sour cream is a "masterpiece." But the calamari with ancho glaze, which Wells enjoyed, is "soggy," and the BLT tacos, also a Wells favorite, is "an ill-concieved mess." One and a half stars.
But wait, New York has other restaurants! Alan Richman is now writing weekly reviews for GQ, and first up is his take on the new Franny's. On booze: Cocktails like the Pimm's 348 "tasted gorgeously of cucumber," and an all-Italian wine list "might be the geekiest list in America." The "unfussy yet meticulous" appetizers," and 'irresistible" sausages found throughout the menu are highlights, but vegetable dishes like the "wonderful" fried polenta are satisfying as well. Skip "excessively al-dente" pastas, and head straight for the "stunningly attractive" pizzas, like the "luscious" clam pizza with figs. Two stars.
Joshua David Stein has already reviewed the Elm, the new restaurant from Paul Liebrandt, inopportunely located in the basement of King & Grove, a hotel that "embodies the new Williamsburg of ass-clowns." But "bad marriages happen to good people." The food, unlike the space, is dazzling. The kanpachi "jamon" is "Christmas in July," and other "glitter bombs of mad genius" include the gnudi, floating in a subtle "Tom Yum" coconut-milk broth, and the "Kiev Style" chicken, with chicken parts cooked perfectly three different ways. But, "How can a palate as seriously refined as his fail to recognize that he just opened a restaurant miserably suited for its neighborhood?"
The Daily News' Stan Sagner dished on Georges Forgeois's Clarkson. The bistro, a tribute to the golden age of travel, is a "theme-park ride that goes everywhere and nowhere at once." The travel-themed decor conjures Epcot, but fanciful dishes like the "deviled" steak tartar "make unconventionally perfect sense." Skip the seared calamari, with "screaming" saffron glaze and "bewilderingly sugary pancakes," and the "gussied-up" grilled chicken, and try the "achingly tender" local halibut instead. Two stars.
Ryan Sutton visited Crenn's Atelier in San Francisco, the two Michelin starred "avant-garde restaurant cum poet's cafe" where each of fifteen tasting courses is accompanied by an original fifteen-line poem by the chef. He was exhilarated by courses like the "Walk in the Forest," a "Willy Wonka ode to the woods" with hazelnut praline and burnt pine meringue. With a relaxed tone to the dining room and culinary magic streaming from the kitchen, Sutton found the experience "invigorating."
The New Yorker's Shauna Lyon ate at Estela, where the food is "decadent and delicious." The daily-changing menu surprises with simple dishes like a plate of Olli's Virginia ham, "more luscious that prosciutto," and subtler creations like poached egg with gigante beans, shaved cured tuna, and bread crumbs "became a dreamy, umami-rich bean soup upon stirring." Skirt steak is "a match made in heaven with anchovies and charred eggplant." The drink program, from Thomas Carter, formerly of Blue Hill, is also impressive.