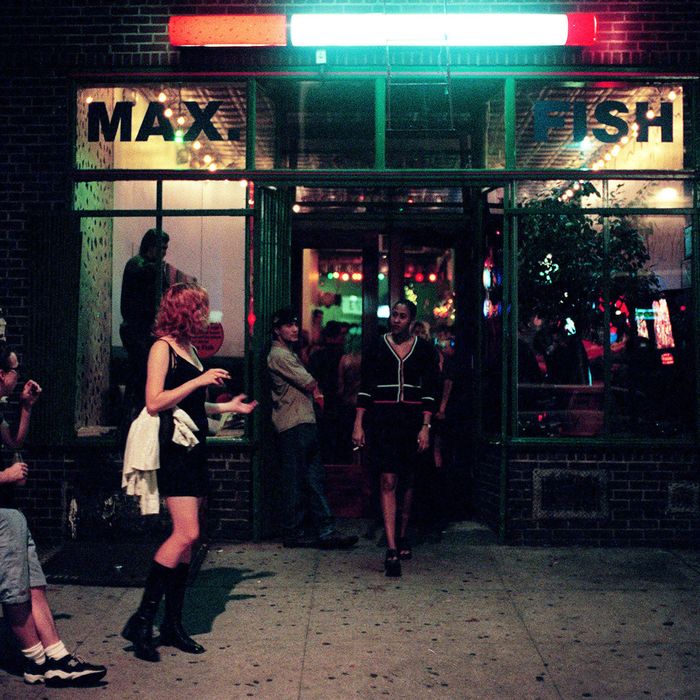 The author, and friends, outside Max Fish in 1997.
Photo: Nancy Siesel/The New York Times/Redux
I don't remember the first time I went to Max Fish, but I remember the first time I didn't. I was showing downtown Manhattan, circa 1990, to a friend from high school. It was on Ludlow Street, past the pink light and protein smell of Katz's into a dark block of shuttered storefronts and shadowy figures. When we got to the big windows of the bar, I hesitated. The music was unfamiliar; the crowd looked older and wised-up. My savoir faire failed, I mumbled some kind of excuse and we retreated to more familiar, low-key environs. Five years later, I was hanging out at Max Fish regularly enough that I sent postcards and brought gifts (of Everclear) from vacations. I went there still stained and sweaty from painting my friends' apartment, I went after dinner at Sparks and Tosca at the Met. Now the bar that inaugurated and endured the changes to its Lower East Side neighborhood is finally closed. It may not be the end of the bar — it's moving to Brooklyn — but it is the end of an era.
The lighting was probably my excuse the first time. Max Fish had to be the brightest bar … ever. It was lighting better suited to an interrogation or an autopsy, illuminating artwork ranging from artists whose work now resides in museum collections to those whose only other showing was on a refrigerator. The permanent collection hung over the bar — the bas-relief pompadoured mook, the mutilated Julio Iglesias ad, a three-foot nail sticking out of the wall. Taylor Mead, the poet and Warhol star, always sat under the nail. We'd talk about MGM and RKO — he liked me because I "looked like [his] favorite star, Alice Faye" and because I knew who Alice Faye was. As one patron pointed out, Max Fish offered "a bridge between the old East Village/LES of the junkies and Warhol types and the art-directed new one." Old bohemians who'd been around since the Velvet Underground lived across the street clinked glasses with the few-years-outta-the-suburbs kids who were still figuring out who they'd be: "I used to order Cosmos there," one patron groaned to me. "How confused was I? I hadn't seen Sex and the City. I couldn't afford cable."
 
The bartenders were equally adroit at being charming or dismissive and had an unerring instinct for who deserved which treatment. Allan looked like Billy Strayhorn, could face down a loaded gun without blinking, and was rumored to be anywhere from 25 to 52. Harry was one of those New York City lifers who knows everybody, from the guy who headlined the Garden last night to your friend he went to Stuyvesant with. There was the sweet country boy, the cute skateboarder, the girl with the painted eyebrows, the perpetually bemused Euro chick, a couple of guitarists, a few folks with permanent paint under their fingernails. The front booth facing the window was the best see-and-be-seen spot: Stuff in nine friends, yak about Céline or the Supremes, paint the nails of Cooper Union boys, and appraise people as they came in.
 
Max Fish was the unofficial clubhouse of New York indie rock (and I think it was the official clubhouse of Matador Records). If you wanted to join a band, sign a band, or hang out with a band, this was the place. There was the night a musician friend and I flirted with each other and whatever record label guy was buying drinks for the booth. (I don't remember whether he was Interscope, Warner, or Dreamworks, but he brought his own cocktail parasols.)
 
Naturally, any bar so overrun by musicians would have a kickass jukebox. Being selected for the rotation at Max Fish meant a band had officially arrived. You played your friends' CDs when sober and your crushes' when drunk. Not that it was all hip. One late night, several of us began frantically doing the twist to Vince Guaraldi's "Linus and Lucy" as one of the musicians on said jukebox climbed atop a chair, doffed her aviator shades, and began yelling, "Fuck being cool! Fuck the East Village!" Nostalgia and irony are everywhere now, but back then it was a sort of spontaneously goofy reminder of the geeks most of us once were.
 
Then there was the bathroom — technically two bathrooms, but somebody had flooded the other one. Or they were getting high in it. Or having sex. Inside, it was like the hot box from Cool Hand Luke, but adorned by a cave painting collaboration between Timothy Leary, Keith Haring, and a 9-year-old boy with Tourette's. The aroma was supplied by Lysol and the Mexican restaurant down the block — not a romantic setting, but somehow conducive to making out with someone else's boyfriend while his girlfriend pounded on the door. "Max Fish is responsible for my only ever one-night stand," one regular told me. "I found out later he was on The Adventures of Pete and Pete. Talk about dating myself."
Max Fish became a mandatory stop on any night out on the Lower East Side, which seemed to have more stops all of the time. The adjacent Pink Pony Café had sandwiches and another bathroom; both were welcome sights around 1 a.m. The Alleged Gallery offered the more serious artists a (somewhat) less boozy place to show their work. Arlene's Grocery and Mercury Lounge gave the musicians gigs. A bar opened up across the street to catch the runoff. Then another. Another. Then came the New York Times writeup in 1997: "The New Bohemia: East of Soho, But Still Unspoiled." The title rendered itself obsolete upon publishing: Once it's a full-color half-page, it's spoiled.
 
And what was that half-page color photo of? Max Fish. With me and two of my friends standing in front. We had stopped by, someone who we thought was an NYU student was snapping photos, so we just ignored her. The weekend after the photo ran, Allan told us they were slammed and we stayed away, a little guilty.
Many of the newbies didn't leave. And more came. The bits and pieces from which we had assembled our little boho personas suddenly went mass. We had stumbled across things on late-night TV, dug for them in crates, or idly picked some bit of ephemera up off of a "25 cents only" shelf. Newbies Googled it. And you can only search for what's already there. Years ago, I had one friend with a mustache, tats, and trucker hat who was into bacon and bourbon — one. Suddenly, there were 25, 50, 100 clones of him. One day scientists may well be able to pinpoint the birth of the hipster to somewhere between the pool table and the back booth at Max Fish.
Last time I was back in the neighborhood — Citibikes now stand where dope dealers used to shuffle and mutter — there was a small crowd outside Max Fish, Allan checking I.D.s. We caught up, talked a little about the friends who had drifted off. We didn't talk about how things have changed — a look down the block and a shared roll of the eyes was enough. Brooklyn didn't seem like such a bad idea after all.
Earlier: Max Fish Closes Tonight
Related: Are We Still Living in 1993? [NYM]
Related: Here's What Went Down On Max Fish's Last Night [Bedford + Bowery]