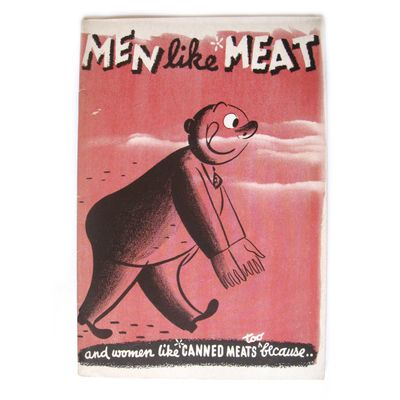 Yesterday, Grub Street revealed that Pat LaFrieda Jr. — meat royalty in New York; Manhattan's Duke of Dry-Aging — will release a book next year. But there's no title yet, as Amazon's sales page merely lists the book as Untitled Cookbook Memoir. But we've got good news, Pat. Paul Lukas (you may know him as the man behind Uni Watch, but he's also a longtime food writer) has been collecting vintage meat books for a very long time, and he shared some of the best with Grub. Yes, they can serve as inspiration for any and all aspiring meat-book writers, but mostly they're just hilariously awesome and antiquated. Take it away, Paul.
I love meat — no, I mean I really love meat — so friends often buy me little meat-related gifts. One such present, which I received about ten years ago, was a trio of vintage recipe booklets, each with the word meat in the title: All About Meat, 250 Ways to Prepare Meat, and Let's Cook Meat Recipes You'll Like. The booklets were a bit kitschy but also intriguing, hinting at a larger world of meat-promotional publishing. I decided to start collecting them in earnest.
Thanks to eBay and a lot of flea-marketing, I now have nearly 60 of these booklets, all from the late twenties through the early sixties. I've had only two rules while amassing them: I stick to a firm $5 price ceiling, and each booklet must have the word meat in the title. (Beef Beyond Belief, while tempting, didn't make the cut.) About half of the booklets in my collection were published by National Live Stock and Meat Board — the forerunner of today's National Cattleman's Beef Association and National Pork Board — and the other half by assorted meat purveyors, grocery chains, and so on. Most were made available to homemakers free of charge by local butchers and grocers, some of which had their names printed on the booklet covers.
The booklets tend to reflect the eras in which they were published. The ones from the Great Depression emphasize thrift and "economy cuts" of meat, for example, and the ones published during World War II have tips on how to get the most out of wartime meat rations. The mood gets cheerier during the Eisenhower era, as meat becomes more of a symbol of postwar affluence.
Best of all are the booklet covers, which form an impressive gallery of mid-century graphic design. As you scroll through them, ask yourself what you'd rather look at — one of these booklets or some cheesy, focus-grouped commercial that concludes with "Beef: It's what's for dinner"? It's no contest.
National Live Stock and Meat Board, 1933.Photo: Paul Lukas

Culinary Arts Institute, undated.Photo: Paul Lukas

National Live Stock and Meat Board, 1928.Photo: Paul Lukas

American Meat Institute, circa early 1940s.Photo: Paul Lukas

American Can Compnay, undated.Photo: Paul Lukas

National Live Stock and Meat Board, 1951.Photo: Paul Lukas

Armour and Company, circa late 1930s.Photo: Paul Lukas

National Live Stock and Meat Board, undated.Photo: Paul Lukas

National Live Stock and Meat Board, circa mid-1940s.Photo: Paul Lukas

National Live Stock and Meat Board, 1952.Photo: Paul Lukas

National Live Stock and Meat Board, 1928.Photo: Paul Lukas

American Meat Institute, 1941.Photo: Paul Lukas

Westfair Foods Ltd., undated.Photo: Paul Lukas

National Live Stock and Meat Board, 1940.Photo: Paul Lukas

National Live Stock and Meat Board, undated.Photo: Paul Lukas

National Live Stock and Meat Board, 1929.Photo: Paul Lukas

National Live Stock and Meat Board, 1956.Photo: Paul Lukas

Tested Recipe Institute, 1954.Photo: Paul Lukas

Earlier: Meat Man Pat LaFrieda Jr. Writing Double-Cut Memoir and Cookbook