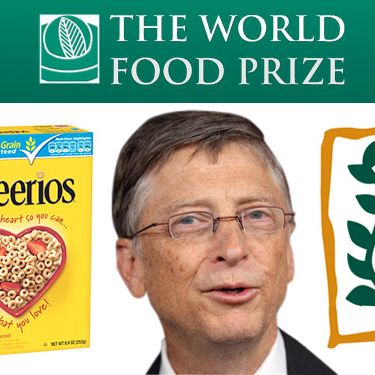 Each year, the World Food Prize Foundation awards a quarter-million dollars to someone who's improved the quality, quantity, or availability of food. It sounds like a nice, fair idea, but Mother Jones reports that the prize's "recipients have been champions of exactly the kind of industrial-scale agriculture that is the livelihood of the award's corporate backers." The U.S. government supports this not-so-democratic selection process: The State Department hosts the announcement ceremony, and the U.S. Department of Agriculture and the World Prize Foundation "consult regularly together." Here are some things to keep in mind before the recipient is announced this afternoon.
1. Like the James Beard Awards are called the "Oscars of the food world," the World Food Prize is often referred to as the "Nobel Prize of food." But the World Food Prize was actually founded by Nobel Peace Prize winner Norman Borlaug in the eighties.
2. Since the ceremony is hosted by the State Department, John Kerry will announce the winner today! But that doesn't mean it's a fair playing field: "Funders of the foundation which backs it have a vested interest in promoting industrialized farming around the world."
3. Between 2009 to 20111, combined donations to the World Prize from ADM, Cargill, Monsanto, and General Mills totaled over half a million dollars.
4. The Gates Foundation and the Rockefeller Foundation made combined donations of $1.93 million during that time, too. These big charities have their own agendas.
5. Prior winners have gone on to "blast critics of industrial agriculture" and serve on the advisory committee for DuPont, a global research- and technology-based science company.
6. It makes sense that the U.S. government supports this prize: "The Obama administration has been ramping up agricultural development as both a means of third-world poverty alleviation and a business opportunity for Americans." In other words, the government is invested in foreign agribusiness — and, thus, this award.
The World Food Prize, Brought to You By Monsanto [Mother Jones]