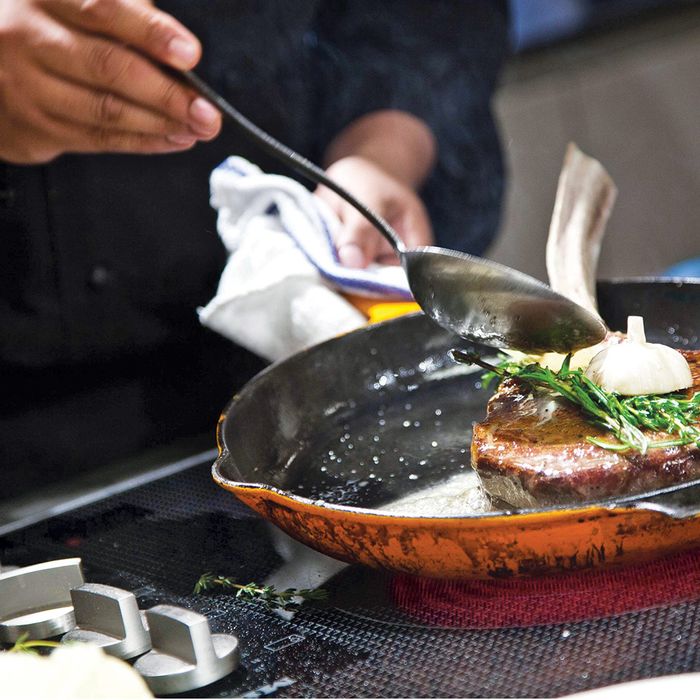 From left, City Grit, De Gustibus, and Momofuku Ssäm.
Photo: Donny Tsang (City Grit); Derek Edward Pfohl (De Gustibus); Jonathan Heindemause (Momofuku Ssäm).
City Grit
38 Prince St., nr. Mott St.; citygritnyc.com
The Lowdown:
A Nolita "culinary salon" where chef-owner Sarah Simmons hosts large dinner parties, often with guest chefs, in the furniture showroom WRK Design.
Past Toques:
Sean Brock of Husk in Charleston; Top Chef winner Paul Qui from Austin; and Jon Shook and Vinny Dotolo of Los Angeles's Animal.
Future Toques:
Matt Jennings, from Providence's Farmstead (June 11); William Dissen of the Market Place in Asheville (June 20).
Pricing:
$75 to $95 per meal, not including alcohol. Weekly seats go for $225 a month and include dinner every Thursday.
Sample Menu:
Qui served seven Asian-fusion courses, including tuna jamón, sunchoke dashi, quail with miso, pork jowl, and rice milk flavored with coconut for dessert.
James Beard House
167 W. 12th St., nr. Seventh Ave.; jamesbeard.org
The Lowdown:
The former townhouse of James Beard, which serves as headquarters for the dining foundation and offers meals for food-world fans 200 times a year.
Past Toques:
Fusion chef Tetsuya Wakuda from Australia; Georgia chef Hugh Acheson; and Boston bigwig Barbara Lynch.
Future Toques:
Michael Carrino of Montclair's Pig & Prince (June 17); Bal Harbour chef Makoto Okuwa (June 27).
Pricing:
Typically $170 for nonmembers, tip and tax included, as well as a reception with passed hors d'oeuvre and wine or cocktails.
Sample Menu:
Among Acheson's dishes were Georgia shrimp, foie gras with peppered peaches, and a "peach finale," served with Champagne syrup.
Late-Night Dinner Series:
Momofuku Ssäm, 207 Second Ave., nr. 13th St.; momofuku.com
The Lowdown:
Once a season, Ssäm Bar chef de cuisine Matthew Rudofker invites visiting chefs to cook a multicourse meal for Momo-fans, many of whom are chefs themselves.
Past Toques:
The first dinner, in April, featured Michael Solomonov of Zahav, an Israeli restaurant in Philadelphia.
Future Toques:
The lineup will be announced midsummer on momofuku.tumblr.com, so stay tuned and act quickly.
Pricing:
So far, $85, including beverage pairing.
Sample Menu:
Solomonov made a family-style meal of hummus, laffa, meze, and lamb shoulder, plus takeaway sweets from Philadelphia's Federal Donuts.
Reynard
80 Wythe Ave., nr. N. 12th St., Williamsburg; reynardnyc.com
The Lowdown:
Restaurateur Andrew Tarlow and Reynard chef Sean Rembold recently launched a once-every-few-months dinner series courtesy of visiting "friends."
Past Toques:
Chris Fisher of Beetlebung Farm in Martha's Vineyard, and Iñaki Aizpitarte of Le Chateaubriand in Paris.
Future Toques:
The guest for the July seating will be announced online later this month.
Pricing:
Though it's only hap­pened twice, $125 to $225 has been the range for a dinner with wine, served at a communal table.
Sample Menu:
From Aizpitarte's menu: black-pudding truffle, shellfish polenta, smoked beef tartare, and lemon sorbet with lovage and cucumber.
Push Project
Empellón Cocina, 105 First Ave., nr. 6th St.; empellon.com
The Lowdown:
Empellón chef Alex Stupak created this in-restaurant guest program, named for the Spanish-to-English translation of the word empellón, last year.
Past Toques:
Mexi-gastro hero Enrique Olvera, and Jordan Kahn of Red Medicine in Los Angeles.
Future Toques:
Chris Cosentino, the offal-obsessed chef at San Francisco's Incanto, who won last season of Top Chef Masters (June 28).
Pricing:
$150 for the meal, tax and tip excluded. Drinks are à la carte.
Sample Menu:
Kahn and Stupak dreamed up trout roe, cold pork loin with sea urchin, rabbit with mole, sorrel curd, and Japanese milk chocolate chased with dark ganache.
De Gustibus
151 W. 34th St., nr. Seventh Ave.; degustibusnyc.com
The Lowdown:
A three-decades-old kitchen-as-classroom, tucked into the eighth floor of Macy's Herald Square, where acclaimed chefs teach demos and serve bites of their greatest hits.
Past Toques:
Everyone, basically: Julia Child and Lidia Bastianich, out-of-towners like Rick Bayless and José Andrés.
Future Toques:
Tony Maws, from Boston's Craigie on Main (June 11), before the series goes into recess
for the summer.
Pricing:
$95 for a tasting and chef demo; $245 for periodic hands-on classes at restaurants. Wine may be included.
Sample Menu:
Naomi Pomeroy of Beast in Portland taught fans how to make boudin noir on brioche,
spring-asparagus velouté, and buttermilk sorbet.
See Also: The Complete Guide to Nomads for Hire
*This article originally appeared in the June 17, 2013 issue of New York Magazine.