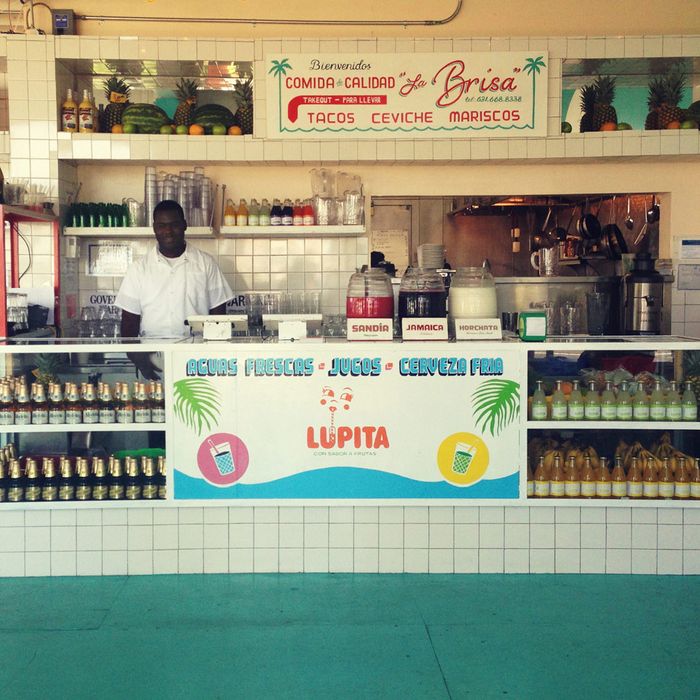 Look familiar? The Tacombi team is behind Montauk's La Brisa.
Photo: Courtesy of La Brisa
Finding something decent to eat in the Hamptons can be tricky: You go out for a sandwich, and before you know it, you're eating a $40 lobster roll that comes on a baguette. And unless you're Gwyneth Paltrow, Diddy, or Alec Baldwin, you're usually stuck waiting hours for a table at one of the few "hotspots." Not a great way to spend a summer weekend. But each new high season also brings a new crop of restaurants (some temporary, some permanent), and many of this year's options sound promising: The Tacombi team has opened a taco shack in Montauk, Tom Colicchio's behind a Bridgehampton hotel restaurant, and Sen owner Jeff Resnick has a new pub in Sag Harbor. We've rounded up a dozen restaurants that are worth visiting, and we've even mapped the places so you can plan your scenic bike rides accordingly.
Montauk
The Smile at Ruschmeyer's
Melia Marden and her team of chefs are operating this restaurant for the summer. Expect a seafood-heavy food menu (that currently includes soft-shell crabs and minted sugar snap peas), an ecofriendly wine list, and stellar granola.
Lucky J's Chicken and Waffles
It's comforting to know that you can get good chicken and waffles 24 hours a day. This new Southern-Texan fusion joint started as a trailer in Austin, and its menu includes waffle "tacos" with fillings like fried banana, peanut butter, and Sriracha, as well as all-day bacon breakfast plates. In other words: perfect hangover food.
La Brisa
Tacombi's team is behind this taco joint on Montauk Highway, so you know it's going to be good. La Brisa's making its corn tortillas in-house, doubling them up, and stuffing them with local fish and meats. It's also open in the morning for breakfast tacos and banana pancakes. Game-changer.
Sweet 'Tauk Gourmet and Red Hook Lobster Pound
Sweet 'Tauk, a shop that specializes in lemonade and ice pops, is sharing its space with Red Hook Lobster Pound this summer. A cool, refreshing Maine-style roll pairs perfectly with a rhubarb-Creamsicle pop.
East Hampton
Sienna Restaurant & Ultralounge
If you're looking for a little unce-unce in your Hampton's dining experience, Beaumarchais's Jonathan Rapillo recently opened Sienna, which is a collaboration with Pink Elephant. The menu includes standard party fare like soy-glazed sea bass and steak tartare. And on Sundays in July, Sienna will offer boozy brunches. Warning: Bottles will be popped.
Sag Harbor
Madison & Main
This bistro opened in April, and chef and co-owner Eric Miller (of the Millers BBQ) is making fresh pea ravioli, charcoal-grilled chicken paillard, and roasted Long Island duck. Most of the entrées are priced under $30, which is decent for the Hamptons, unfortunately. But there are a few pricey steak options if you want to splurge.
The Cuddy
Sen owner Jeff Resnick opened this pub-style restaurant in the spring, revamping the former Phao restaurant space to look like a historic barn. The menu includes a great-looking avocado-lobster roll and, at brunch time, a luxurious lobster Benedict with lemon-miso sauce. The cocktails are serious, too.
Bridgehampton
Fresh
Todd Jacobs (former chef at the American Hotel) is behind this new family-friendly restaurant, which caters to Hamptons clientele by offering local, organic, gluten-free, raw, and vegan dishes. The menu includes chopped salads, quinoa, grilled hanger steak, and homemade ice cream. Everything's available for takeout, too.
The Topping Rose House
Tom Colicchio's restaurant has been in business since last September, but the hotel it's in just opened (and the rooms feature artwork by Christopher Boffoli). Colicchio and his chef de cuisine, Ty Kotz, are serving seasonally driven dishes like suckling pig with spring garlic, broccoli rabe, and morels, and bucatini with clams and chilies. The menu looks damn good, but note that entrées are in the high-$30 range.
Southampton
BLT Steak at the Capri
The New York restaurant's pop-up, which is replacing Nobu at the Capri, lasts through Labor Day only. You can eat on the covered patio, but a pro move is to order oysters and Cobb salads poolside.
Delmonico's
Manhattan's old-school restaurant opened in the 5,000-square-foot space that was once Savanna's. It's serving "lighter fare for the Hamptons crowd," but hopefully that doesn't exclude its famous lobster Newburg.
East Quogue
Station
This rustic farm-to-table restaurant opened in May, and it has a big outdoor patio with a backgammon nook. Chef Lucia Soria hails from Uruguay, and she's sourcing ingredients from local farms to make her own pastas and breads, simple fish dishes, and fresh juices. (You can't exist as a Hamptons restaurant without juice.) Plus: The bar's open late, and there's live music.