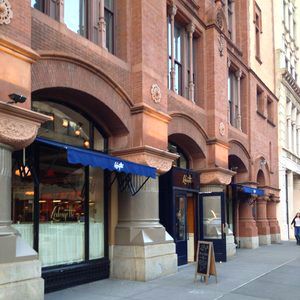 Lacks a "strong point of view," according to Wells.
Photo: Yelp
New York's critics didn't file any reviews this week, but the other critics have kept busy. Time Out hired a new permanent critic, Daniel S. Meyer, who reviewed Kajitsu (a tough one to start with, considering Wells covered it last week). Andrey Dellos is also a focus on this week, as two of his restaurants, Betony and Manon, got reviewed. Read it all, straight ahead.
Pete Wells reviewed Lafayette, and wasn't all that impressed. The space, he says, is "like a junior Eataly for Francophiles," and the unpolished service can make you feel "as if you are eating in the largest and most elegant Pain Quotidien in the five boroughs." As for the food, "almost all of it is worthy, but very little seduces you." He did like the fleur de soleil pasta, "tender and silky little flowers tossed with snap peas, pancetta, and mint"; the bread, with a crust that "shatters with a noise like a motorcycle boot stepping on a bag of potato chips"; and the cherry-almond frangipane and the fig tarts, "high points not just of the meal but of the month." But with a rotisserie chicken that "puts you in mind of Fairway" and exquisite scallops lost in "a nondescript pea puree surrounded by a meek spoonful of morel jus," Lafayette is no more than "optional." One star.
Michael Kaminer filed on Cull & Pistol, the Chelsea market seafood restaurant from the Lobster Place team. To start, oysters and clams are elevated by a housemade cocktail sauce that has a "serene sweet-spicy balance." But he's most impressed by the mains, which include a "dazzling trio of fish tacos … spicy, sweet, crunch, and chewy all at once." The skin of a whole snapper is "translucent." Don't expect dessert or coffee at the end of the meal, but a scoop of L'Arte del Gelato is good enough to hold you over. Four stars.
Ryan Sutton reviewed Manon, finding Andrey Dellos's new meatpacking restaurant to be an "onerous undertaking." The service lacks the skill to "seem invisible rather than intrusive," and the menu has some big misses, like the fluke with sea urchin, which "smells like maritime effluent on a warm summer evening," and a cocktail that "tastes like rum cut with Gatorade." And maybe that's exactly what it is, because the cocktail menu doesn't list ingredients. But beef tartare is "perfect" and pastas are "excellent." 1/2 star.
Joshua David Stein ate at Betony, another Dellos restaurant. Eleven Madison Park vet Bryce Shuman's "hugely imaginative" cooking is full of "childlike joy, conveyed through manlike skill," and the service (headed by Eamon Rocky, also an EMP alum) is "tender." The foie gras (order it hot), which arrives "peeking out from under a crinkly tarp of caramelized kale," and is doused with ham broth at the table, conceals a "smoky ham hock" at its core. There's also a grown-up "tuna melt," with sushi-grade fish, butter-toasted brioche, chico mayo, and broiled fontina, which "melts to an order." Hopefully this "Buberian bonhomie," where "dinner is a community-building exercise," can survive "in the office chill of Midtown."
Time Out's new critic, Daniel S. Meyer, dined at Kajitsu, "where the whole is always greater than the sum of its parts." The silence of the dining room, "punctuated by the incongruous clacking of chef Ryota Ueshima's wooden clogs," sets the tone for the chef's shojin cooking, which is "subtler than his shoes." Summer black truffles beneath "sweet, juice eggplant" are "downright intoxicating." Though the soups are "less exciting," the dessert is "a pleasant surprise of herbaceous mugwort tofu with black sugar syrup and nutty soy powder." A bowl of matcha tea, whisked by the chef, ends the meal and leaves you feeling "as relaxed as in a spa." Three stars.
The New Yorker's Hannah Goldfield reviewed Alder, which, "despite its celebrity-chef allure and austere, gray-toned aesthetic, manages to feel pretty laid back and welcoming." Pigs in a blanket are "as addictive as the original, but better." Arctic char "will make you forget salmon ever existed." Although the oxtail stew is "surprisingly bland," and the bowl of giardiniera on every table clashes with the rest of the food, the desserts are "delightful," and the drinks are "genuinely unusual." But the surprise at Alder is not the novelty of Wylie Dufresne's fare. It's that, "by and large, these flashy, self-conscious innovations actually taste good, like real food."