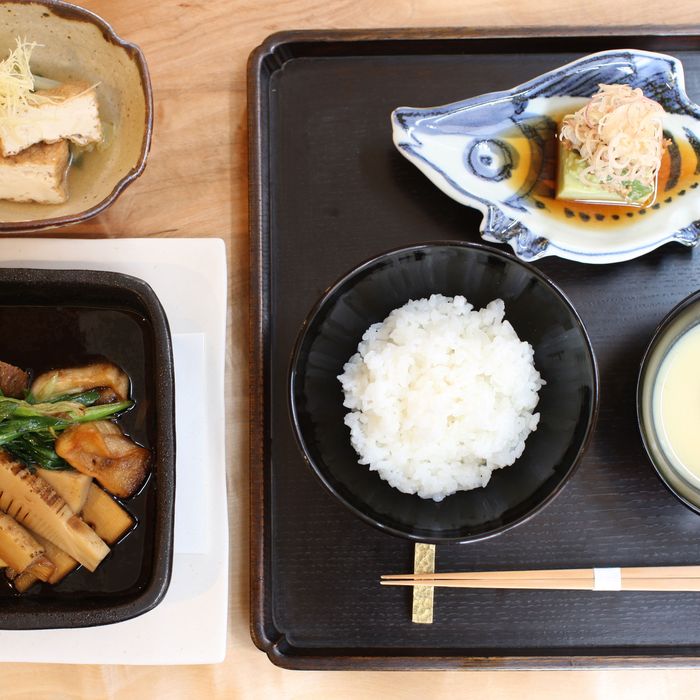 Two stars for Kajitsu.
Photo: Melissa Hom
This week, Adam Platt visited ABC Cocina, awarding it two stars. "This new Jean-Georges-Kluger ABC outlet is not quite as tight and focused as their original collaboration," Platt says, "but when you factor in the range of the food and the myriad boozing opportunities, you could argue that it's a good deal more fun." Where did the other critics dine this week? Three (three!) reviewed Lafayette. Read on for their reactions, straight ahead.
Pete Wells dined at Kajitsu, which moved from the East Village to Murray Hill. The new dining room "shimmers, although it has not quite gone Vegas," and it has less of a "monastic aesthetic" than the original location. Chef Ryota Ueshima's vegan dishes "have unexpected depth." A fried lotus-root-and-tofu sandwich has "something like the pungent, funky, very deep and long-lasting flavor of blue cheese, with a smoothness all its own." Chilled pea soup is simply and slightly sweet, but Western vegetables like grape tomatoes and corn have "not come into their own yet." Kajitsu's always-changing dishes are "drawn from the season, but they are also drawings of the season." Two stars.
Steve Cuozzo reviewed Andrew Carmellini's Lafayette, and liked it more each time he visited. "The first month it wobbled like the sidewalk boozers," but "things have matured since then." Though the pastas "seem fussy," and the chicken, charcuterie, and pate maison are "available at 100 'Le's' and 'La's' around town," the "gigantic soft-shell crab, as sweet as the batter was crackling, drew uninhibited moans of bliss." He also enjoyed the fleur de soleil pasta — a favorite of other critics. Three stars.
Ryan Sutton also reviewed Lafayette, and he declared it "another winner." He and Cuozzo are in agreement on the duck au poivre, which Sutton describes as "epic, packing the tenderness of filet mignon, the punch of game and the mouth-filling heat of pepper." But whereas Cuozzo finds the chicken skippable, Sutton sees it as "the main event." Two misses are the beef tartare, "an $18 fail," and the steak-frites, "with a one note-beefiness that's drowned by herb butter." Two and a half stars.
The New Yorker's Amelia Lester visited Lafayette, too, calling it "the grandest and most convincing" of the slew of new, trendy French restaurants downtown. She finds the portions to be generous and that almost all of the dishes reach "heights of casual perfection." This includes the "superlative" bread, "velvety" baby scallops, and a beef tartare that's "chunky, not chewy." And "to be in the light-filled dining room on a balmy summer's evening is an exercise in pure pleasure."
And finally! A review that's not Lafayette: Stan Sagner ate at the Greenwich Project., the high-concept bar with ambitious food. He suggests dining downstairs, as upstairs "promising dishes get derailed." Cavatelli and roasted Amish chicken are ruined by salt, and a potato-topped soft-shell crab dish is "culinary overkill, Mafia-style." Stay downstairs and sample small plates like "addictive" crispy artichoke hearts and a breaded poached egg with caramelized, truffle onion. Two stars.