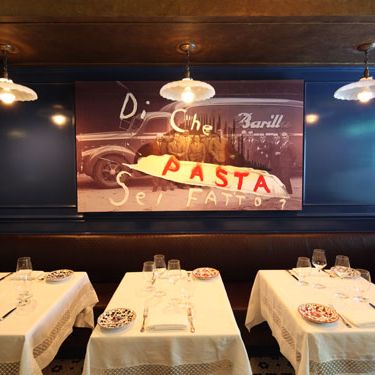 Order Carbone's cheesecake, says Wells.
Photo: Signe Birck
Our critics didn't file this week (still enjoying summer!), but others found plenty of meals to rave about. Pete Wells cheered for the "highbrow" interpretation of an Italian restaurant that is Carbone, and both Alder and Prospect received four-star reviews. See how Melibea, Manon, and more fared, straight ahead.
Pete Wells filed his much-anticipated review of Carbone, likening the Torrisi team's interpretation of an Italian restaurant to a film by Quentin Tarantino. Carbone's "bringing back the punch-in-the-guts thrills of a genre that everybody else sees as uncultured and a little embarrassing, while exposing the sophistication that was always lurking there." Though the menu contains some "lapses in judgement," such as the "heavy, greasy" batter of the fried broccoli rabe and the "too wet and too boozy" tiramisu, many of the dishes delight in their "highbrow makeover." Wells notes "remarkable" macaroni, "gently" and "luxuriously" handled shrimp scampi, and a Caesar salad with anchovies "just as sharp as you could wish." Three stars.
Jordana Rothman visited Alder this week, calling the food at Wylie Dufresne's new gastropub "easy to like." A few dishes are "head-scratchers," such as the questionable pairing of lightly smoked char and berbere-spiked lentils. But for the most part, the "provocative" "pop-in food" is a hit, best paired with "thoughtful" cocktails, "destination worthy on their own." Points for the "lovely cream-capped" root beer pudding, the "silky and voluptuous" New England Clam Chowder, and the "improbably rustic" fried wedge of cauliflower. Four stars.
Stan Sagner ventured to Prospect, praising chef-owner Kyle McClelland's "eye-popping performances" on his "relatively unassuming" Fort Greene stage. The Spring Pea and Garlic Milk Soup is "adorned with an ethereal foam of green garlic," and the "succulent" Kobe Beef Tongue may as well be the "love child of pastrami and pork belly." Sagner's "only gripe" with the "tendered, lacquered-skinned" Crispy Suckling Pig is that it came with only one peanut-butter-stuffed date. "It's a challenge to find a bad meal" here. Four stars.
Steve Cuozzo's meal at the meatpacking district's Manon caused him to ask, "WTF?" Owner Andrei Dellos is the same man behind Bettony, which Cuozzo didn't like, either. At Manon, Cuozzo found poor service, "Marshmallow Cloud" cocktails, and "baffled party animals [who] looked as if they'd come upon a rotary phone." Over at Betony, "dishes tasted wonderful, but others outsmarted themselves with cutesy presentations." Cuozzo liked the black blass, but only after he found it "under a cloud of flavorless foam."
The New Yorker's Amelia Lester went to Melibea. Chef Jesús Núñez "is having a lot of fun" at Melibea, throwing a sort of "seventies-themed dinner party, executed with more than a little kitsch." The menu adopts a bit of "dramatic flair," but Lester suggests the best dishes are those "simple in composition," making note of the Study of Tomato, with "tomatos so juicy they resemble peaches." In the hummus, the "chickpeas are fried before blending, making for a richer, smokier, almost meaty taste."
Ryan Sutton suggests a number of "judicious" spots for client dining, like Ai Fiori, the Setai Fifth Avenue, and Le Bernardin for your next (hopefully expensed) business lunch.