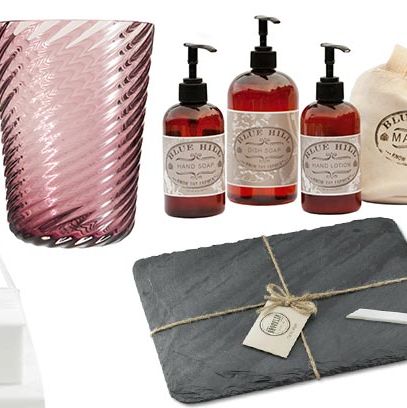 Because you know the couple doesn't need any more ceramic bowls.
Photo: Courtesy of Barney's, Blue Hill Farm, and Williams Sonoma.
Wedding season is here, and while you'd rather be spending your summer paychecks on your own vacations and fancy glassware, you have a massive list of presents to purchase. If dropping money on a D-list item from a boring Bloomingdale's registry annoys you, go rogue: You know the way into any couple's hearts is through their stomachs, so stock their kitchens with these unique (and handy!) food-centric gifts. Never again shall you spend too much on a food processor that the couple put on their registry just because they couldn't think of anything else.
For the couple you're not really friends with and who probably only invited you so you'd bring a gift:
You know that you're not going to hear from these pseudo-friends again until you're asked for a baby-shower present.
• minibru Coffee Mug ($20): The newlyweds won't want to share absolutely everything: This gadget makes a single cup of French-press coffee. You could even buy two for a "his-and-hers"-style gift.
• Leather Coasters ($24): This fashionable set from Barney's only costs $24 for a set of four. It looks hella expensive.
• Blue Hill Farm's Sink Collection ($42): The special house-brand biodegradable red currant hand soap and lemon-thyme dish-washing liquid are super luxe. Even better: The collection is packaged in a canvas gift tote, so it comes off pretty, presentable, and pricey.
• Brooklyn Slate Cheese Board ($35 to $45): There are a million cheese boards out there, but this one is made out of materials hand-picked from a New York State family quarry. The gray slab looks nice and sleek, and it even has anti-slip cork feet.
For the couple whose wedding you can't attend, even though you genuinely want to:
You feel pretty awful about this, but don't fret: A good, thoughtful gift can make anyone forgive your absence.
• The Happy Couple ($130): Mouth is a company that specializes in selling "indie" food, and this taster basket has generously sized samples of small-batch products like Landmarc caramels, Bourbon smoked sugar, and a Brooklyn Slate cheese board.
• Zingerman's Kitchen Starter Kit ($200): This pantry supply kit is packed with high-quality basics like Vecchia Dispensa's aged balsamic, French sea salt, and pomegranate molasses — all items the couple will use often.
• Crystal Coupes ($280): The Hour Shop specializes in vintage glassware — a gift that will make you look like a one-of-a-kind friend.
• Juniper's Personalized Cookbook Set ($350): It's a splurge, but you can customize this set of five classic titles (like James Beard's American Cookery) by printing the couple's name on the jacket spines and choosing the color of the books.
For the couple obsessed with cooking but whose recipes could use some help:
Every time your friends invite you over for dinner, you leave with a stomachache. This needs to change.
• Vedge: 100 Plates Large and Small That Redefine Vegetable Cooking ($16): Philadelphia's award-winning vegan restaurant is good enough to win over any hard-core carnivore. For the first time, Vedge is releasing a cookbook with recipes for celery-root shepherd's pie and chocolate-stuffed beignets. Note: It won't be available until mid-July.
• Franny's: Simple Seasonal Italian ($26): This cookbook from the beloved Brooklyn restaurant just came out in June, and it includes simple recipes for dishes like fava-bean-and-pecorino crostini, marinated swordfish with sweet peppers, penne with spicy cauliflower, and pizza dough.
• Online Cooking Classes ($50): Cooking classes are a good idea in theory, but it's tough for people to fit them into their busy schedules. Sign your friends up for an eight-class online series that's sponsored by the Culinary Institute of America and Epicurious. Topics include "Globe Trotting" and "Italian Classics."
• Vintage Cookbooks (prices vary): Abe's has an impressive selection of vintage cookbooks — and you don't have to spend thousands on Julia Child's Mastering the Art of French Cooking or The Dali Cookbook to find something special.
For the couple whose kitchen is already stocked but requests the latest version of every product anyway.
Silently competing with the other guests for the most high-tech, overpriced blender on the market really isn't worth it. Give your friends something they don't already own in multiples.
• Creative Coasters ($24): This small Etsy shop sells awesome hand-drawn coasters that depict scenes from movies like The Big Lebowski, Pulp Fiction, and Ferris Bueller's Day Off. Awesome.
• Chef Sleeve Dishwasher Safe iPad Stand ($35): This nifty gadget protects iPads from spills and offers two different viewing angles for easy recipe perusing. Chef Sleeve is also working on inventing a scale that can determine the exact nutritional information for the food you're weighing, so it's a cool start-up to support.
• Savino Wine Preservation Glassware ($60): With this Kickstarter-funded tool, you can preserve a bottle of wine for one week after you first open it.
• Five-Piece Colori Knife Set ($80): Kuhn Rikon makes knives that are reliable and durable, but they also come in funky, bright neon colors. Even if the couple owns a ton of fancy knives, these will be a nice addition to their collection.
For the couple that's always throwing a great party:
Encourage this behavior by giving them booze-related gifts, which, hopefully, you'll get to enjoy, too.
• Nouvel Studios Twisted Shot Glass ($24): The couple's going to receive a million practical white plates, but who thinks to give a fancy shot glass? You do. Buy a few of these to make a set.
• Everyday IPA Beer Making Kit ($40): The DIY set can turn any home (or even small apartment) into a brewery. The IPA has a nice citrusy flavor.
• Bittercube's Variety Pack ($56): Grub is decidedly pro-bitters, and this line of slow-crafted, Midwest-produced bitters is made entirely from raw ingredients, and the set comes pre-gift-wrapped.
• Yukiwa Baron Cobbler Shaker ($99): It's gold. It's flashy. It's a three-part shaker. At-home bartenders will freak out over this.
For the couple that you call your best friends … or owe something to:
Regardless of your reason, you feel like you want (or have to) splurge on a super-fancy item.
• Herriott Grace's Hand-Carved Kitchen Tools (prices vary): This company specializes in beautiful, one-of-a-kind wooden objects. Rolling pins cost around $100, but if you see a maple pedestal in stock, it's worth spending $345.
• Iron Design Company's Wine Rack ($250): These Virginia-based blacksmiths specialize in steel housewares, and this wine rack is intended to highlight the curves of bottles. It can hold up to half a case of wine.
• Weber Smokey Mountain Cooker Smoker ($299): This smoker's shaped like a bullet — and it's on sale! Huge win.
• Glacier Double Old-Fashioned Glass ($439): Spending over $400 for a tumbler is insane, but it's also awesome if you've got money to burn. This crystal one is made to retain the aroma of whiskey, and it is glorious.