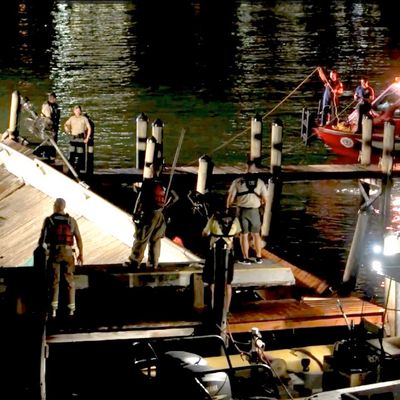 A sports bar patio deck holding approximately 100 patrons who were watching the Miami Heat play the San Antonio Spurs collapsed last night in North Bay Village, Florida. Dozens of people, including customers and staff at the popular Shuckers Waterfront Grill, were ejected five feet below into the shallow waters of Biscayne Bay beneath the deck during the collapse, which took place right around 9:45 p.m., just before halftime. The Miami Herald reports that around two dozen people were injured; fifteen were taken to area hospitals, and two are currently in serious condition.
A witness named Israel Marquez tells ABC he was nearby when he heard a noise "like a shotgun blast." Just after that, Marquez says, "it all came down in slow motion."
"Everybody's watching the game," a patron told the Herald. "It sounded like a freight train, then everyone was gone. The deck went down like a V."
Another witness was at the opposite end of the restaurant and says he first saw the patio furniture disappear, which was followed by a "burst of dust." Shuckers lost power as a result of the incident, creating an additional element of chaos and temporarily hampering rescue efforts. There are no reports of fatalities.
Many patrons reportedly emerged from the water with cuts, lacerations, and head wounds as a result of being hit by umbrellas or coming into contact with the restaurant's furniture during the collapse. Several patrons and bystanders dived into the water to help rescue those who could not get out on their own and those who were trapped under debris.

At least two dozen injured as deck collapses at Shuckers restaurant during Heat game [Miami Herald]
Miami deck collapse injures dozens, sends Shucker's bar patrons into Biscayne Bay [ABC]