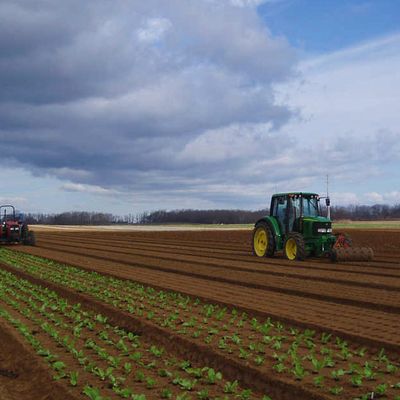 The Cutchogue, Long Island–based farm sells salad greens and vegetables.
Photo: Courtesy of Satur Farms
The town of Southold, Long Island, has launched an investigation into activities at Satur Farms in Cutchogue, apparently to determine the extent to which its operators are using the land for packaging and shipping produce grown outside the Long Island community's agricultural district. This may be a violation of local code, Southold officials said. The town took action after receiving a complaint from a resident who lives across the street from the North Fork farm.*
Town supervisor Scott A. Russell told Grub Street that the town was "thoroughly reviewing" the high-profile site, which has been owned since 1997 by Eberhard Müller, a former chef at Lutèce and Bayard, and his wife, Paulette Satur. The business, which supplies mixed greens, mache, and vegetables to wholesale and retail clients, makes no secret of the fact that not all of its produce is Long Island–grown — it leases 150 acres of land in Seabring, Florida, and a disclaimer appears on its packaging during cooler months identifying produce grown outside of New York. The disclosure that the farm may "occasionally" source products "from other growers beyond our region" appears prominently on its website.
Some of its Cutchogue neighbors, however, many of whom are perennial opponents, have accused Satur of engaging in disreputable business practices that include poor environmental stewardship. Cutchogue resident Jim Best says the farm routinely brings in vegetables from Texas, Mexico, and California, and local activists claim that the Satur operates more like a large hub for receiving and repackaging produce grown across the country than a traditional farm. The total amount of produce grown on-site and space devoted to growing it may determine how the business operates and what rules it must follow.
"We're trying to determine whether what's going on there is confined to local production and packing in an A.G. district, or whether some of its activities include acting as a distribution center" for crops grown elsewhere, Russell said. In Southold, the "protected rights of farmers only extend to the A.G. district itself." Russell says the farm has other fields in Southold and leases land in the Peconic Land Trust. Articles online have reported the farm operates a total of 180 acres with four crop rotations each year.
The official said he couldn't say much more because the matter could soon be "the subject of litigation." At the same time, the supervisor acknowledged that Jim Best, a Cutchogue resident whose home faces Satur Farms, had brought the town's attention to some of the issues it is exploring. Best has also written numerous public officials complaining about a generator at the farm that he claims is "poisoning" his home with diesel fumes on a daily basis.
The Satur site in Cutchogue has long stirred acrimony over its dust-kicking trucks and tractors rumbling past homes on Alvahs Lane. Two years ago, the town investigated complaints from residents that the farm was actually running a "truck depot" and found nothing illegal, according to a former code-enforcement officer. (Satur sued four Cutchogue residents in 2011 for defamation). More recently, complaints from neighbors subsided when the farm relocated its business office and some of its vehicles to a site in the nearby hamlet of Calverton bordering the towns of Riverhead and Brookhaven. But Jim Best has continued to attack Satur for operating without a formal site plan in Cutchogue and claims he has run across produce labels on the property from companies in other states.

Lori M. Hulse, the assistant Southold town attorney whose office is currently investigating the farm, said Best accused Satur of illegally running a processing plant in a barn, but had not supplied enough information for her to file a complaint of a town code violation. Meanwhile, in an e-mail blast earlier this week directed at a number of public officials, Best wrote that "toxic diesel fumes" from a generator on the farm continues to fill the neighborhood. The town resident alleged that none of the produce sold by Satur "even comes from Long Island" and that its owners continued to deceive officials. "[L]ast night it went until midnight," he wrote, referring to on-site packaging, "tell me what farm operates until midnight?"
Reached by phone in Calverton, Paulette Satur said of the town probe, "This is the first I've heard of it." In a subsequent conversation, Satur declined to comment because she hadn't seen the accusations. "As far as I'm concerned, we're not doing anything illegal. We're farming.
"Yes, we have traffic and trucks, and we are growing and harvesting," she said. "Wholesale customers are now picking up in Calverton, and that has alleviated some of the complaints," she added.
Satur said she was aware of Best's complaint about the farm's generator but was not moving it from Alvahs Lane because it is in use on site.
Supervisor Russell contends this latest wave of complaints against Satur "never would have happened" if the farm had followed through on its 2008 site plan for a new building he says "would have mitigated the farm's impact" on its neighbors. Informed of his comment, Satur replied, "We made a choice to relocate [to Calverton instead] because the town of Southold was not welcoming to the farming operation."
Neighborhood activists point out that Paulette Satur, who is president of Satur Farms LLC, is an advisory member of the New York State Regional Economic Development Council appointed by Governor Cuomo. In December of 2012, the farm received a $120,000 grant from the organization to expand the Calverton operation's vegetable processing and packing lines and to hire more employees. At the time, she said she recused herself from the decision-making process and strongly denied that the grant constituted a conflict of interest.
"Anyone can apply," she said."The funds are there to increase employment for business and industry on Long Island. The state has an interest in promoting local business. The application [for grants] is now open and online."

Earlier: Satur Farms Owners File Defamation Suit Against Unhappy Neighbors
*This post has been modified to clarify the nature of the Southold Town investigation.