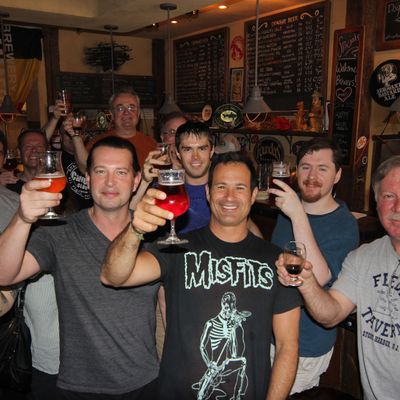 Calagione (in the Misfits shirt) with some friends at the Blind Tiger.
Photo: Melissa Hom
Sam Calagione — the founder and president of Dogfish Head brewery — doesn't exactly look like a guy who spends his days drinking copious amounts of beer. "I get up and either go for a bike ride, do yoga, or paddleboard," he says of his methods of offsetting his caloric intake. The Lewes, Delaware, resident adds, "One of the great parts of my job is I get to live at the beach, but my proximity to the major cities we do business in is manageable." This past week, that meant a trip to New York for the massive Savor craft-beer festival and to launch a new line of Dogfish Head–branded food (think: beer-infused brats and clam chowder). As often as he's in New York, though, Calagione doesn't have any plans to move to the city. "Getting out in nature every day to clear my head and think about new recipes is one of my favorite parts of the day," he says. "And it gets me to burn the calories to earn that night's beer or food." Read all about on-air beer tastings, oyster outings, a Father's Day crab feast, and lots more in this week's Grub Street Diet.
Friday, June 14
I was staying at the Ace Hotel for Savor festival weekend. Savor is America's premier beer-and-food-pairing festival, and my brewery is one of the lead sponsors. I didn't have time to wait in the line at Stumptown, even though it is always worth the wait, so I grabbed an espresso coconut water from my room fridge.
I ran out and got a cab to go on CBS This Morning to talk about Dogfish Head and Savor. At 8:30 a.m., my on-camera breakfast was a coffee mug full of Sixty-One: a Dogfish Head IPA fermented with Syrah grape must. I drank it during my segment with Gayle King, Jeff Glor, and Charlie Rose. I offered to pass it around and share, pimp-cup-style, but had no takers.
I got back to the hotel and learned on Pitchfork that my favorite dismantled band, the Replacements, just announced they would reunite for a short tour. My onscreen breakfast reminded me of their song "Beer for Breakfast." I thought to myself, Dang, the day is starting off really well, and I haven't even eaten any solid food yet.
For lunch, I ate fried mushrooms and a pulled-pork sandwich with a cask-conditioned fennel-pollen-infused beer at Mario B and Joe B's Birreria, the rooftop brewpub high above Eataly. Dogfish Head is one of the three Birreria Brother Brewers along with Birra Del Borgo and Baladin breweries. We consult on the brewing recipes, design the brewing systems, and train the breweries for each Birreria location. Besides the New York location, there's a Birreria in Rome, and new locations are opening in Chicago and southern Italy later this year.
For dinner, I had a street hot dog and can of Coke running from the "PUNK" exhibit at the Met to set up my booth at the beer festival.
Savor was a huge success, packed with beer geeks and foodies enjoying the food pairings, and more than 100 beers. Collectively all of the 2,400 American craft breweries have 6 percent market share compared to the two global conglomerates who control more than 80 percent market share in America. Craft-beer drinkers are promiscuous and buy a lot of different beers from a lot of different breweries, and that's a beautiful thing. I'm a beer geek, not a beer snob, and I drink a lot of beers from breweries other than my own.
Late night in the basement of the Ace Hotel. There were a lot of great craft beers, and I think I had a handful of potato chips.
Saturday, June 15
Breakfast was a big cup of Stumptown mocha as I walk toward Soho to meet friends and shop while rocking LCD Soundsystem on my earphones on a beautiful blue-sky day as I people-watch down Broadway. I was born in NYC, but my parents moved out to the country when I was 2 years old. It's still my favorite place to go besides home, and it is where I began home-brewing when I lived here in the early nineties. My wife, Mariah, and I have taught our children there is every other city in the world, and then there is NYC.
Dogfish Head hosted a brewers' brunch at the famed Blind Tiger Ale House on Bleeker. The room was full for the unveiling of Dogfish Head's new line of packaged, beer-centric foods designed to be paired with our food-centric beers. I had our espresso stout bratwurst and hardtack clam chowder paired with Festina Peche, our tart summer Berlinerweiss. The Tiger's owner, Dave Brodrick, is one of the original gangsters of the NYC craft-beer scene, having opened the Blind Tiger as a haven for beer geeks in the mid-nineties.
At 5 p.m. I met friends at the John Dory Oyster Bar, the seafood joint off the lobby of the Ace Hotel. I had a solid dozen oysters myself, six from each coast, along with a mineral-rich glass of Riesling wine and a pint of 60 Minute IPA.
Saturday evening my co-workers and I set up our booth for Savor, and we poured Dogfish Head Positive Contact (brewed with Fuji apples, cilantro, and Belgian saison yeast) as well as our Sixty-One IPA.
For dinner, I snacked on pigeon crudo with olive-oil-juniper ice cream and smoked grapes from Savor chef Adam Dulye. I paired it with a Brettanomyces — special Belgium yeast — fermented sour ale from Boulevard Brewing out of Kansas City. I also had spicy-hot Brooklyn Brine Hop Pickles with our Bitches Brew, the honey and gesho-root-infused imperial stout we brew in collaboration with Miles Davis's family.
Brooklyn Brine owner Shamus and I hosted a seminar, and he announced he will be opening a pickle shack in Brooklyn in July that will feature a bunch of Dogfish Head beers on tap infused with local fruits and herbs he sources from his farmer suppliers. On my walk back to the Ace after the Savor festival, I had a slice of one-dollar pizza and a lovely chat with a hairy transvestite dressed all in white.
Sunday, June 16
On Sunday morning, I treated myself to probably the best hangover helper in the world: 45 minutes of yoga (inverted poses rush much-needed blood to the head). Followed by the epic grilled egg-and-cheese from room service at the Ace. I paired this with a bottle of water infused with a tangerine-flavored Emergen-C powder, which I finished in my cab ride to Penn Station heading home to coastal Delaware.
 
When I got home, we had an awesome Father's Day lunch with my family, my father-in-law, and my sister in-law and her family.  We lazed by a swimming pool and shared a couple bushels of Old Bay–seasoned crabs washed down with 60 Minute IPA. No dinner, as I was stuffed on crabs.
 
Monday, June 17
Started the day with my de facto breakfast: two shots of espresso and glass of O.J. to wash down fish oil and vitamin D pills — yum.
 
For lunch, I had a green drink from Nectar, our local juice joint, made with spinach, kale, apple juice, and all kinds of healthy stuff.
We ended the day with a big ol' spaghetti dinner with my mother-in-law and wife's family at her house. She makes her spaghetti sauce with a dash of sugar and a counterbalance of spicy Italian sausage. We ate that plus a side of Caesar salad paired with a big glass of water and a Diet Coke. I was all beered out at that point. 
 
Tuesday, June 18
De facto breakfast.
I have a working lunch with folks who own a large spirits and wine distributor, as we are continuing to expand our Dogfish Head Distillery. We ordered our beer-centric brats, chowder, and pickles out of Bunyan's Lunchbox — our giant lunch-box-shaped food truck located just outside the tasting room of our Milton, Delaware, brewery tasting room. I slathered our feta cheese, spinach, and Midas Touch–beer-infused brat with a relish we make out of local strawberries and Vidalia onions. I paired this with our Festina Peche, a tart summer berlinerweiss brewed with peaches.
Mariah, the kids, and I went to our Rehoboth Beach brewpub/distillery for dinner to try out the new summer menu for the first time. We start with fried calamari with a sweet chili dipping sauce, and I had a pork-shoulder sloppy joe paired with DNA/UK, our hoppy session beer collaboration with the U.K.'s largest family-owned brewery, Wells & Young.
 
Wednesday, June 19
De facto breakfast and standard Nectar green juice for lunch.
Dinner Wednesday was with an old friend who helped us build the homemade brewing equipment when we started Dogfish Head eighteen years ago. We drank his homemade wine and some Boon Kriek Cherry beer from Belgium while enjoying grilled chicken and shrimp from the barbie. For dessert, we had homemade sundaes and a sweet, strong homemade white wine.