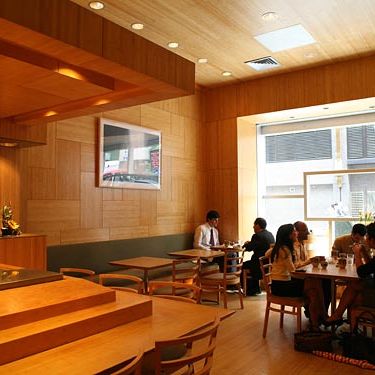 There's no need to break out your calculator app at Sushi Yasuda.
Photo: Shanna Ravindra
Yesterday, Ryan Sutton reported that Sushi Yasuda is no longer accepting tips. It's not alone. So, is there a tipping backlash? Not really, but that doesn't mean plenty of restaurants (mostly high-end) aren't also trying to do away with tips. Eliminating optional gratuity — either by implementing an actual service fee or, as the Times reported in the case of Yasuda, by simply raising food prices to offset the lack of tips — gives stability to employees and saves diners from having to do some mandatory arithmetic after a long meal. (Though restaurants in Burlington are charging foreign tourists automatic gratuity because they don't tip well enough.) See how ten other spots around the country are doing their part to take the guesswork out of tips.
Chez Panisse, Berkeley
Alice Waters's restaurant is temporarily closed because of the electrical fire in March (it reopens June 21 with a $2,500 dinner), but it'll probably keep its mandatory 17 percent service charge system in place. It caused a scandal when a waiter spoke out and claimed the staff gets short-changed.
Per Se, New York City and the French Laundry, Yountville
Gratuity included the $295 price of the nine-course menu, but additional tips aren't forbidden. Thomas Keller uses the same system at his Napa Valley restaurant.
Alinea and Next, Chicago
At both Chicago restaurants, guests pay a 20 percent service charge when they book a table. But the perk is that you don't have to pay at the time of your dinner.
Atera, New York City
Like Alinea and Next, Atera has adopted a ticketing system through which you purchase the $165 tasting menu when making the reservation. You also must pay tax and a mandatory 18 percent gratuity, bringing the meal to $209.35.
Brooklyn Fare, Brooklyn
If you can manage to get a table, expect to pay $225 for the menu plus tax and a required 20 percent service fee.
The Linkery, San Diego
The small restaurant eliminated tipping to avoid competition among employees. The 18 percent service fee is split three to one between the restaurant's front-of-the-house and the kitchen.
Church Lounge, New York City
This bar inside the Tribeca Grand Hotel used to charge everyone a mandatory 18 percent for drinks, but now it's only doing it for parties of six or larger. Ace Hotel's bar has also gotten rid of its 18 percent tip requirement.
Black Star Co-Op, Austin
Sutton reports that the prices on the Black Star Co-Op incorporate both gratuity and sales tax. No additional tips are allowed. The restaurant calls itself the "world's first cooperatively-owned and worker self-managed brewpub."
Casa Nueva, Athens
This Ohio restaurant is also an independent, worker-owned business. When it opened, staffers agreed to pool all tips and divide them equally, but the Department of Labor stepped in and called it an "inaccurate use of tip credit." Casa Nueva decided to raise the prices of its menu items to incorporate gratuity.
NYC's Sushi Yasuda Eliminates Tipping. Gratuities No Long Accepted [The Price Hike]