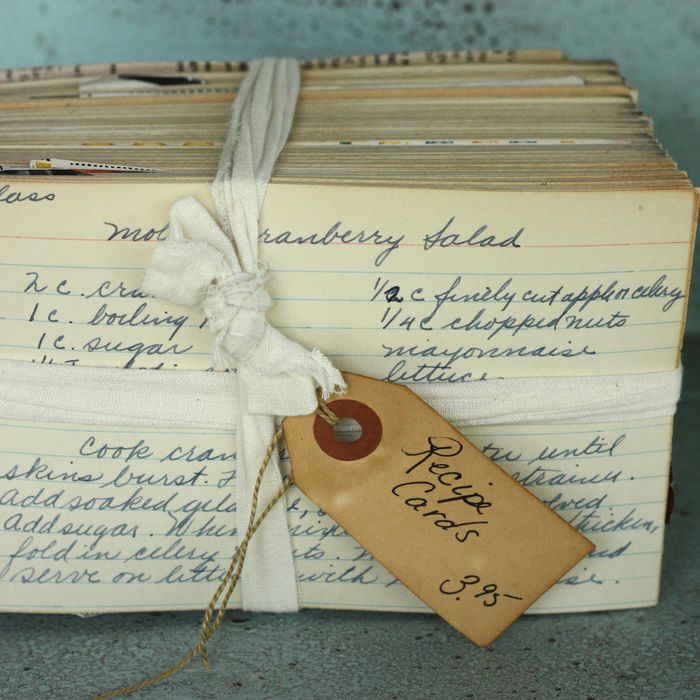 The cards in question.
Photo: Paul Lukas
Here's a sweet story to help offset all of the disaster/junk food/alleged racism news of this morning: Last summer, a Cincinnati writer named Bryn Mooth purchased a bunch of recipe cards from the thirties at an antiques shop. After she got the cards home and began examining them, she found that many of them were inscribed with the name "Clara Shenefelt."
Mooth has a food blog, so she blogged about her find and began a weekly series called the "Clara Project," in which she tried out recipes from the cards. Along the way, she became curious about Clara — who was she? Was she still alive? Had she made all of these recipes? Mooth did a bit of online sleuthing to see what she could learn about Clara, but her efforts mostly came up empty.
Mooth's breakthrough came last week, when she wrote an article about the Clara Project for the Cincinnati Enquirer. The piece included a little "Do you know Clara?" sidebar, inviting readers to contact Mooth if they had any information about the elusive woman who had previously owned the recipe cards.
She didn't have to wait long. A few hours after the article was posted, Mooth received an e-mail from a woman identifying herself as Clara's daughter. Mooth was excited, but also nervous.
"I thought, Oh my gosh — I hope she's cool with this whole idea of me writing about the cards, writing about her mother," she tells Grub Street. "Fortunately, she didn't think there was anything creepy or stalker-y about it. She thought it was cool!"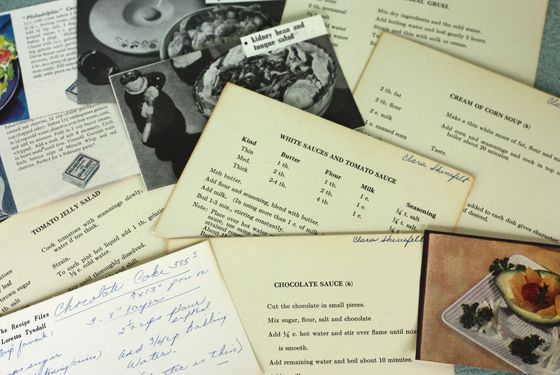 The cards, featuring Clara's signature.Courtesy of: Bryn Mooth

After a few e-mail back-and-forths, Mooth learned that Clara is still alive at an assisted-living facility in the Cincinnati area. Her daughter had sold the cards last year as part of an estate sale when the family decided it was time to let go of some old things.
Mooth was particularly keen to learn that Clara had majored in home economics at Penn State in the thirties. Many of the recipe cards are from classes she took during that period. Others are recipes she added to her repertoire over the years.
Mooth plans to meet up with Clara's daughter in a few weeks, and there's also talk of having her meet Clara herself. Meanwhile, she'll continue with her weekly Clara Project blog posts. With nearly 300 cards on hand, she has plenty of recipes to choose from, even if some of them seem a bit dated. "Apparently Jell-O salads were all the rage in the thirties," she says.
As for Clara, she's reportedly tickled by the whole thing. Good timing, too: She turns 98 years old today.
Recipe cards from the past [Cincinnati Enquirer]